London's "segregated" infrastructure under fire as bike share extends to Brixton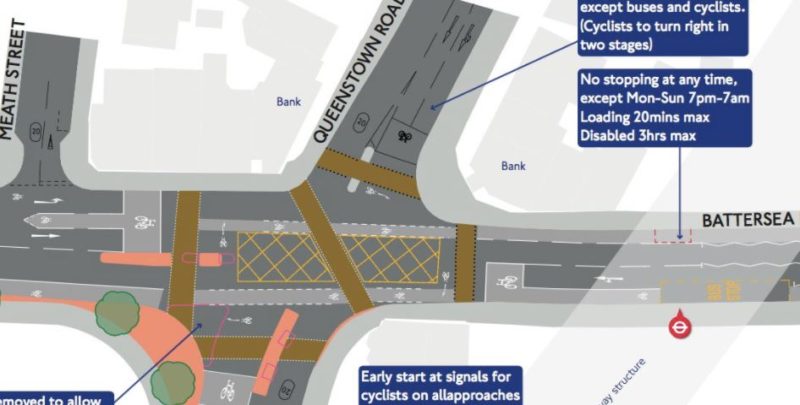 London's walking and cycling commissioner Will Norman has come under fire from safe cycling campaigners over claims of a "substantially segregated" route at Nine Elms.
Drawings shown here illustrate that only around half of the commuter artery will be segregated, with a full kilometre diluted to simply paint on the road.
The London Cycling Campaign has described the designs as "the opposite of a healthy street", noting that TfL themselves don't themselves dub this segment a cycle superhighway.
The Cycling Embassy of Great Britain's Mark Treasure said: "You can't call a scheme 'substantially segregated' when half of it is painted lane/ASL nonsense, with parking and bus stops in it."
Norman added of the plans: "With a new substantially segregated cycle route, newly designed junctions and transformed public spaces, the plans will ensure that walking, cycling and public transport is at the heart of this major project."
In other news, Norman has announced Santander Cycles' expansion in the south west of London, with the bike share scheme set for Brixton.
Seven docking stations with space for up to 200 bikes will be installed later this year after funding was agreed with Lambeth Council.
2016 was a record-breaking year for Santander Cycles with an unprecedented 10.3m hires, up 4.4 per cent up on 2015.
Later this summer, TfL will also introduce a next-generation bike for Santander Cycles manufactured by Pashley that retains the popular features of the existing model but will be more manoeuvrable with smaller wheels, a lower frame, a new gear hub and a more comfortable seat.
Ashok Sinha, CEO, London Cycling Campaign, said of the Brixton announcement: "The Mayor and TfL are rightly setting out how they will encourage cycling by making the road environment safer. But enabling people to switch between walking, cycling, and public transport in an affordable and seamless way – reducing car dependence and overcrowding on buses and tubes – is also essential to making the capital a greener, healthier city. Convenient cycle access on-demand helps achieve this, which is why it is fantastic news that the Santander Cycle Hire scheme is being extended to Brixton. The London Cycling Campaign looks forward to the day when cycle hire on demand is available throughout Greater London."