Magura collaborates KTM-owned WP for electric bike fork
As found on KTM's 2017 Fogo and Capoho, Magura has collaborated with KTM owned WP to produce a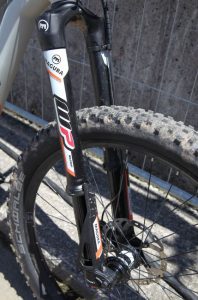 new suspension fork, dubbed the Boltron.
Unsurprisingly given the partnership, KTM is the first brand to carry the new 'upside down' design, which is to be available in 120, 150 and 160mm travels, the latter of which is not plus size tyre compatible.
We were told that it's a 2.2kg electric bike specific fork, designed with a 20mm thru-axle to make up some ground on stiffness and offering progressive air damping that will ensure the rider doesn't blow through the travel easily.
Tucked into the axle and held that with a magnet is a small tool designed to ensure you've always the right torx tool on hand for wheel removal.