E-MTBs appear in droves as MY17 bikes emerge
As 2017 bikes begin to emerge it has become abundantly clear that manufacturers have in the past 12 months invested big in the off road side to electric bikes. Here's five builds that have flashed across our radar so far:
Cannondale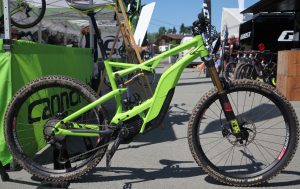 The Moterra LT isn't set for all of CSG's territories, but was one of the most popular test bikes out at Eurobike's Media Days this week.
Offering 160mm of travel it handles as it should on downhill sections with the bulk of the weight placed centrally. Built into the aluminium frame the Bosch Performance CX motor delivers 250 watts of power and 500 watts of support.
Motor assistance aside, Cannondale has specced a 1×11 drivetrain, 27.5-inch wheels, as well as a dropper and plus ready Yari fork from Rock Shox.
Benefiting from CSG's portfolio, finishing kit includes a Fabric saddle.
KTM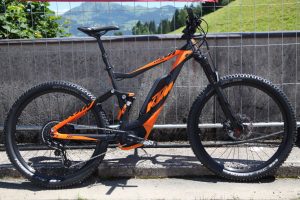 Specialists in powering things with a motor, KTM builds on last years' introductions significantly with a power assisted Kapoho revamp, Lycan 27.5″, New Fogo 27.5+, as well as "Sport and Style" urban high and low step over builds.
There's an industry first too, with the introduction of the Macina Force 271 E30, something the brand says is the first with 30 gears, offering 610% ratio that will never leave a rider short of options. Combining SRAM's DD3, 3 gear shifting hub, together with a ten speed derailleur, the system will haul you up the steepest inclines around. The high torque Bosch CX engine has been specially adjusted to suit.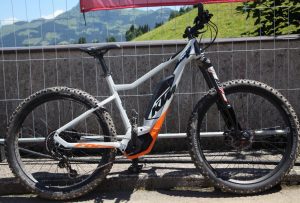 On to the Macina Fogo hardtail and KTM introduces what it calls an e-sportive bike and one that's designed with maximum traction and forgiveness in mind. The frame comes together with the help of hydroforming, drop forging, CNC processing and gravity casting and indeed that was a point emphasised by the brand.
CyclingIndustry.News was told that the label has been very deliberate in investing in the high-end of the sector, with no corners cut in materials and processes. "The market wants €7,000 euro E-MTBs, so we've invested heavily in new tooling to make the best bikes possible at the high-end," said a spokesperson at Eurobike's press camp.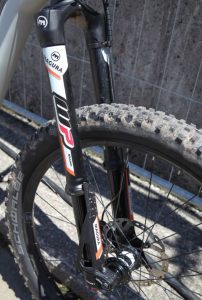 The Kapoho LT spec is another attention grabber, even if in part due to a yet-to-be-released Magura fork, as seen left.
Despite design challenges, KTM has maintained the original layout of the Bosch motor and thus the warranty too. Offering 160mm of rear travel, the Pedalec Optimized Pivot dampening reduces the drive influence on the suspension, ensuring no power goes to waste. Internal cable routing, a new tapered steerer and integrated post mounts offer a clean aesthetic, while the battery blends seamlessly into the downtube thanks to a gravity cast section.
On Sport and Style (urban), KTM is offering a portfolio of bikes from €2,500 upwards, each of which is built around an aluminium frame that's been thoroughly gone over to shave grams.
Ghost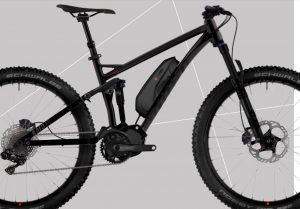 The Kato platform will be shown in full come Eurobike, but what we do know so far is that it's to be Shimano Steps driven and 27.5+ clad, making it a high traction hill climber and equally capable on the descents with its 140mm front and rear travel.
Ghost says that one of the benefits of Shimano's drive system is a biggie for the engineer in that the motor allows for shorter chainstays than its rivals current offerings.
Three models of the Kato are due, all of which are built around an alloy frame, but with varying spec.
You can read more about Ghosts new bike packing luggage line and other pedal powered launches here.
Giant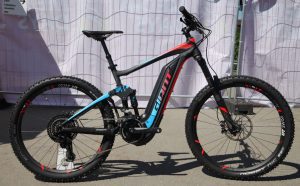 Giant has continued to develop its electric offering within both MTB and road, but it was the Full E's revamp turning most heads.
Given a rear shock travel upgrade from 127mm to 140mm, the Full E becomes more capable across its three price points. Weight is reduced with a new composite rocker designed to take new metric-sized shocks, as well as an update to Giant's Maestro suspension platform as seen across much of the off road line this year.
Giant retains a Yamaha motor, delivering 250 watts, while SRAM's EX1 drivetrain takes over when rider power kicks in. Opting to create its own head unit and controls, the large display shows which of the three modes used, speed and cadence, among other readings.
Corratec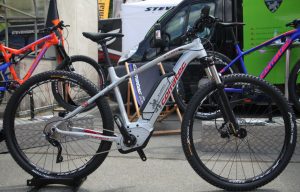 With both hardtails and full suspension E-MTBs now in its extensive catalogue, Corratec's Bosch-powered line now offers something for everyone.
Pictured here, the X Vert 29er will take a tyre up to 2.8″ and indeed Corratec has plus sized builds, as well as the standard option shown here. Both a gents and a low step over frame have been included in the 2017 line up.
Alternatively on the hardtail front, stores can also offer the X Vert Plus X and Plus Y builds, which come specced with high traction WTB 2.8 tyres. Carrying Magura's MT4/MT5 brakes, Corratec has upgraded key components to best manage the bike on tough terrain. Both Deore XT and SLX versions are available.
Taking notes from the flagship full suspension build, there's an adapted Bosch driven E-XTB, which offer's Corratec's own 10hz vibration damper linked to its Monarch RT shock. A Reverb dropper further ups the performance for those looking for something agile in the descents.