Marin 2017: New lines and an early candidate for best value entry full-suspension build?
Marin yesterday held its 2017 preview at one of the UK's newest trail centre additions – the FlyUp 417 Project in Witcombe, a must visit for the dirt jump and trail aficionados out there.
Escaping the downpours, press and dealers were invited to sling a leg over on a number of new bikes, most notably one of a few new additions – the 120mm Hawk Hill. Coming in at £1,100 in the UK ($1,500 US), this is Marin's entry pricepoint for full suspension, but given the volume of tech trickledown you might expect this one to come in at several hundred pounds more.
"If that had a dropper that'd hands down be an early candidate for best in category," one journo said while snapping pics.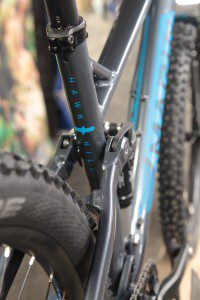 Indeed, the 1 x 10-driven Hawk Hill is ready for just such a thing, with internal routing availability built in to the aluminium chassis, which uses the same Series 3 6061 grade as found on Marin's top hardtails.
When asked if the Hawk Hill platform would be one that'd be expanded in the future, Marin's MTB Matt Cipes told CyclingIndustry.News: "You can bet on it, the reaction so far has been hugely positive. It's an unbelievable price for a bike that's kinematics almost match the Mount Vision and that benefits from a ton of modernisation, such as short 425mm chainstays and that longer, more stable feel. There's wide 27mm internal width rims, built asymmetrical for added strength. Even with that strong base, if the rider wants to swap out wheels, the dropout allows an easy upgrade in axle from QR 135 to a closed 9-12mm thru-axle. That's the thinking behind adding in internal routing to the frame too – when the rider wants to move it up to that next level they can have a great clean lined bike on an entry budget."
Effectively a single pivot design, there's an X-fusion shock paired with a Rock Shox Recon fork smoothing out the bumps and this too has been optimised to feel like a bike costing much more, said Cipes.
"It offers great travel delivery and the pedaling efficiency takes notes from the Mount Vision. At the back we've added Igus bearings, which are great for UK conditions in that they've a long life and are really easy to maintain."
Moving on, another new addition to the portfolio is the Nicasio line, named after a valley in the brand's home territory and slipping in below the Gestalt line. Introduced as a "beyond road" solution, the Nicasio is available as a singlespeed or Claris 2×8 spec at £500 and £600, respectively. Specced with 30mm wide tyres on a disc specific wheelset, the Nicasio is clad with fender and rack mounts, giving it a versatile range of uses. If desired, up to a 40c tyre can be slotted into the new frame.
Before we let you peruse the gallery, other key points from the 2017 teaser include:
This year you'll see a greater link up with Stans for mountain bike wheel spec, with generally boosted internal rim widths ranging between 27 and 29mm. 780mm bars feature through much of the mid-to-high-end MTB catalogue. SRAM Eagle makes its first appearance on pro level builds. Gamut and Deity finishing kit features largely on the high-spec builds.
On the 140mm Mount Vision, the top three frames now feature a carbon chassis component, with the Pro build the only full-carbon.
Kids bikes benefit from a geometry tweak and aesthetic overhaul. There's still five bikes, two 20″ and three 24″.
Last year's popular 27.5+ Pine Mountain 1 this year becomes simply the Pine Mountain, with the 1 and 2 sat above and offering front suspension. Upgrades include 110mm boost spacing up front for added clearance and a tougher wheel, as well as the speccing of 141 x 9mm open dropouts. The price of the original is maintained at £800 for the UK, while the 1 and 2 also see no price increase, despite upgrades.
The Gestalt line continues with some subtle upgrades. Series 4 frames have added rear thru-axle capability and a tapered headtube, as well as clearance for up to 35c tyres.
The Four corners Elite has given a nod to 90s Marin styling with a rasta-themed paintjob on the top build, which comes Rival 1 x 11 equipped and more than ready for touring with mounts for numerous bottles, fenders and racking. A tyre of 700c x 35 and 29″ x 2.0 can be run.
When it comes to everyday sellers like the Kentfield and Larkspur series, a greater attention to detail has been given to the styling of the tubing, offering a cleaner finish and an upgraded dropout at the low price point.
If you've yet to check it out, Marin confirmed that this concept could be in the pipeline for city bikes going forwards.