Halfords business steady as it ramps up women's cycling effort with Laura Trott exclusive
Halfords has today released its results for the financial year running to April 1st, as well as announcing partnership with Laura Trott for an exclusive bike range.
Year-on-year growth has been fairly flat, with total total group revenue 1.5% up year on year.
In its introduction, the statement says: "The audited comparative period represents the 53 weeks to 3 April 2015 but we believe that the proforma 52-week results to 27 March 2015 better reflect the comparative performance of the business. On this basis, all commentary included in the summary statement, the Operational and Business Review and the Chief Financial Officer's Report in respect of the comparative period is based on the proforma 52-week period to 27 March 2015 ("the prior year") unless otherwise stated."
The retail giant believes that its market share in cycling is steadily growing, though pointed to adverse weather conditions over the past year as a reason why growth has not been stronger. Overall, the cycling business faltered in Q2, dipping 7.6%, but otherwise grew slightly in each of the other three quarters. The net result is a 0.9% dip in trade.
The statement on cycling offered: "Cycling sales declined by 0.9% on a like-for-like basis. This was principally driven by the previously highlighted challenging July and August for mainstream bikes, due to a number of factors including particularly strong comparatives, poor weather and discounting across the market. Bike sales returned to growth in Q3 and Q4. Parts, Accessories and Clothing ("PACs") sales declined in the year and this is a focus area for us to improve over the medium-term."
Service-related sales increased by 8.5%, driven in particular by cycle repair and elements of motoring fitting, such as audio and roof boxes.
Collaborations with Olympians like Bradley Wiggins, with whom the retail giant has delivered exclusive ranges, have bolstered the group's cycling proposition, says Chief Executive Jill McDonald, with another such partnership detailed below.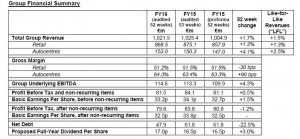 "This was a solid performance and we gained market share in both our motoring and cycling divisions," said McDonald. "We also saw strong growth in our service-led offerings, including our 3Bs fitting in motoring, which is now complemented by a similar motorbike service. In cycling our sales improved in the second half of the year and cycle repair delivered good growth. The recent acquisition of Tredz alongside the continued expansion of Cycle Republic and the launch of our new Laura Trott range demonstrates the strength and breadth of our cycling proposition."
Cycle Republic now has ten branches in the UK and ROI. As of May 2016 customers can also shop at four stores in South Wales and online at tredz.co.uk and wheelies.co.uk for cycling products and direct home delivery.
Cycling business currently represents around 30% of Halfords overall trade. Over the summer, Halfords conducted its own market research, concluding:
"Halfords has market shares of around 24% for bikes, 15% for PACs and 10% for cycle repair. We also concluded that whilst there had been particularly strong growth in the cycling market in 2013 and 2014, we remained confident in the long-term market prospects albeit at a more moderate rate of 3-5% per annum."
Connor Campbell, a senior market analyst at www.spreadex.com said of the results: "It was a mixed full year report for Halfords. Although a 1.2% slide in pre-tax profits to £80 million was far better than analysts' more alarming expectations, coupled with a healthy 1.5% rise in like-for-like group sales and despite a near 1% drop in its headline cycle division, investors quickly rode away from the stock. This sent Halfords nearly 4% lower, taking the company away from its recent 7 month peak."
Among plans for 2017, Halfords has cited a new partnership with Olympian Laura Trott as something it is excited about in the cycling segment.
The fourth such link up with a cycling Olympian, Trott's signature series will launch ahead of this year's Rio Olympics and forms part of a strategy to offer a larger range of women's bikes – some 17 different bikes across the group.
Four new bikes will become available – one hybrid and three road – inspired by and dedicated to the needs of female cyclists, with a "female-specific geometry and spec" and priced from £449.
Laura Trott said, "Riding bikes is my life, so it's been a dream for me to develop my own. I want to see as many women and girls as possible to get out there on bikes – whether it's city commuters, mums cycling to school, fitness seekers or for those who want to go all the way and compete, the bikes are tailored to women and their individual ambitions for cycling.
"When we went through the design process, it was really important to create bikes that are both fast and comfortable for women. I wanted to create a range dedicated to the specific needs of women, so they don't have to worry about whether a bike fits properly, leaving them inspired to really just enjoy getting out there.
"If I can inspire women and girls to get on a bike and give it a go, that would be amazing."