Market Research: Belt Drives – are they a good thing for the bike industry?
If belt drives truly are 'fit and forget' then are they bad news for independent bike shops? Duncan Moore investigates…
Belt drive bikes are slowly gaining in popularity but is this a good thing for the bike trade? The benefits to the end user have been well publicised; low maintenance, lack of wear and cleanliness. However, on the flip side if a belt does not wear as quickly as a chain the bike will not be coming back to the store as often for service work. If belt drives truly are fit and forget can an IBD justify stocking and promoting the sale of bikes fitted with them?
Of course, as with most innovations in the world cycling technology, it's all a bit 'chicken and egg' when it comes to introducing belt drives to the masses. The main stumbling block is frame design. To keep the classic double diamond silhouette the drive-side seat stay needs to split to allow the belt to be fitted to the bike. Well, that's the case if the industry standard Gates Carbon belt is used. The only other viable option is an elevated chainstay and let's face it, that fashion has been and gone. However, there is an alternative coming to market – Veer Cycle. This is a system that uses a split-belt and the makers claim its belts can be used on a regular bike by simply swapping out the drivetrain.
In order to get an idea of the future holds for belt drive bikes, CI.N spoke to both Gates and Veer Cycle. First up Todd Sellden (pictured top), global director, Gates Carbon Drive talks about the size of the market. "Gates Carbon Drive has more than 500 bike brands around the world using our belt drive system-mostly in Europe but with growing market share in North America and Asia, particularly in the bike share space. While we have seen nice consistent growth over the last 11 years since our launch in 2007, we have just scratched the surface in terms of the full potential of Gates Carbon Drive.
"A decade ago when we launched Carbon Drive, there were no e-bikes to speak of and bike share schemes were only just beginning. So as the bicycle industry evolves, we are continuing to innovate our product line to meet the needs of all these new uses for bicycles."
The way the market and how bicycles are used is the key factor outlined by Sellden as the reason for the business' growth. "Think about how much the bike industry has changed in the past decade, how e-bikes and urban bikes have become a dominant category in terms of sales and growth in the bike industry. As that evolution continues, we are positioning Gates Carbon Drive to continue to capture a larger share of these new market segments outside of the traditional road and mountain bike categories, which for all intents are flat. There is a simple reason our market share is growing: our belt drives just make sense for many new styles of bike and for many of today's modern bicyclists. Bicycles meant for urban transportation must be reliable and durable. Our product delivers on those key metrics."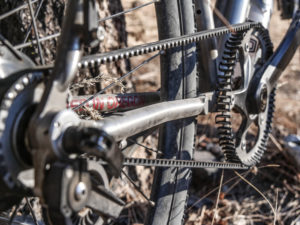 Sellden also sees potential to grow sales in areas that are not traditionally associated with IBDs. He explains that markets being targeted by Gates include stationary fitness and spin bikes. "This one is surprising to some people," he says, "but if you think about the rising popularity of spin classes and the heavy use that these stationary bikes get, Gates belts make a lot of sense because they reduce the workload associated with maintaining these indoor bikes."
Another area where Gates is working with suppliers outside of the conventional cycle retail market is by targeting hire fleets. He explains the logic behind this push by saying: "We have brands such as Priority Bicycles in North America that specialise in corporate campus and rental fleets that are helping us grow our presence within this space."
That changing demographic is touched upon too by Katrina Mounivong, business manager, Veer Cycle, who says: "The industry is shifting towards a more utility and transportation-oriented ethos for bikes with solid growth expected in the urban and commuting segments in many markets. E-bikes are here to stay. Belt drives offer a great solution for these applications.
"Belt options make for a great upsell, and really improve the experience of biking for many people. They pair very well with electric options and internally geared hubs, rounding out a high-value package. Belt drivetrains may result in lower shop revenue from maintenance, but there is no substitute for selling customers bikes they love and want to ride everywhere," adds Mounivong.
Both Mounivong and Sellden see the simplicity of belt drives as being the biggest selling point for their respective systems. In Sellden's opinion: "Internally geared hubs have many of the same advantages as our belt in that they are low-maintenance devices, but they can be more expensive than a derailleur. Early in our product development, we realised that we must become evangelists for internally geared hubs and help them move forward and become more popular, which they are.
"We don't just see ourselves as a belt drive company, but rather we see ourselves as an advanced drivetrain brand that is enabling the advancement of gearboxes and internal hubs and sealed, low-maintenance shifting mechanisms. Our belt is the backbone of these drivetrains, but we partner with all of the leading makers of internal hubs, and we distribute Pinion gearboxes in North America because we want to speed up the adoption of these alternative shifting mechanisms."
Although a much younger operation, having only been in business since August 2016, Veer is concentrating too on the hub geared market as the basis for its conversions. While the company is developing Bosch generation 2 sprockets, freewheel, fixed gear, direct mount rings, and fullsuspension options, its initial release includes sprockets that are compatible with Alfine, Nexus, Rohloff, and Enviolo/NuVinci gear hubs. Its front rings include five-bolt 110 BCD and 130 BCD and four-bolt 104 BCD mounting options.
However, Sellden believes that the full potential for the Gates system lies beyond the cycle trade. "In Taiwan, a company called Gogoro that makes clean quiet and efficient electric scooters with our belt drives is helping that country phase out gasoline-powered scooters due to air pollution. Gates has tremendous expertise in materials science, and we want to put that expertise to
work to solve human problems and be part of the solutions economy."
He concludes by saying: "Our growth reflects how wonderful a machine the bicycle is, and how it continues to serve humanity's need for affordable, practical, healthy and sustainable transportation. We want to be part of that evolution and revolution in two-wheeled personal mobility."