Maxxis gains traction in road and BMX despite tough trading conditions
Web traffic for Maxxis's road and BMX portfolios has "risen 100%" since the rubber giant declared earlier this year that it would attack the tarmac and race segments with greater gusto.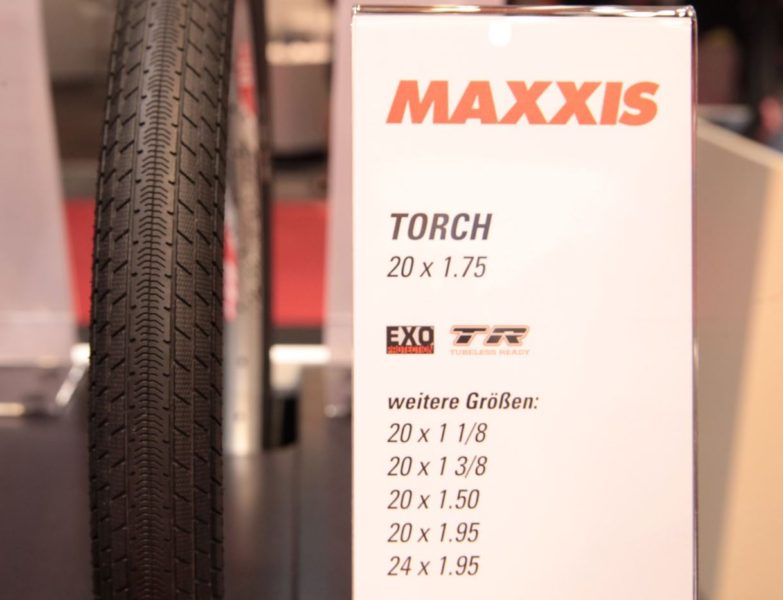 Speaking to CI.N, Stephen Robinson, brand manager of bicycle tyres said: "Back at February's Icebike show many dealers were surprised to see us showing and pushing road tyres. The advertising drive and sponsorship relating to road and BMX is beginning to pay off and the reputation transferring well from our mountain biking portfolio to our road segment. I think people's attitudes have shifted and they're of the mindset 'why wouldn't Maxxis be just as strong on the road as off'."
2017 got off to a slow start for the business, with the drop in the dollar impacting potential, yet a strong spring and early summer in Europe has seen business bounce back, further offsetting earlier supply issues relating to lead time increases and the number of SKUs in the catalogue.
"Five years ago we had far less to cater for, so the increase in the number of SKUs produced and trend switches meant an early slow down in 2017," explained Robinson. "But that thankfully has reversed during summer and we're now on course to record around a 15% growth on top of last year's 11%, all against adverse trading conditions."
With wholesale costs of rubber rising throughout 2017, Maxxis has held relatively steady against competition, generally sticking to around a 7% or less mark up in retail prices. In many cases there has been no change against a backdrop of higher rises from competitors.
Turning 50 years' old in March, Maxxis's drive to bolster its reputation in road circles is set to be further bolstered in 2018 with the introduction of a £45 to £50 clincher to go head to head with competitor's mass-selling performance lines.
Initially seen in prototype stage at the Taipei Cycle Show, Robinson outlined that the "High Road" tyre would focus on low rolling resistance, trimming around 15% off its current flagship and taking the best elements of Maxxis's triple compound and creating a dual compound tyre for pro road use.
On the BMX front, Maxxis has developed what it says is the first tubeless ready race tyre, implementing the XO sidewall tech from the MTB portfolio to offer savings of up to 700 grams over traditional setups.
Visitors to the Maxxis stand at Eurobike will get a first glimpse of two new variations of the Maxxis Minion models, which have been enhanced with features designed to increase the tyre's durability and versatility. The Minion DHR II will now be available with the DoubleDown (DD) technology, which features two 120 TPI casing layers reinforced with a butyl insert to provide extra support and puncture protection, all while keeping the tyre as lightweight as possible.
Listening to its customers, Maxxis has also launched the Minion DHF tyre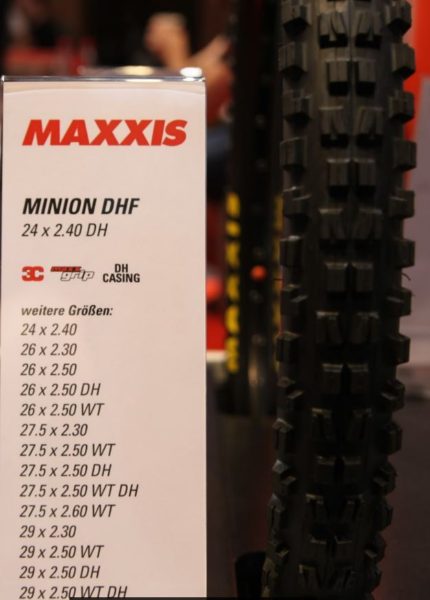 in the smaller 24-wheel size. The new size will feature a 3C MaxxTerra compound designed to lower rolling resistance and increase cornering grip for ultimate handling confidence, with a 60TPI and the high-tech EXO sidewall puncture protection technology.
Robinson concludes: "We are known as innovators in our industry and are very proud of that reputation. Using our manufacturing facilities and world class research and development capabilities, our teams work around the clock to create, develop and bring to market the future generation of market leading tyres that encompass the latest technologies. We're constantly listening to our customers and their needs, and using that knowledge to guide our innovation.
"Eurobike is one of the biggest events in our calendar every year, as the event attracts thousands of visitors who are passionate about all things cycling. With visitors from 106 different countries attending last year, it's the perfect stage for us to launch our new tyre models to the world, The MTB sector is one where we are most dominant as our customers know the quality and value for money our tyres offer. We are confident that the new additions won't disappoint and will help take that dominance even further."
To see all of the new additions and more, visit stand 302, in hall A5 at Eurobike.
Maxxis is available in the UK via Madison and Extra UK.