Media reporting of road safety addressed in new wide-ranging consultation
A public consultation addressing how the media reports on road safety issues will launch with the support of the National Union of Journalists, the University of Westminster's Active Travel Academy and numerous road safety and cycling organisations.
Opening today, the consultation asks for the public's stance on how reporting influences how we tackle the issues facing society. The group flag that while guidelines already exist for reporting on suicide, children and refugees, for example, none specifically guide best practice around reporting of road collisions.
Four clauses have been laid out each aligning with journalistic values that inform existing reporting guidelines – with more detailed explanations and examples on the website. These are:
Impartiality: Publishers must not use the term accident when describing road collisions – collision, or crash, are more accurate, especially when the facts of the incident are not known
Discrimination: publishers must avoid using negative generalisations of road users, and must not use dehumanising language or that which may incite violence or hatred against a road user in comment and news coverage
Accuracy: Coverage of perceived risks on the roads should be above all accurate, based in fact and context. Publishers should make mention of human actors in a collision, and avoid reference to personal protective equipment, such as hi-vis and helmets, except when demonstrably relevant
Reporting on crime: Publishers must avoid portraying dangerous or criminal behaviour on the roads, such as speeding, as acceptable, or those caught breaking the law as victims
These draft guidelines have been produced by the University of Westminster's Active Travel Academy in collaboration with national roads policing, academics and experts in the field, road safety charities, and the National Union of Journalists' ethics council, and advised by IMPRESS. The Guidelines' four main clauses speak to core journalistic principles of accuracy, fairness, non-discrimination and justice.
John Ranson from the National Union of Journalists' ethics council said: "Good reporting should inform. It should help the public understand what has happened. And good opinion journalism should provoke debate and challenge the audience. But too much of the media's coverage of road collisions has played into and reinforced lazy generalisations. We hope these guidelines will equip journalists to report on road collisions with accuracy and humanity, bringing the same standards of integrity to this topic as to any other."
Road crashes claim more than 1,700 lives a year in the UK alone, and cause life-changing injuries for thousands more. Worldwide, road collisions are now the leading cause of death for young people (aged 15-29). On a more subtle level, road danger fundamentally impacts our daily lives and how safe we feel on our streets.
Chris Boardman, British Cycling Policy Advisor, said: "Having worked for nearly two decades to get people riding bikes for health, leisure and utility journeys, I can say categorically, that reporting of cycling activity and particular incidents, has a huge influence on perception. For good or ill, words really do matter, they paint a picture and influence both how we feel about a topic and how seriously we take a crime.
"My British Cycling colleagues and I have been frustrated for years about how tragic occurrences are often painted as unavoidable accidents rather than the result of very avoidable criminal behaviour. So we very much welcome that this topic is at last being addressed and that guidelines are being crafted to ensure those who are truly responsible for road violence are the ones in the spotlight."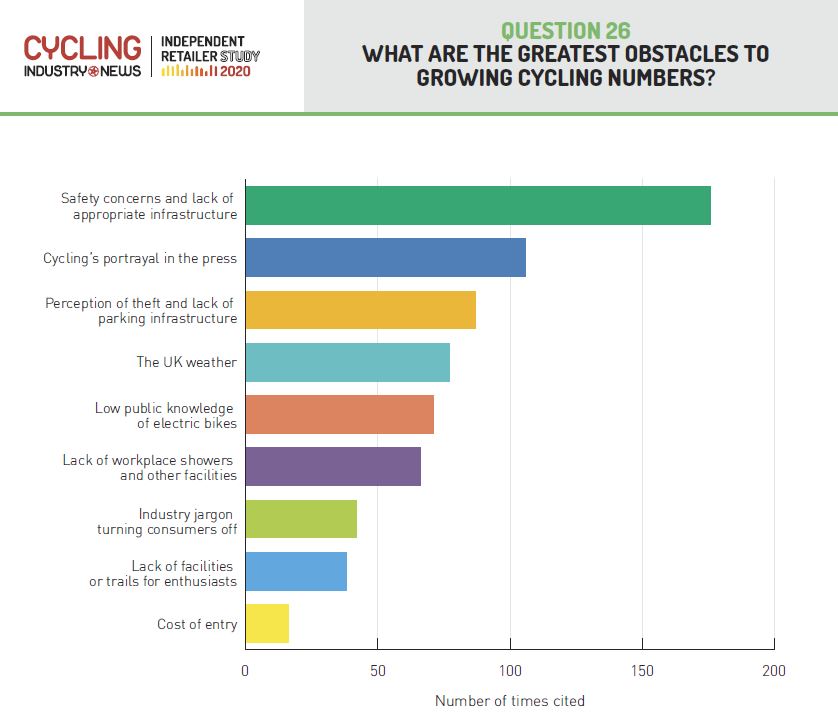 Indeed even the trade perceive this as key issue for the cycling industry, media coverage has hampered progress on road safety through misrepresentation in many instances, leading campaigners to flag the reality of life on the roads for vulnerable road users and how such reporting can actually put these users at greater risk.
In CyclingIndustry.News annual Retail Channel Study, bike shops named cycling's portrayal in the press as the second largest barrier to new cyclist creation after only lack of safe cycling infrastructure.
Similarly, inaccurate media reports have this year adversely impacted the cycling industry's electric bike trade, wrongly stating that Simon Cowell had experienced a crash aboard an "e-bike", when in fact it was a much higher powered electric motorbike.
While there are examples of good reporting, as recognised by the Active Travel Media Awards, collisions and their causes are too often misinterpreted or misrepresented. By confusing public debate this risks hampering genuine progress in tackling road crime and improving road safety.
Professor Rachel Aldred, director of the Active Travel Academy, at the University of Westminster, said: "Research shows that how crashes are reported shapes how we think about and respond to them, sometimes in quite problematic ways. So it is crucial that journalists have guidance helping them with current best practice around road collision reporting, as exists for other issues such as suicide and domestic violence."
The closing date for consultation responses is midnight on Sunday 8th, November. Responses will be assessed by the working group and the first Road Collision Reporting Guidelines will be officially launched at this year's Active Travel Media Awards, on 26 November 2020, and subsequently published on a dedicated website.