Havebike talks expansion and why low workshop lead times are crucial to success
If there's one good thing to come of a financial crash it's the ability to start afresh, as many have done this year. HaveBike CEO Nick Brown tells CI.N how the 2008 meltdown sparked turning a hobby into a quickly expanding business…
Hearing stories of people growing tired of the city and moving into passion projects is not uncommon, but nonetheless a good reason is often required to make the leap from the relative safety of a well-paid job to an industry that isn't known for making millionaires.
Not too long after the 2008 financial crash that's exactly what Nick Brown, a former lawyer, opted to do, even though he was not a victim of the financial meltdown as such.
"It began for me in the summer of 2009 after the crash. My boss at the time didn't make redundancies, but did offer an extended summer break as business was quiet in the aftermath of Lehman Brothers' collapse. At the time I was buying and selling bikes on eBay and enjoying it, what's more I was making okay money. Despite being on six figure salary at the time, the draw of doing something I enjoyed was strong," starts Brown.
It actually started long before that, he admits. As is so often the case with people who end up in the bicycle industry the true beginning was "tinkering with my bike in my mum's  kitchen, taking it apart and putting it back together."
During the summer of 2009 Brown toured Italy and France, apparently checking out the bike scene overseas and pondering whether an opportunity existed abroad. Upon his return the decision was made to leave his role in the city, but the plan of what to do next was not formalised truly until one day he had a poor experience as a customer in a London bike shop.
"I was horrified at being told there was a three-week lead time in this shop. The reality is, no matter how busy a shop is, for a Londoner and indeed any modern shopper, that wait time is not acceptable," says Brown, before adding the disclaimer that the Covid-19 'bike boom' experience might be the exception to the rule.
The HaveBike lead time goal is to have turnaround inside a maximum of 72 hours and furthermore, a customer should be able to book in within the next five working days.
"We've never run at north of two weeks at any point, bar that crazy period during the spring. Because we are a service rather than retail business we have great storage, a surplus of skills on hand to complete work and the way we operate is fine-tuned for efficiency," we're told.
Part of the efficiency begins with the first customer inter- action, an online book in that is delivered via purpose built  e-commerce platform designed to book in and allocate  work in a time-smart manner, as well as deliver convenience in collection and payment for the customer.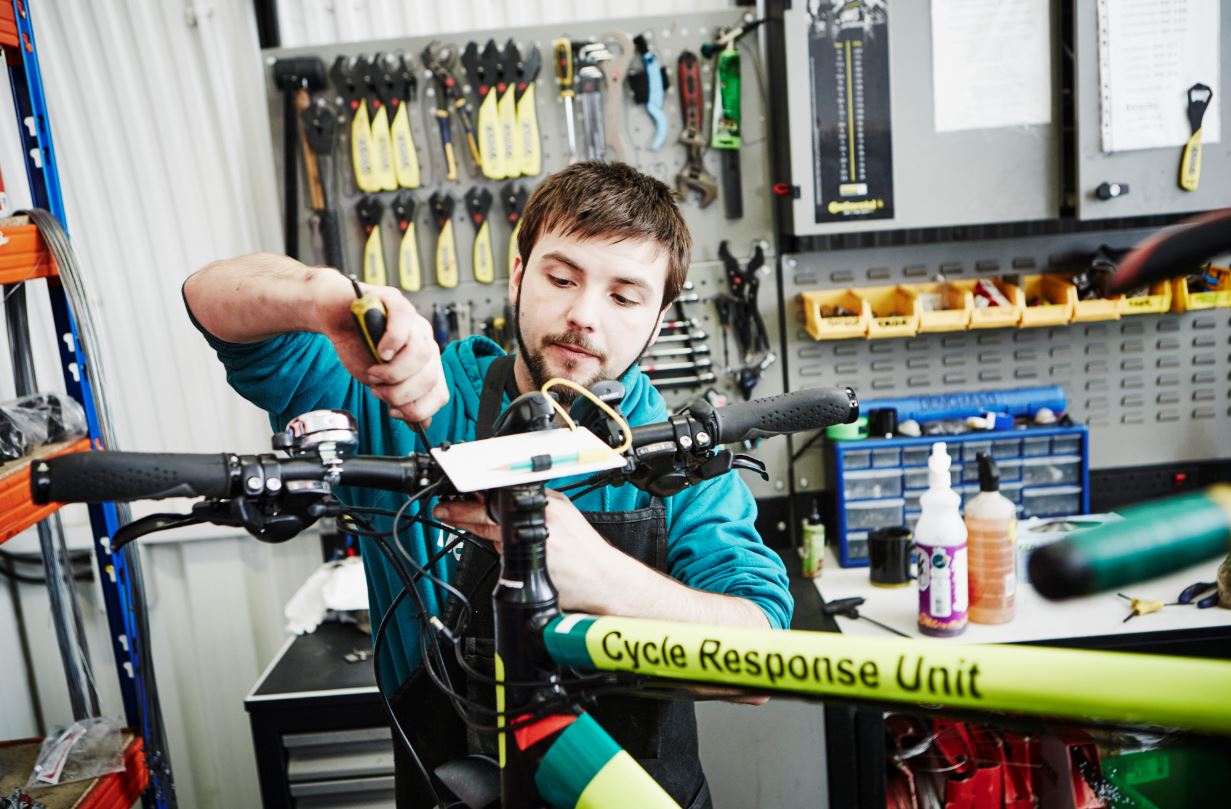 "Luckily I had contacts from my time in the city who are smart in cloud computing and software development, so that investment was made early. This system enables us to pull up any bike in the workshop's details in an instant for a stats check and allocation of work. As an aside to that, it's really our market disrupting collection service that set us apart as we offer collection and return as part of the price. It's not just about the workshop, but the logistics network too," says Brown.
The vans that pick up customer's bikes are again purpose built inside to ensure each bike is protected and secure in transit. With the pandemic very much turning the world upside-down, those vehicles have been found further and further afield too.
"Pre-Covid, our mechanics went in to businesses, but the  lockdown killed that trade entirely. We decided to do some- thing about it as we knew many customers lived in an accessible radius around the city. The benefit of going wider, we found, is that outside the city people use their higher-end bikes rather than the commuter steeds they risk in London. That has meant the mechanics are enjoying working on  those bikes and as a result our natural expansion is under- way. Havebike now stretches into parts of Hertfordshire and  Essex, as well as a full coverage of Surrey and anything inside the M25."
There is perhaps more to the expansion too. Brown alludes to building on one of the bedrocks of the business; the service of emergency service vehicles and not just those in the local area.
"We have invested in an import company to help our supply chain to service emergency services fleets with  custom made bikes built to our spec. Naturally, we are talking to overseas organisations for bike supply. The ambulance bikes can carry 70 kilos of defibrillators and oxygen  tanks and remains a workbench on site thanks to a super strong kickstand. The ergonomics of spending eight hours of cycling often in heavy gear is a design consideration we've taken seriously," says Brown.
The action to capture large the service contracts has been a pillar of the Havebike business from early on and, again,  Brown believes his former life in the city has done the business favours.
Brown explains: "As a former lawyer I've a skillset that lends to high level negotiations, I perhaps didn't present as a bike mechanic. Public sector contracts need a certain response to tenders and bidding skills to carry you through negotiations. One of our early contracts was with St John's Ambulance. They called us in for a meeting, requiring a fleet to be both supplied and maintained. We came from that meeting with a problem to solve on supplying 40 paramedic bikes. We delivered this deployment ahead of the London Marathon, on time and on budget. From there word spread to the London City Police and MET who were just setting up their bike division."
Sticking with expansion and negotiations, we touch on the subject of how quickly Havebike's competition is expanded; most notably how the Covid spike mirrors his own entry to the market. Mobile mechanics businesses, CI.N's own data confirms earlier in this issue, are proliferating quickly as people find themselves at career junctions. This has both positive and negatives for the market, says Brown.
"In the past we have acquired some mobile mechanics, such as Ultimate Bikes. Part of our expansion strategy is to offer more joint ventures or acquisitions. It's great to see the mobile mechanic market broadening as it gets the message out this service exists to those yet unaware. What I'm more worried about is the hobby mechanic that  will come in and devalue the work of qualified and experienced mechanics at a time when prices should be  going up."
Brown agrees that for a long time the bike market under- valued its skilled work and has only recently been getting to  grips with charging an appropriate rate to better support a mechanic's wage that will attract rather than deter talent from landing in the trade.
"We think we are one of highest payers in industry and offer a decent scope of career progression too. A few years ago Serco did a benchmark study on industry salaries as part of its service contract for the London Bike Hire scheme. Ultimately Serco found it paid its mechanics the best and Havebike came second. I think it's an important issue, mechanics have earned the qualifications and often have years of experience; we should collectively pay better for that knowledge. The only difference really is that I wore a suit as a lawyer while the mechanic has overalls, both are learned and valuable skillsets."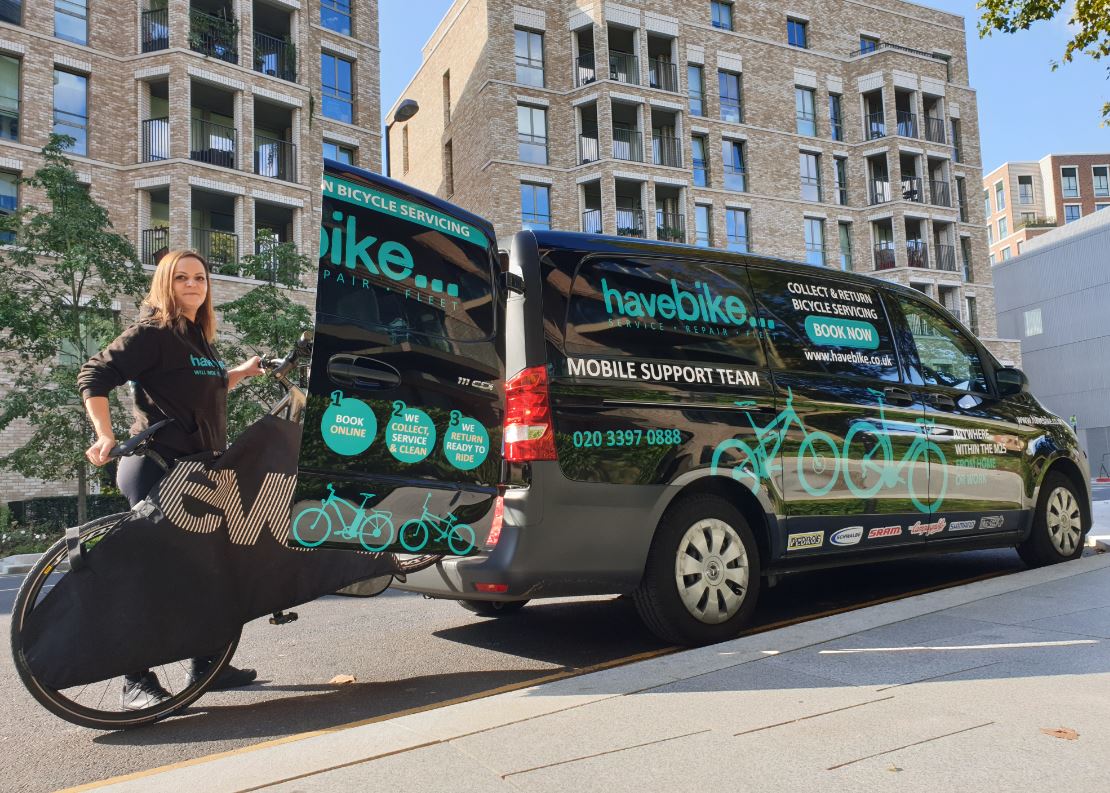 For Havebike the pricing structure, including pick up and delivery sits at £59.99 for a safety inspection and basic service, £89.99 for a full clean and removal of key bits under the Deluxe banner and, finally, the Super Deluxe at £200 offers a complete strip, clean, grease and rebuild of all the key moving parts.
"Times have changed for the bike world. Many years ago people wouldn't dream of buying a high ticket bike, but now the average sales prices are rising fast; so should the prices for servicing should reflect this," says Brown.
With corporate servicing contracts a key part of the business we ask to what degree will last mile servicing become  part of the mix, to which we learn that a model pioneered in the USA by Velofix and Beeline Bikes is mirrored with some last mile servicing work for direct-to-consumer label Ribble. Havebike is also a Canyon approved service centre.
"We're perfectly geared up for this kind of work," says Brown. "There are a number of direct to market e-Bike manufacturers and retailers we hope to work with. Every bike we handle gets that initial 104-point check over, so every bike is safe when it leaves the workshop. For our usual customers we have made the process familiar, like an MOT, with advisories and mandatory service points put forward on each transaction."
Of course consumer direct trading can cause bike shops as many headaches as opportunities, but for Havebike policies are in place to manage the expectation of each  customer, no matter where they buy.
"We deal with customers bringing in online bought parts with sensitivity, after all, who wouldn't want to spend £200 less on Ultegra, for example? We are very straight with the client as certain parts we do supply without a fitting charge, but if customer supplies product the fitting charge is added. They may argue we are taking the old one off for cleaning, so have to put back anyway, at which point we go into some detail with them about our three-month labour guarantee offered, among other enjoyed perks. The customer often takes it on board once it is explained to them. We did moot the idea of an online levy, but that's perhaps too far; it's the way of the world."
Havebike begins 2021 with plenty in play, including an 1,000 bike contract which, at the time of writing is yet to be revealed. Further to that lucrative trade, a pioneering link with Shimano will see Havebike be the testbed for on the road accredited Shimano Service Centres.
Havebike are now recruiting to assist with the firm's territory expansion. For the role details, head to CyclingIndustry.News/Jobs.