How one Oxford bike shop's commitment to its community has bolstered business
A regular in our Ask the Trade discussions, Oxford bike shop Mickey Cranks is a business with both a quality and quantity of following. We visited to find out how he's achieved this status in Oxfordshire…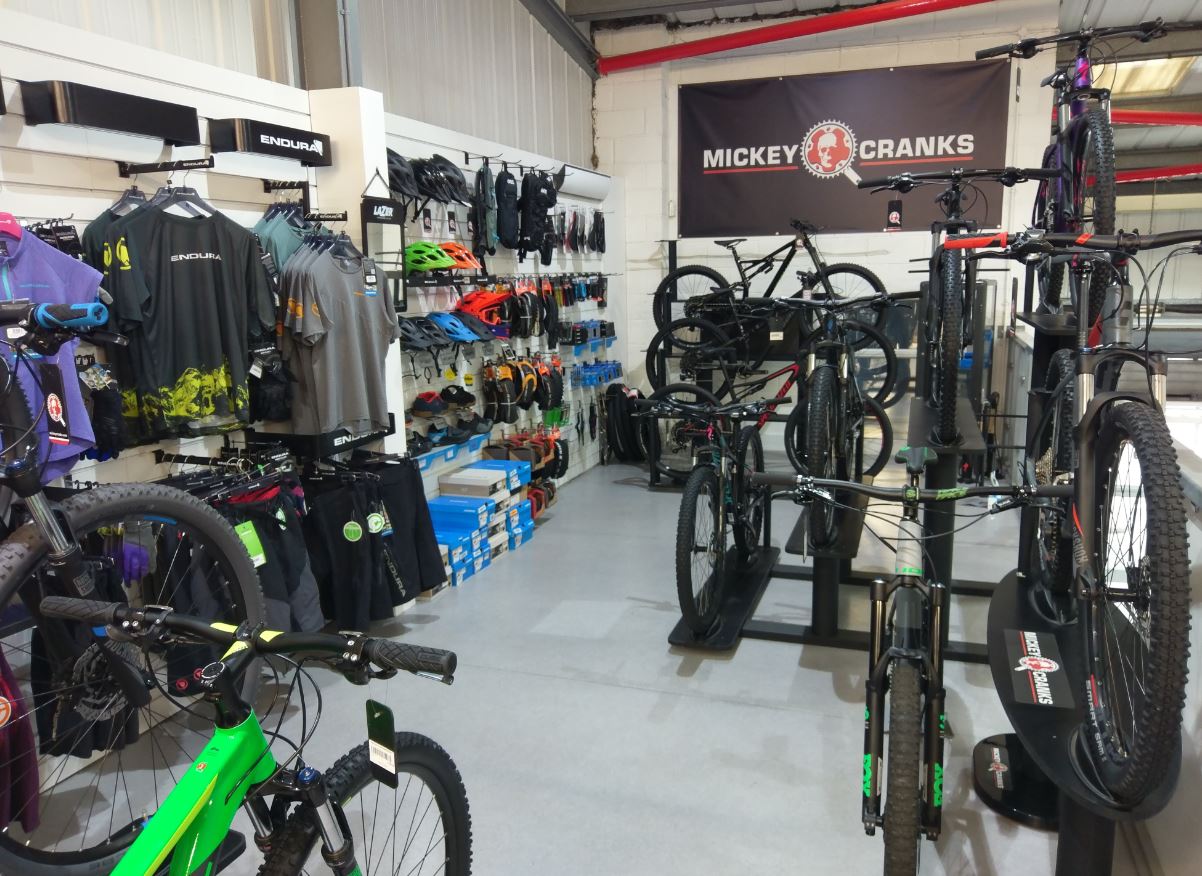 Found on the outskirts of an affluent town on what shop owner Mick Murphy says is, admittedly, an outwardly scruffy and low footfall industrial estate, step inside and you are greeted with a transformation into a modern, tiered showroom showcasing the likes of Cube, Cannondale and Specialized, among others. It is, as many good shops are, a destination.
It's a dual level, 2,800 square foot plot, with a mezzanine level hosting a Retul bike fit centre, something which Mick takes an active role within. "I enjoy it because I can get to know a customer and we have a great array of professionals enter and with that a great array of problems to solve. It's more aches and pains to solve than performance gains, I find. We offer a free fit with any sale north of £1,500, but we'll put all customers in the turbo for a bit and hear about their cycling goals."
What's quickly evident from chatting to Murphy is that his store is a social hub of sorts. Having taken an incredibly active role in the local community and organising the local cycling club's outings, Mickey Cranks now sees five different Sunday ride groups depart from the store each week. It's now believed that, helped along by some of the UK's quieter and more cycle friendly roads, that the club associated with the business is one of the UK's fastest growing groups in number.
There are subtle hints in store that Murphy is content for locals to use his store as a hangout of sorts. Tucked under the stairs is an honesty bookshelf where customers are welcomed to trade reads.
"Membership to the cycle club has always been non-profit and separate to the business. I don't think I'd be comfortable charging for my role in organising. We've some house apparel with our branding on that's incredibly popular, but that's about as far as it goes, I do what I do because I want to give something back," says Murphy.
With his background in the military, Murphy lets us in on a project currently underway to help those returning from war zones and the blue light services to cope with Post Traumatic Stress Disorder (PTSD).
"I've applied for funding to create a mental health charity; I want to introduce people with PTSD to cycling, as a means to helping them recover from the stresses of service. I'm writing the plan up now."
Though the customer demographic is undeniably "MAMIL"-centric, Murphy is keen to bring new faces to cycling and has placed particular emphasis on driving women's participation.
"I think many barriers exist to bringing new women into cycling, but they actually make up a strong portion of our web traffic, so there's genuine interest to explore. There's generally less choice in product terms and often a greater sense of exposure and discomfort, particularly when taking to the roads for the first time. By joining our club and the bi-weekly ladies rides, I hope we're doing our bit to reduce that exposure and create new riders. We even have a ladies' race team," says Murphy. Inclusivity benefits business, advocates Murphy, who freely admits from having benefited from his own staff's knowledge on mountain biking that has enabled him to carry an increasing representation of dirt-going builds in store.
"We're up to about 40% of our stock being for the off-road adventurer and we're certainly seeing more evidence of a transition and curiosity from many road cyclists. You get a lot more for £1,500 than you've ever done previously, mountain bikes are incredible now. With gravel bikes I'm having gents come in and give me the speech they've just put to their wives; it's all about justifying that N+1 mindset."
Staff enthusiasm is a must, in fact it got one member hired, such was his passion for the store's goods, says Murphy. Once you're in, your knowledge will be actively sought in every discussion. penciling in regular whiteboard meetings, we're told that there's a lot to be learned from listening to those greeting your customers day in, day out.
Though 60% of the store's revenue stems from bike sales, the large customer-facing workshop is unsurprisingly becoming an ever-more crucial ingredient in the mix.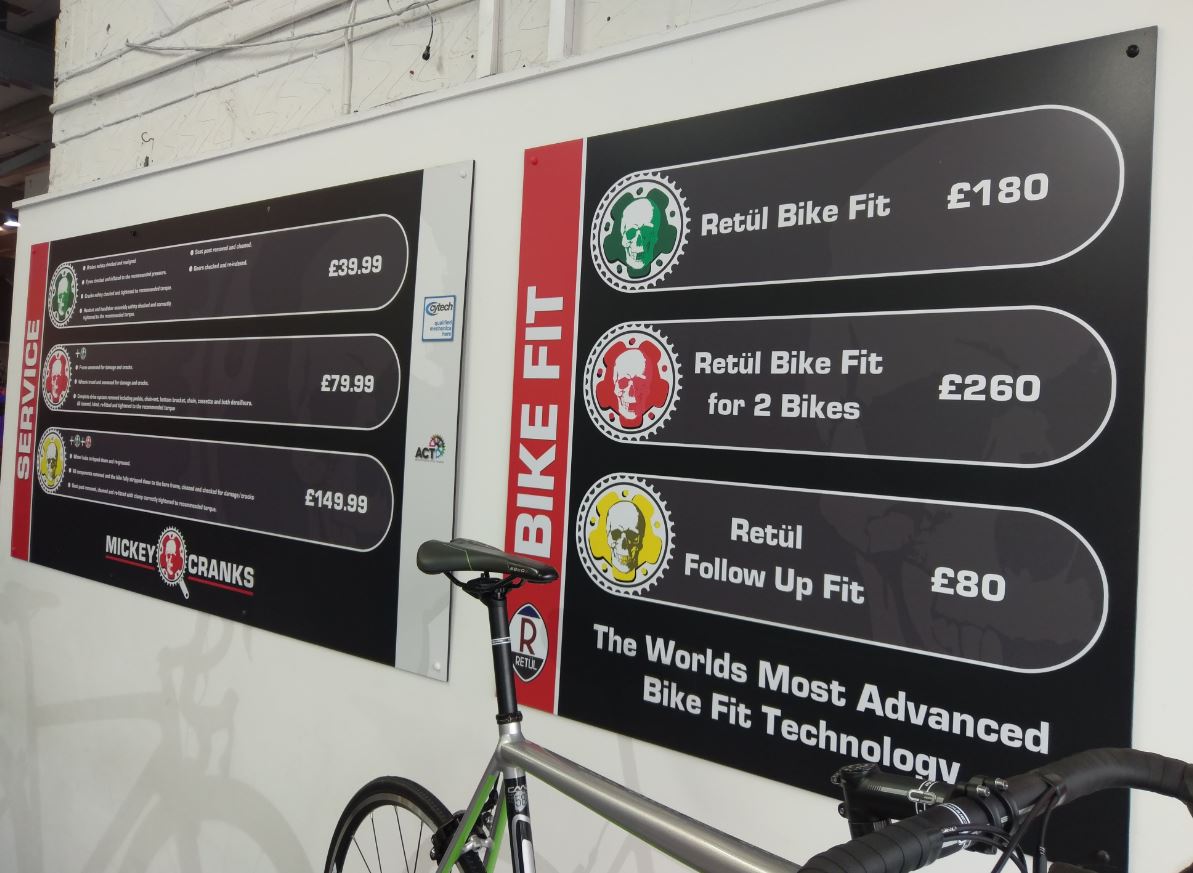 "Around a third of our gross profit stems from the workshop and we've really fine-tuned the process to make sure we're getting the most value from the investment. We are conscious to book in the right amount of time for a job wherever possible and in-line with our three-tier service packages at £40, £80 or £150. We're working to about £40 per hour labour and with tightening our operation to a structure we've added 20% turnover. Previously we were under charging, so the prices have been adjusted and we've had no complaints. We have a lot of internal cable and di2 style jobs which can absorb the day, so we have to run a tight ship on repairs."
Moving forwards, Murphy is conscious of what market research alludes to in terms of changing consumer spending habits. Citing some recent Mintel research, we're told that experiences will soon present additional revenue opportunity for the business ready to create them. On this topic the cards do, however, remain close to the chest.
In the meantime we're told, "there are no Mickey Cranks customers," meaning that whatever bike or breakdowns come through the door, Murphy's team has no time or desire to judge the customer beforehand.
"You won't hear me moan about the Internet, our thinking harnesses the benefits instead. If a Canyon comes through the door, so what? They've come in for a reason, they're in your store giving you a shot, why start with animosity? We'll service for our usual profit and try to develop the same relationship we would if the customer had bought from us. There are instances too when we can assist this deal-hungry customer in a consultancy role. I'm happy to price match if we can capture a fee for our time to check the components are compatible and further the workshop build. There's plenty of ways to capture a customer's loyalty."
Capturing the web-savvy customer is part of Murphy's investment plans for the near future with an overhaul of the website due. Having invested in kitting the business out with Citrus-Lime's ePOS and e-Commerce platforms the next step is to optimise the firm's online portal for mobile users who make up "over half" web traffic. Focusing on optimising the shopping experience to make it as easy as possible to shop and checkout quickly again tallies with research into modern consumer shopping habits.
"Another move I'm keen to make is towards personalised photography throughout the store and online," concludes Murphy. "It's important that you're showing of your branding at all times, so I'd like our walls to be covered in the faces from our club rides on the bikes we sell."