Speed Pedelecs: Where does UK law stand on their use and can bike shops sell in confidence?
It won't have escaped the attention of those working in the electric bike space that some law bending has been occurring among customers keen to go faster. This is risky business for anyone turning a blind eye, or worse, enabling the practice. With The public asking more questions, CI.N asks Riese & Müller's Dan Jones, how can UK retailers legally sell speed pedelecs?
The easy thing to do would have been to sit on the fence when covering the speed pedelec segment, currently considered a niche of an albeit now exploding former niche. In the context of European turnover, public awareness of electric bikes is only just shifting beyond its youth in the UK and a fraction of those in the know will have genuine knowledge that these bikes can (not necessarily should) go faster.
The topic has become difficult to ignore as whispers of illegal use and, worse still, retailers offering illegal derestriction have become too loud to ignore. In short, the risk has become significant to the electric bike business, which perhaps finds itself one poorly researched headline away from public outcry. That may put street legal electric bike use under undue scrutiny, something the currently profitable segment can ill afford.
Why are we choosing to run this article? In part to outline the risk, but also to show that an opportunity to catch the first wave exists, if done correctly. Retailers enhancing bikes beyond a 15.5mph capability without declaring the change of use and filling out the appropriate paperwork is much akin to selling mopeds without any of the appropriate registration. In short, it's not just risky business; it's risking your business.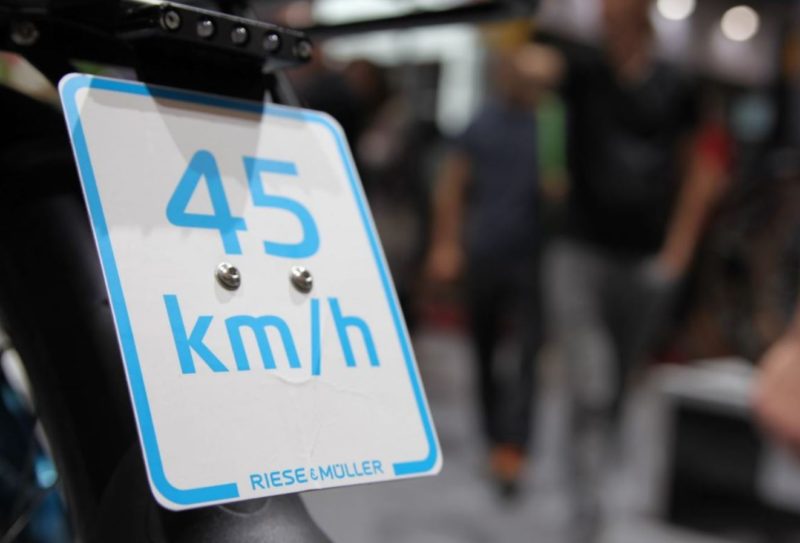 With rules and regulations varying between continents, OEMs may for some time be reluctant to hit the off switch on tuning motors, though it is understood the larger manufacturers are making progress here. So, what's to be done if a retailer encounters a 'dongle' and how can those interested in the segment go about tapping into the demand in a perfectly legal way?
Electric Bikes Sussex, which announced in January that it will now take care of the paperwork on behalf of customers, is a pioneer in the segment.
Managing director Graham Rowe said: "We offer a personalised 'registration service', whereby we can clear all the regulatory DVLA Registration challenges on your behalf, leaving you to arrange insurance and ride away."
Of course there's a bit more to it than that. Customers will require a motorbike standard helmet, the bike will also have to adhere to different standards on braking, lighting and general build quality. Like mopeds, these builds must be ridden on the roads and not on cycle or shared use paths, unless otherwise stated.
As such they're not touted to see quite the trajectory of less powerful bikes, explains UK KTM importer Col Williams.
"Speed pedelecs are a totally different prospect, I'm not sure they'll ever be a big seller. They have to be registered as a moped and can only be used on road and certain paths while wearing a certified helmet. There will be a market that wants this type of product, but without significant changes in legislation I think it will remain small, as will the e-Cargo genre. These markets will only grow as the infrastructure in cities allows cyclists to feel safe."
Daniel Jones, Riese & Müller's UK sales agent has been working closely with the DVLA and DfT to ensure that his retailers can be on the right side of the law, should they choose to carry the high-ticket bikes that, on mainland Europe, are gathering momentum among those undertaking long distance commutes and touring, among other uses.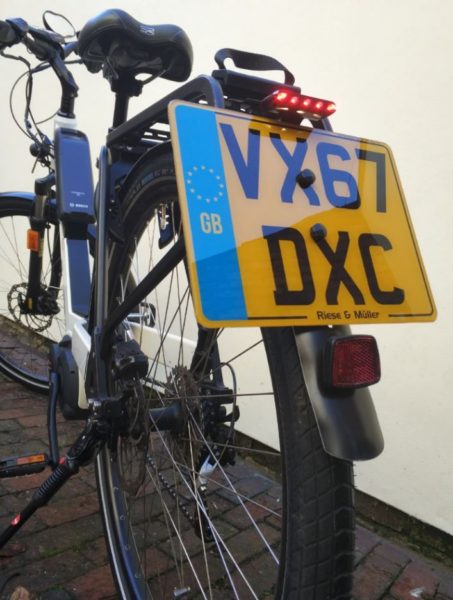 It's not been easy, explains Jones. Simply gaining acknowledgement that his test bike needed registering took persistence.
"Insurance is extremely difficult to obtain, most insurance companies just don't recognise the vehicle, so are unable to offer insurance," says Jones.
Difficult, but not impossible: Jones has found a number of insurers confident enough to offer coverage.
On to the licence required and it appears speed pedelecs carry certain requirements.
"Due to my age and the fact that I passed by license before the 1st of January, 1997, I have 'Grandfather Rights'. I am able to ride it without an additional test or licence. My son, who just passed his driving test at 17, despite being able to propel his push bike to over 40mph on the road or cycle path and having cycled for the last 5 years every day, can't ride one without taking a CBT (one day moped test, this expires after 2 years) or a full motorcycle test."
Like a moped, such builds would require some form of MOT. This, says Jones, is an area where bike shops, like car garages, could stand to become significant service winners in the near future.
"I strongly feel that the best people to assess the road safety of this vehicle is a cycle shop (they are also skilled and insured to carry out any work on them) so it would be better if it had a service book needing a stamp every year rather than an MOT, which will be carried out in a location that doesn't understand the bike or its operation. Mobility vehicles are registered with the DVLA but don't require an MOT or a registration plate so the argument 'all vehicles registered with the DVLA require an MOT' is not fact.
"Having looked into the MOT requirements in more detail I feel it could do with a refresh. I'm amazed that a 50cc bike can have the same brakes as a 1,000cc bike. The same applies for the lights, horn, etc. Cars are continuing to get safer, bikes, it seems, are not."
Is there still some way to go before everyone is singing from the same hymn sheet on the subject? Undoubtedly, yes. Yet with the news that Eurobike will dedicate an entire hall to 'e-Mobility' this year, the bike and indeed auto trade's involvement in the sector is likely to develop quickly. This will be further driven by cities phasing out car use, as is currently being seen across much of Europe. If your store is exploring urban mobility solutions outside of both pedal powered and standard electric bikes (like many are in order to thicken revenue streams), then be advised there is no grey area between e-Bikes and speed pedelecs.
With service an ever-crucial aspect of the cycle trade's profitability, speed pedelecs could, in time, become a good friend to the open-minded bike shop. Yet, only if done by the book.
(Editor's Note: This is a constantly evolving subject and one which has taken some considerable time to for Jones and others to get clear answers on. CyclingIndustry.News will seek to keep you informed as this segment evolves, though very often the getting clear (or indeed the same) answers to questions relating to registration can be complicated. Dealers will need to be adventurous and willing to educate themselves thoroughly before embarking on selling these bikes in the UK. For those that do, the opportunity is fast emerging.) 
Speed bikes, the process
1. Order the bike. (Riese & Müller's HS bikes come with a Certificate of conformity. Dealers will have this shipped with the bike. For bikes manufactured this year they need to meet the new regulation – 168/2013/EU, as HS bikes do).
2. Order the forms at forms.dft.gov.uk/order-dvla-forms/. You need a "New vehicle import pack – Application to register a new imported vehicle for use in the United Kingdom" and "V55/4 -Application for a licence for a new motor vehicle and declaration for registration". This takes five to ten days.
3. Bike arrives.
4. Complete the V267 & V55/4 (information taken from certificate of conformity). If done as a company you will need to include a bank statement and/or utility bill and copy of corporation document. If completed as an individual you'll need to include a bank statement and/or utility bill and a copy of driving licence/passport.
5. Send completed forms, ID (as detailed in 4), a cheque for £55 made payable to DVLA & the original certificate of conformity to DVLA, Swansea, SA99 1BE.
6. Await the return of the V5C (approximately 2 weeks).
7. Check vehicle tax at vehicleenquiry.service.gov.uk/ (it is exempt, so free).
8. Order a number plate. Jones used demonplates.com. They require a copy of your driver's licence & V5C registration document.
9. Purchase insurance. Bikesure quoted Jones £135 for third party only, while Quoterack quoted £200 for fully comprehensive.
Useful information
Helmet Law: gov.uk/motorcycle-helmet-law
Electric Bikes Sussex experience