No contact bike carrier seeks to forge shop and distribution links
Advertorial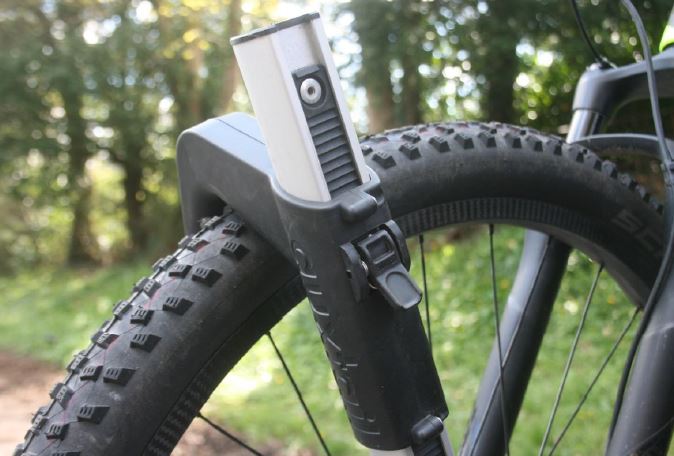 A new cycle carrier label designed by ex-Nissan engineer Craig Broadbent is seeking to create links with UK bike shops and European distributors.
Dubbed Auxtail, Broadbent's concept is one that focuses on removing all contact with paintwork, instead clamping down on the bike's wheels. Regularly using his own bike for transport and leisure, Broadbent's system has been over a year in the testing, carrying everything from pairs of electric bikes, through to kids bikes.
Already gathering press interest, we're told that the Auxtail takes as little as 30 seconds to secure bikes and will fold completely flat when not in use, even fitting in the boot of most hatchbacks when not in use.
"It's very lightweight as these racks go, at 13kg, which has both mounting and fuel efficiency advantages," Auxtail's marketing manager Peter Kelk told CI.N. "You can pick it up with one hand and mount to either a tow ball or Hitch attachment, depending on the model. We include a plate to receive the carrier or a traditional towball mount which fits directly."
With many manufacturers, in particular those producing carbon fibre frames, warning against any form of frame clamping, the Auxtail has a place in the market thanks to its unique fixture, believes Kelk.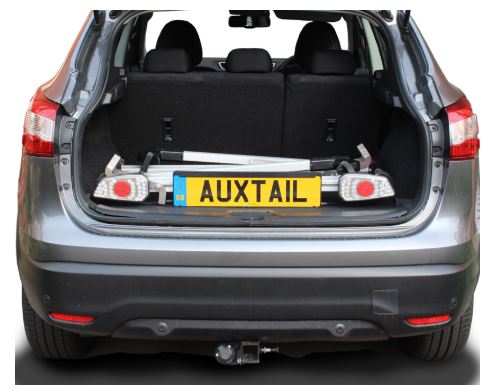 Each carrier has a pivoting arm and steel guide, which secures the front wheel. This removes the need for a frame clamp. Each arm has a movable ratcheted clamp which secures the front wheel. Accommodating wheels sized between 18″ and 29″, the Auxtail will comfortably house most bikes. Removal of the bike is as simple as releasing the rear wheel strap, pushing down on the arm's clamp while pressing the release catch.
"We're very keen to introduce the rack to high quality bike shops across the UK, who can earn a tidy margin on sales," says Kelk. "We'd also be very interested to speak with distributors in Europe who may be interested in testing our design. Interest is steadily building among consumers, so we've demand to fulfill."
The Auxtail Hitch carrier has an RRP of £475, while the Towbar version comes in at £495 RRP.
For those interested in the product Peter Kelk is contactable on 07591 245 682, or by email here.
Advertorial