Paligap ramps up commitment to the tubeless sector
With both Stan's NoTubes and Goodyear now with its distribution portfolio, Paligap has ramped up its commitment to the tubeless sector with a new 'bestseller' POS unit, a new Brand Manager and two new sales and merchandiser personnel.
Stan's NoTubes has been distributed by Paligap over the last 12 years, servicing 1,000 UK dealers. The partnership with Goodyear, revealed this spring, came after the tyre giant announced its second foray into cycle tyres after a 120 year hiatus. Goodyear's line up is based around tubeless compatibility offering the full range in a 'tubeless complete' specification.
Now in a move to capture the growing market of tubeless converts, Paligap has introduced a new POS unit to the UK, housing the top 12 bestselling lines from the Stan's NoTubes range, including the UK distributor's house packaged Stan's NoTubes Tubeless Kits for both mountain and road customers. The unit is available free standing or in a slat wall mounted format and offers an increased margin for dealers with a 90 day money back guarantee.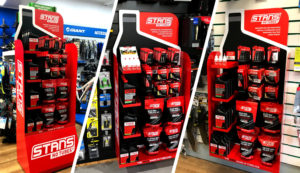 New Personnel
Paligap has also employed a new Brand Manager; Diego Di Napoli, to oversee the Goodyear and Stan's NoTubes brands, replacing Ben Evans who has decided to take a nine month sabbatical, traveling the world.
Diego Di Napoli's career in the bike industry includes five years with Schwalbe as a Territory Brand Manager, time with Cycloc as Operations Manager and more recently with Vee tyre as UK Sales and Marketing Manager. Paligap said: "Diego brings with him expert knowledge of the tyre industry and experience working with dealers and account managers to form long lasting, beneficial relationships for supplier and dealer."
To bolster this new team and support growth in the tubeless market, Paligap has also employed North (Thomas Wild) and South (Pim Ramselaar) Sales and Merchandisers. They will be traveling the country providing training for dealers on Goodyear and Stan's as well as helping to merchandise brand displays and selling product.
Paligap owner David Lane said: "As Paligap have been involved with the tubeless market since 2006 we have seen how tubeless has become the norm for the mountain bike market and with the number one brand Stan's they have provided and continue to create / innovate new products. We also believe with the tyre & rim technology slowly developing in the road / gravel sector of cycling that we are very well set with both Stan's & Goodyear to capitalise when this really takes off. Paligap is committed to supporting both brands with the team put together and welcome any new dealers or existing accounts that require training and or information on both brands."
If you are interested in either Stan's NoTubes or Goodyear Bicycle Tyres contact Tom if you are in North England, Scotland or Ireland: twild@paligap.cc or Pim if you are in the South of England: pramselaar@paligap.cc