Pandemic nudges a third of people to greater bicycle use, MPs urge HS2 cycleway in full
New data released as part of the Department for Transport's National Travel Attitudes Survey has found that bicycle use is up by 34% on levels seen prior to the pandemic's unwelcome arrival.
Active travel has been a big beneficiary of the public being urged to give public transport a wide berth and although progress on developing infrastructure as part of the Emergency Active Travel Fund has been painful to watch in too many cases, people are choosing active transport anyway; 38% walk more than they did prior to the pandemic.
In the annual survey, collected in two samples between May and September, rates of both walking and cycling ran at 189% of the prior study's findings from May to July and 138% of normal August through September.
The allowance of cycling as an exercise form during Covid-19's spread is likely to have contributed significantly. Two thirds surveyed did go out either for essential travel or daily exercise and "in the past seven days" at the time of being surveyed 16% had been on a bike ride for leisure and 10% for transport.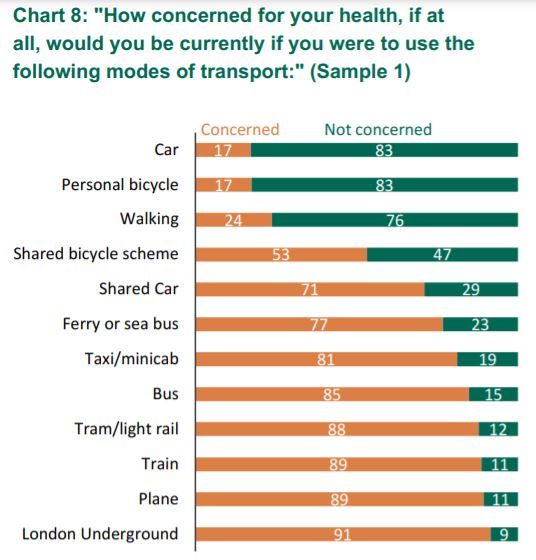 In the latter period the volume of people working outside of the home and 'leaving home and travelling as usual' did grow to represent nearly a third of people, compared to 18% in May to July. In households with more vehicles the likelihood increased; 20% said that they travelled and worked outside of the home. Households with no vehicles were more than twice as likely to self-isolate until the restrictions lift than households with two vehicles.
Later in the study it is suggested that bicycle use will remain higher; 95% will continue their active travel habit, while 94% intend to walk more. This finding comes in tandem with an intention to keep public transport use only for essential travel. 65% will be less likely to use crowded services than prior to the pandemic.
Another key take away is the perception among the public that greater bicycle use could be beneficial to the user's health. 91% say they are 'not concerned' for their health by utilise a bike for transport, while on the reverse side of the coin, 90% are concerned by using the London Underground; 88% by air travel and 82% trains. Shared use bicycle services ranked 44% concerned to 56% unconcerned.
HS2's cycleway
The findings come as MPs Ruth Cadbury and Lillian Greenwood have written to the Transport Minister Andrew Stephenson, urging that the proposed cycleway alongside the HS2 rail project remains budgeted for and built.
Writing on behalf of the All Party Parliamentary Walking and Cycling Group the duo suggest that a cycleway alongside would bring benefits to communities who are not directly able to use the rail network.
"We are sure you also appreciate the inherent economic, public health and environmental value that such a cycleway would provide more widely," adds the letter, later pointing to a DfT assessment that showed between £3 and £8 of return for every £1 spent. These benefits are attributed to lowered congestion, health and economic benefits, something that will be particularly important to address in the near future on the back of the damage caused by Covid.