New products: Weldtite, Silverfish and Moore Large present, plus Gary Fisher's new book
In the latest round up of new products now landing with distributors, Moore Large, Silverfish and Weldtite present what would have been on offer has winter trade shows gone ahead. Alongside, Gary Fisher's new biography from Bluetrain Publishing is also shortly inbound.
Silverfish
Contact: 01752 843882
Ride Concepts Vice Shoe
The new Vice shoe has been developed alongside Ride Concepts' dirt jump, slopestyle and BMX athletes who value pedal feel and compliance above all else. The Vice introduces the new RC Fuzion outsole, which offers an inverse, gradient diameter hexagon pattern designed to bring the pedal closer to the rider. Those sloped-angle inverse hexagons, vary in diameter from 9mm at the toe and heel to 7mm at the pedal contact area, allowing the pedal to "inject" into the outsole for enhanced sensitivity.
Furthermore, a removable insole features D3O impact protection material under the ball of the foot and heel for increased resilience and comfort, should you suddenly need to get your feet on the ground. Between the insole and upper Ride Concepts has placed 3mm of EVA for additional support and comfort.
In stock now, the shoe is available in men's, women's, and youth sizes as well as four different colours. A pair retails at £89.95 for the adult iteration and £64.95 for the youth.
Easton EA70 AX Dropper
The EA70 AX dropper post joins Easton's AX series of horizon-expanding drop bar gravel and adventure componentry. Features include a reliable cartridge design, internal routing and availability in two lengths – 350mm and 400mm. Easton's EA70 AX post brings 50mm of drop, allowing for fitment on everything from wide-tyred CX bike to modern gravel bikes.
Moore Large
Contact: 01332 274200
ETC Snug Cycling Hoodie
There's a lot to be said for owning a few pieces of gear that are both casual but high functional on the bike too. ETC has taken it casual as can be with a relaxed fit hoodie that's got more to it than meets the eye. To the trained eye, that silver centre panel will be immediately obvious as the kind of material that bounces light in the dark and with a covering that large there really is no way the rider will be missed during the dark winter nights. During daylight it cools to a simple matte grey.
Another feature that makes it ideal for cycling trips is the dipped tail that covers the lower back when leaned forward over the bars, locking in heat and catching any stray spray from the road.
In terms of insulation, the hollow fibre chest and back panel will lock in some warmth, while an extended sleeve once again stops 'ride up' for anyone with a drop handlebar. A drawstring at the neckline can cinch in if the winter chill really begins to bite. The very same train of thought has gone into the hood, with additional fabric enabling the rider to wear the garment with a helmet on their head and pull it in tight with the cord.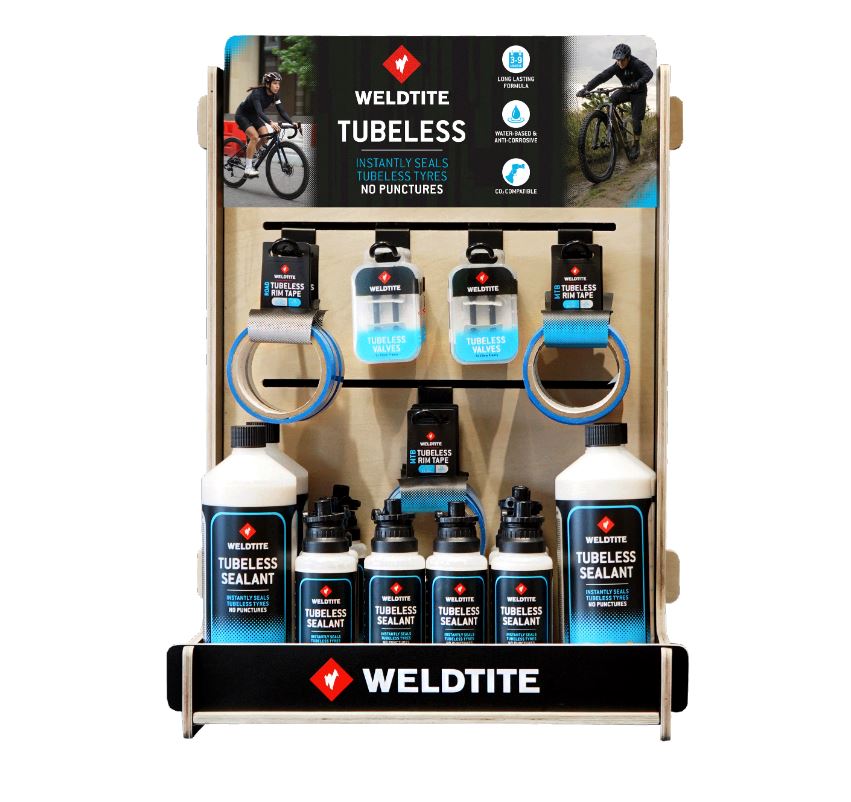 Weldtite
Raleigh exclusive (raleighb2b.co.uk/b2b)
Benchmarked and developed against the best of the rest, Weldtite's tubeless range has been redesigned for 2021 and there's now a new option to showcase the product in store.
The new Weldtite Tubeless Shop Stand carries everything a rider requires for running tubeless tyres at a competitive price. The stand is designed for to be displayed on a countertop or slat wall mounted, is made entirely out of wood and is easy to assemble without tools.
The new stand provides a safe, secure and sturdy platform for a comprehensive in-store tubeless offering. Look out for the products from January 2021 on Raleigh's B2B.
Gary Fisher an the Bicycle Revolution
Hitting our inbox just ahead of its worldwide distribution is a new book detailing the
life and long journey through the bicycle industry for trade icon Gary Fisher.
Five years in the making, Guy Kesteven worked with Trek and Gary himself
to journal a wild ride that started with lighting up Grateful Dead gigs and
progressed in to tinkering that ultimately paved the way to mountain biking's
birth. The 240-page hardback bio features tons of photographs, wild stories
and plenty of inspiration to get your customers up and riding themselves.
Global sales begin shortly via Trek.