Pole Bicycles' performance folding MTB line grows, dealer sought
Pole Bicycles of Finland took to Eurobike's Media Days last week to introduce press to a series of bikes, spanning 110 through 176mm full suspension builds to bullhorn barred town bikes.
Noted for producing a 140mm travel bike with a super lengthy 51.7″ wheelbase, the firm is attacking the enduro and trail markets with some gusto, telling CyclingIndustry.News of plans to target larger dealers in the mountain bike world.
"Dealers with a trail centre base or larger mountain bike specialists is where we want our bikes to be," said Pole's founder Leo Kokkonen. "It's important to us to know what the customer thinks of the bikes when they try them."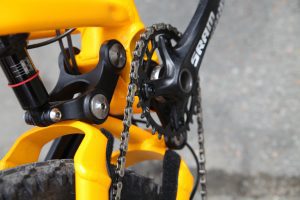 What's not immediately obvious from the lengthy designs is that the brand's Evolink clad downhill, cross country and enduro bikes are foldable. Simply remove a bolt below the shock mount and the rear end will swing underneath the front triangle.
Ranging around €3,800 to €6,000 for the off road catalogue and €740 to €1,400 for the urban range, Kokkenen said that dealers are welcome to visit Pole in Finland if interested in adding a new bike brand to their shop floor.