SRAM buys into automated suspension tuning Shockwiz for Quarq portfolio
SRAM has backed Perth-based Dusty Dynamics, the parent of Shockwiz, a product which has successfully Kickstarted an automated air-sprung suspension tuning system.
SRAM Category Manager for Digital Integration, Jim Meyer, said of the partnership: "ShockWiz combines high-tech mechanical sensing with a smartphone app and automated tuning recommendations. For suspension, there is simply nothing else like it."
Combining hardware and software, Shockwiz has a number of fine-tuned algorithms to improve suspension set up for the rider that's unsure how to get the most out of their bike. Compatible with most air-sprung forks and rear shocks, from many different manufacturers, Shockwiz utlises Bluetooth 4.0 and an Apple or Android phone to communicate the preferences and alter settings.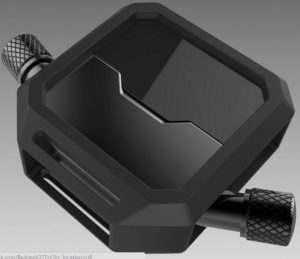 "The intersection of bicycles and technology is nearly infinite, but we really want to make bicycles better to ride," added Meyer. "We are looking for creations that take away the thinking and leave the thrill. ShockWiz does that."
404 Kickstarter backers helped make ShockWiz a reality and their pledges will be honored this August in a combined effort from Dusty Dynamics' Nigel Wade and SRAM.
"Quarq and RockShox are world leaders in bicycle electronics and suspension," said ShockWiz inventor, Nigel Wade. "With the backing of SRAM I can deliver performance and support that would take Dusty Dynamics many years to match."
ShockWiz will be manufactured at SRAM's factory in Spearfish, SD (USA). The factory is ISO 9001-certified and produces Quarq bicycle power meters and data systems. SRAM's Colorado Springs Development Center, 450 miles away, is home to RockShox, another vital part of the collaboration.
The devices shipped to Kickstarter backers will be badged Quarq – SRAM's data and digital technology brand – but future commercialization is unknown.