Product news round up: Pivot, Fat Chance, Olympia, Selle Italia and Topeak
Post Sea Otter Classic our inbox is blowing up with product news, so what better way than to flag up some key highlights all in one place?
Other product announcements from the past week include Schwalbe's tyre tread trimmer. a functional new take on spoke-based reflection, waterproofed bikepacking luggage from Ortlieb and a new apprentice built frame line from Enigma.
Pivot LES hardtail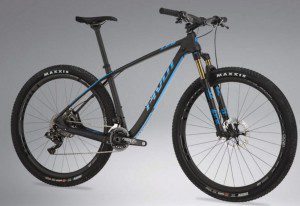 Dropping 50 grams for 2016, the LES platform now offers complete bike builds at sub 20lbs.
Using the best carbon fiber they could lay hands on, paired with Pivot's proprietary hollow core internal–mandrel process, the engineers at Pivot have created a frame that offers racers a best-in-class hardtail, delivered ride tuned for the drive to the finish line over any terrain.
Frame features include an oversized box-section downtube and bottom bracket area, tapered head tube and meticulously engineered seat and chainstays. Combined, these features offer significantly reduced athlete fatigue on even the longest courses, says the brand.
For the best energy transfer possible, Pivot has further added Boost 110mm front and 148mm rear dropout spacing. Efficiency freaks will love the extra power that can be laid down with ultra stiff Boost wheels, and the extra room between hub flanges gives 29" wheels a ride feel and durability that rivals any wheel size, without sacrificing the rollover capabilities of bigger wheels.
Also featured is the brand's Swinger II dropout system – a clever bit of deign that will allow for 27.5+ tyres and an easy switch between singlespeed and geared drivetrains, all maintaining the ideal chainstay length and geometry. Both 1x and 2x setups can be accommodated, as can forks of between 100 and 130mm of travel.
Finally, Di2 integrates via the Pivot Cable Port System, meaning everything's tucked away out of sight, maintaining the clean lines throughout.
Fat Chance – Slim Chance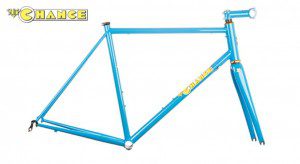 Unveiled at the Sea Otter Classic, the new Slim Chance comes 25 years on from the launch of the original.
In a blog post titled "Coming full circle… again", Chris Chance details how the new take on a classic comes after the formation of a partnership with Stinner Frameworks. Pooling their framebuild knowledge, the new Slim will begin to ship in the next 6 weeks or so, or 8 weeks if you need a complete build.
Four colours, each a nod to the past, feature. These are Blue, Pearl White, Pale Yellow and Red, all available for $2,295 shipped with an ENVE carbon fork and Chris King headset.
Olympia 29 Max e-MTB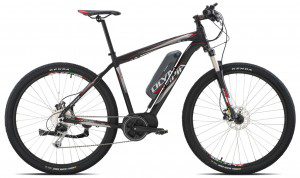 29-inch wheeled electric mountain bikes join the party for Olympia, which currently has the Energò, Energy and Elektra lines.
Dubbed Performer, the new off road range has three models;  the 27.5", 29" and 29" MAX.
The entry-level Max sports a Bafang MAX motor and a Samsung battery, as well as SR Suntour XCR suspension and comfort in the saddle from Selle Royal's Seta.
The standard 29″ is a mid-level build based around the Red Dot Award-winning Bosch Active Line or Bosch Performance Motor. The Performer offers four power outputs, delivered alongside a nine-speed Deore transmission. Finishing kit includes Olympia branded post, stem and handlebars, as well as a Selle Italia X1 Xfeel saddle.
Selle Italia idMatch Smart Caliper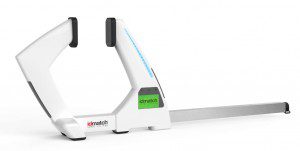 Sticking with the Italian saddle maker, UK distributor Chicken Cyclekit has introduced a new measurement device for the brand's customers.
The IBD exclusive idMatch system has become easier to use and more accessible for 2016. This 'offline' version of the caliper is the result of Selle Italia working with retailers last season to further fine tune the system to the retail environment.
The caliper gives idMatch dealers a more accurate fitting process, and is even easier to use than the previous model. The new version combines all three essential measurements into the caliper, and has reduced a saddle fitting time to less than 2 minutes. The idMatch system not only gives consumers the perfect reason to visit your shop, it is a great way of monetising your staff's time to obtain the fitment result.
A 2016 idMatch and saddle buy-in package is available, which gives retailers the Smart Caliper free of charge as part of a saddle stocking in package. As well as the measuring tool and a selection of top selling saddles, discounts are applied on all saddle purchases for the year. The older version, which requires a webpage or mobile app, will remain active for the foreseeable future alongside the 2016 system so existing dealers will be catered for.
To order the Smart Caliper (in the UK) phone the Chicken Cyclekit sales office on 01525 381347.
Topeak scoops Red Dot gong on three products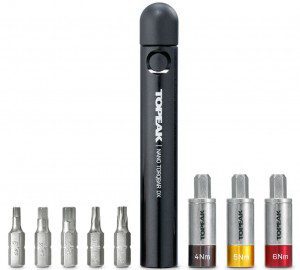 Topeak has scored a hat-trick of Red Dot design awards.
The three products picked from among 5,214 others are the Ninja Series tools, JoeBlow Booster and Nano TorqBar DX.
The Ninja Series Tools are a three part tool series that are compact, stealthy, and cleverly efficient preserving aesthetics and aerodynamics. The Ninja P bike pump is hidden in your seatpost, the Ninja C chain tool in your handlebar, and the Ninja TC multi-tool in its water bottle cage integrated toolbox.
The JoeBlow Booster pump just made it easier to install tubeless tyres. Acting like a compressor, this pump stores an air charge of one litre up to 160psi / 11bar to quickly fill your tyres and insure the proper installation on a tubeless rim.
Finally, the Nano TorqBar DX is the smallest torque wrench currently on the market, says Topeak. Two bits can be carried in the handle of the Nano TorqBar DX so you can leave the rest at home, making you ready to torque anything on the go.