How Tokyo specialist retailer Blue Lug is working around a flood of cheap bikes
Tokyo, Japan – Visitors to Japan will quickly realise that Nippon's bicycle market is flooded with cheap bicycles from China. Consumers can easily buy a so-called 'Light Cycle' – the Japanese version of a commuter bike with drum brake, no shifting and a shopping basket on the handlebar – from a mass merchant outside of the bicycle industry for a mere 40 Euro. Jo Beckendorff reports on how one retailer is carving a niche around more desirable kit…
With such bargain sales prices, for years this market has been suffering a lack of imagination. Independent bicycle dealers (IBDs) struggling for survival try to somehow compete with these light cycles' lowest prices. Sadly, in the end, they can only lose.
The fact that things can also be done differently than "just cheap" is proven by the agile Tokyo IBD Blug Lug which differs significantly with its concentration on high-quality, high-priced niche premium brands.
While average people do cruise to Blue Lug for a reasonable bicycle repair, the makers stifle the term "scene shop" as best as they can. On the other hand, they use it here and there by themselves. What's clear is that the Blue Lug business stands and falls with its community. They built it up by themselves. Above all, Tokyo's urban cycling and bike messenger scene love the business.
From online to stationary stores
Blue Lug went its way the opposite way to most, starting not from a stationary store but with an online shop. Today – in addition to its national and international online stores – the company operates three shops in the Nippon metropolis.
We visited Blue Lug's Hatagaya store in Tokyo's Shibuya district. According to various travel guides this area's countless restaurants, shopping and entertainment facilities make it the most energetic district of Japan's giant metropolis – and thus also the center of the young generation. There we meet Blue Lug founder, majority shareholder and managing director Toshihiro "Toshi" Ashikaga and his English-speaking designer Naoto "Jag" Ishuzuka.
After a short greeting we sat down in an office filled with chairs, which have to be cleared with a short "sumimasen" (= sorry). The shop is bursting at the seams. But that's totally normal in view of the horrendous land prices in Tokyo. It's the same no matter where you look, or what industry you're in. The Blue Lug Hatagaya office not only houses administration, but much more – including two sewing machines. The company produces prototypes of its own messenger and backpacking bags & Co. under its own brand names Blue Lug and Fairweather.
Blue Lug is proud. "Both bags and all parts of our own brands are produced in Japan," says Jag. As far as what Jag calls the "old school" parts range is concerned, Blue Lug cooperates with legendary bicycle parts manufacturer and countryman Nitto.
From web blog to web store
The beginnings of Blue Lug, however, lie in the blog and the following online store. Bicycle lover Toshi actually comes from the fashion industry. About 13 years ago he started to sell imported messenger bags on his web blog.
"Within a very short time I had so many followers that I thought about raising it to be bigger," he says.
Together with Wakako Banks he founded Blue Lug. Co-partner Banks lives in the USA. "She built up our import business from the States and takes care of our international business," says Toshi.
Toshi chose the name Blue Lug because – coming from the fashion industry – he wanted to express his love for the classic Nippon indigo dyed denim fabric with "Blue" and his love for bicycle accessories and attachments that he considered to be useful with "Lug".
"Thanks to Wakako, we still have many US niche premium brands in the store," Toshi explains.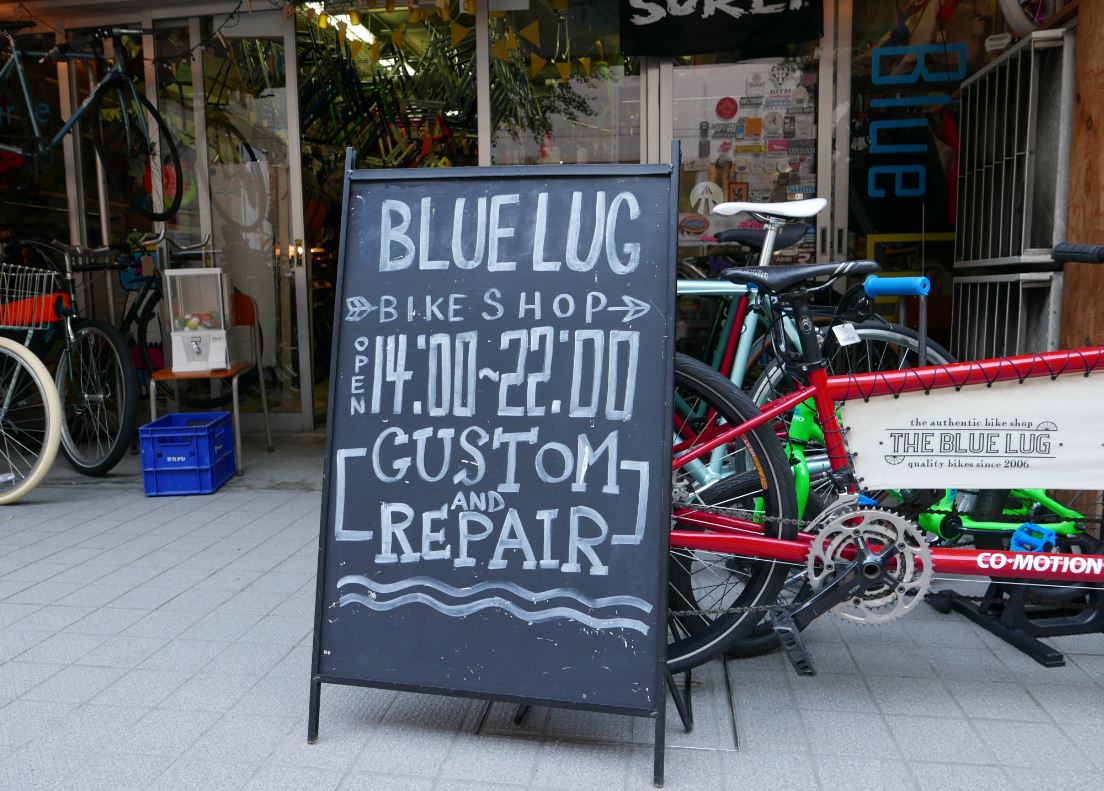 Community-building stores
Only one year after the start of his blog and the following website a small shop was added. "Many Blue Lug customers also wanted to touch things and try them on. The shop quickly became a meeting place for like-minded people," says Jag.
Another year later and complete bikes were offered for the first time. In the beginning, Toshi and his team relied on classic Keirin frames, which they bought second-hand through their contacts. These were sold as individual single-speeders mainly to the young Tokyo messenger scene.
"The very first import brand we picked up was Affinity Cycles from New York," starts Jag.
After more than ten years in the bicycle business, Blue Lug is now on the market with more than ten complete bike and (steel) frame suppliers. They are offered both in stationary shops and on the Blue Lug websites. "For some of these niche brands, we also act as a sales partner," stresses Jag.
Among the US niche brands listed are (don't be surprised if you've never heard of some) Affinity Cycles, All-City Cycles, Crust Cycles, Haro (BMX), Low Bicycles, Mash Transit, Ocean Air Cycles, Rivendell Bicycle Works, Rosko Cycles, Soma Fabrications, Surly, Tomii Cycles and Velo Orange. Better known to European readers are the two European complete bike and frame brands Brompton and Cinelli. In addition, Blue Lug also offers custom steel frames from Tokyo's niche brand REW10 Works and Fairweather under its own brand name.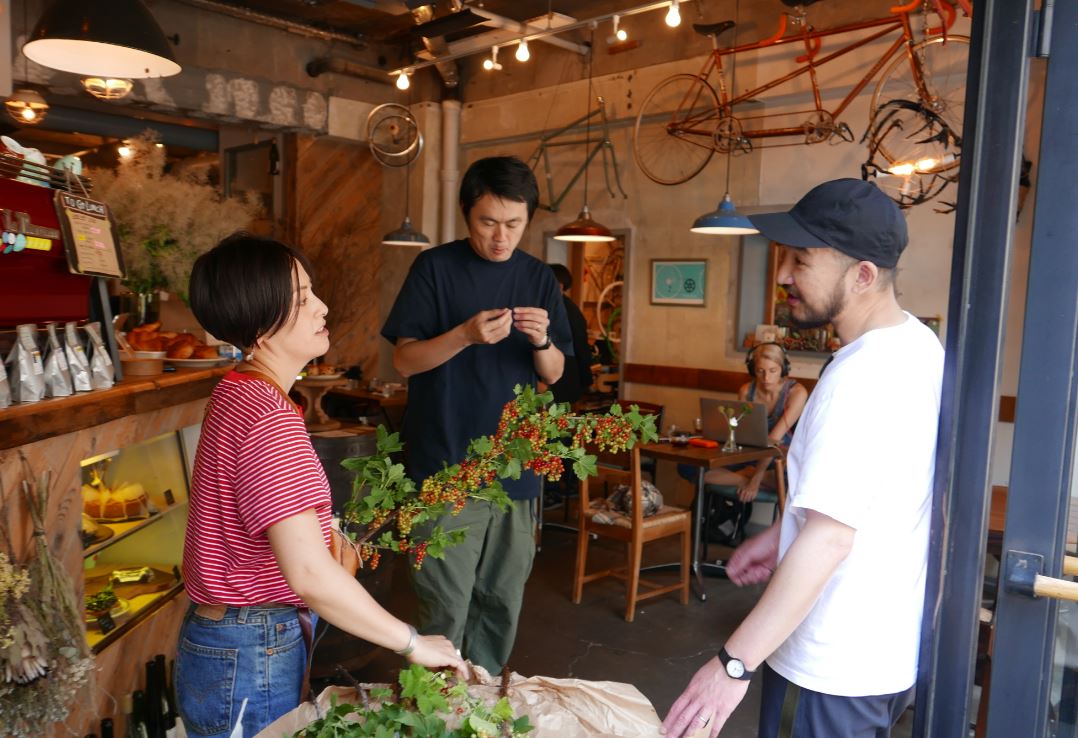 Community, café and custom
Of course, the Blue Lug team has also thought about those scene customers (keyword "community") buying a custom frame and wanting to build it up by themselves, or on request and with the help of Blue Lug.
Not far from Blue Lug Hatagaya there is Lug Café – a popular meeting place for bikers with a separate workshop and shop, which mainly carries spare parts and accessories. Here customers can do their own repair work. When we visited Lug Café after our Blue Lug Hatagaya store visit it was a quiet lunchtime. According to Jag, the workshop offer is mainly used on weekends by bikers who can then exchange ideas among like-minded people in the café, which also offers meals.
Jag refers to another unique "individualisation" service. Cook Paint Works finds its home in one of the three stores – at Blue Lug Kamiuma.
"This is our own paint shop. Here our customers can have their frames painted both in their own design and with the addition of our advice," says Jag.
When it comes to whether Cook Paint Works is dealing with old and/or new frames, Jag says: "It's usually new frames that customers have bought and don't like the color, or detailing. They want an individually designed frame design and a color of their own choice."
Each of the three stores has its own focus.
Asked about the Blue Lug clientele, Toshi replies: "Every store has its own speciality. Blue Lug Hatagaya is our company headquarters and – as far as we have space – carries a wide range of our complete product range. Located in Tokyo's most populous urban and residential district, Satagaya, Blue Lug Kamiuma focuses more on handcrafted custom frames. That's why Cook Paint Works is at home there. And at Blue Lug Yoyogi Park, Tokyo's largest and most popular youth park, we focus on youth. That's why most of the time cool single-speeders are offered there.
Toshi refers to a sign set up in front of the Hatagaya shop, which besides the opening hours and the catchword "Custom" also notes "Repair". He's not dismissive of anyone looking to cycle, whether riding a 'light cycle', or otherwise. "We also have quite ordinary everyday customers asking us for repairs. Everyone having a problems with their bike is welcomed."
When the light cycle is wheeled in looking tired some are offered an individual part that is more expensive than the complete Chinese-made bicycle.
Jag sees it like this: "Our business is totally different from what both big box stores and smaller classic bicycle dealers offer. We don't sell light cycles or so-called 'mamacharis' ourselves".
The term "mamachari" means "mamas bicycle". This typical Nippon bicycle category relies on a low step-through frame and is equipped with a handlebar basket that can be changed quickly into a child seat, plus a second child seat on the rear charrier. As the 'light cycle' category mamacharis are used for short (shopping) rides in the neighborhood.
For the classic Nippon IBD there is a ray of hope from the race to the bottom price misery: Mamachari pedelecs. These are an especially long version of the classic with 20-inch wheels and they are very popular right now
Nevertheless, that's not the world of Blue Lug. With its selected range of high-quality niche brands, this specialist retailer has hardly any competition to fear. And its community wants something completely different from what is normally offered on the Nippon bike market.
This is not so much about sport, but about cool urban mobility. It is not out of the blue that Tokyo's messenger scene is being observed by the international messenger world and even trend scouts from the fashion industry. Blue Lug in particular is in a position to be a pioneer of international trends both inside and outside the bicycle biz.
Trendy Japanese don't want to cruise aboard an ordinary cheap bike and this is acknowledged by Blue Lug's selection; it has to be something very individual. The fact that the above-mentioned US premium brands are leading is not only due to the Blue Lug contact Wakako Banks in the USA, but also simply to the coolness factor of these brands. Riders can show up with something different to what the market is flooded with.
The bikes offered by Blue Lug are not so easy to assign to any classic bicycle category out of our western world. Whether suited to a mountain bike or racing bike background, each is upgraded by their users for use in the urban jungle. And where is this jungle more inscrutable than in Tokyo, where the postal address system, as in Japan as a whole, is not even based on streets and house numbers, but on administrative units that are still derived from tax divisions of historical self-administration areas? Even the Japanese can't explain this system.
When asked whether Blue Lug has ever thought about or offered guided bike tours through Tokyo for its community, Jag laughs: "Our customers know their region like the back of their hand, they don't need guiding."
According to Toshi, Blue Lug shop customers include bicycle fans from all over the country and globally they brand is known via its website's reach. All of this means that rather than fighting for a slice of a shrinking pie the Blue Lug team has already grown to 38 people.
Asked about the next expansion, Toshi waves. "We have enough to do with the three shops, the websites, our own paint shop as well as the café". And don't forget that Toshi Ashikaga only entered the bike business 13 years ago with Blue Lug.