Raleigh, ETC, Exposure Lights & Lezyne share latest lighting innovations
As the nights close in and winter draws nearer, Hayley Everett looks at the latest product developments and technical advancements brightening up the lighting sector…
Raleigh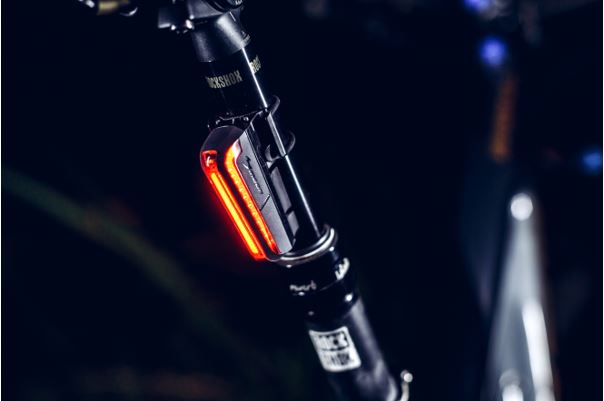 Focused on being a one-stop-shop for parts and accessories, Raleigh is gearing up to support IBDs with lighting products from the likes of Moon, See.Sense and XLC. Moon is one of Raleigh's key brands, producing innovative cycle lights since the early 90s. One of the features that sets Moon apart from other lighting brands is its Variable Lumen System (VLS) which allows the user to adjust the lumens according to the light conditions, saving battery and giving extra visibility when needed.
Moon has developed the Meteor Storm Dual for foggy and low light conditions, in addition to the Cerberus rear light; the first three-sided COB tail light in the industry. The Cerberus is designed to enhance a cyclists' visibility from the side in a bid to prevent side and rear-end collisions with other vehicles.
See.Sense's smart lights are becoming increasingly popular among Raleigh's customers, with one of the key draws being the lights' app connectivity. The See.Sense app features ANT+ technology to track cycling stats, theft and crash alerts, and control brightness and flash while enabling users to share their insights of the road with planners. All of See.Sense's products, including ACE lights, ICON2 lights and BEAM front light can be found at Raleigh's B2B site. XLC offers a range of lights tailored to e-Bikes, mainly for the commuter market.
Raleigh's Ed Pegram explained: "It's interesting – as the consumer trends filter through the retailer and then onto us, we are seeing a shift from lights only being sold at strategic points of the year, to IBDs stocking lights all year round."
In a bid to support local bike shops with its lighting brands, Raleigh is offering IBD customer staff with Raleigh accounts the chance to request a sample free of charge through an area account manager. This is on a first come, first served basis.
ETC (Moore Large)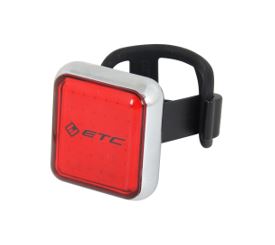 Moore Large's main focus in the lighting sector is own-brand ETC (Everything to Cycling) with Brand Manager Graham Derby spending his time expanding the range to include products that enable the IBD to compete with the High Street Multiples, "as well as offering their clientele value for money, and a good quality product."
The 2019/2020 Lighting range was launched during August and consists of three distinct levels: good, better and best. Entry-level to compete with the Multiple retailers, mid-range, offering affordable USB rechargeable products and a High Power top-end offering the latest beam, run time and lumen technologies.
ETC has two models offering 2,000 Lumen max output in the range. The Mizar is a Helmet/Handlebar mount combination version, using an independent battery pack, seat post mount rear light and Bluetooth remote switch, with a runtime of 3.1 hours at full strength. Additionally, the Alcor, equipped with an OLED screen to keep users aware of the light's battery status, has a Daylight Running option, 18 Beam or 20-degree Flood modes, 1.5 hour Runtime on Max power and Garmin style mounting.
Offering lights from £4 to £140, ETC also has offerings in the 1,000, 800 and 500 Lumen Front lights as well as COB technology Rears.
Exposure Lights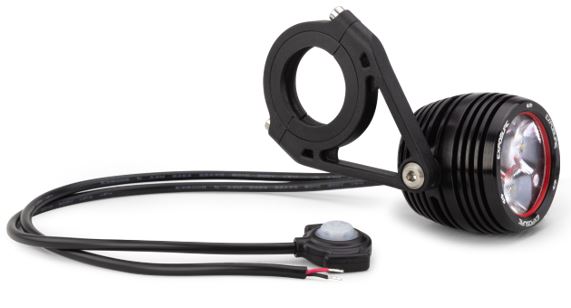 Exposure Lights' 2020 range brings further developments in circuitry and programming to improve the rider experience. Reflex++ technology uses a combination of the latest 3D digital accelerometers, gyroscopes and thermistors to measure acceleration, gradient and air flow. As the ride becomes rougher, steeper and faster, creating wind chill, the light detects this and boosts to its maximum output. Reflex ++ will then automatically decrease the output for slow climbs, conserving the energy in the cells for when it is needed.
Reflex ++ features on 2020 Six Pack (5,000 lumens), Maxx D (3,600 lumens), Toro (3,100 lumens) and Race (2,100 lumens). The Strada range all feature the dual lens system, which was recently rebalanced to deliver the optimum beam pattern for road cycling. The key benefit here enables the rider to dip the beam's output to ensure oncoming vehicles are not dazzled whilst still giving the rider ample light to see where they are going. The dual lens system consists of one spot beam that is used to illuminate hazards way ahead of time and a second, spread beam, enabling the rider to track the hazard all the way to the wheel and ensure the curb and other rider's wheels are seen.
Careful consideration and research has been undertaken to ensure that all these design features are transferred into the e-Bike specific lights to support this growing market sector. The new Flex, three White XPL2 LED's is Exposure's e-MTB orientated light with a potential output of up to 3,300 lumens in a lightweight and compact unit. Powered via the bikes onboard battery and motor system, the Flex utilises REFLEX++ technology for smarter battery management and is fitted with wired remote for easy mode changes.
The Fuse, a single e-Bike light, has a wired remote which gives the rider the ability to switch the light on and off and make easy mode changes. The light is fitted to the bars with a new single sided reinforced nylon bracket to allow for central mounting position on the bike. Both the Flex and The Fuse have ITM (Intelligent Thermal Management) patented circuitry within the light reduces power to the LEDs if they become too hot, prolonging their life expectancy whilst keeping the light efficient.
Lezyne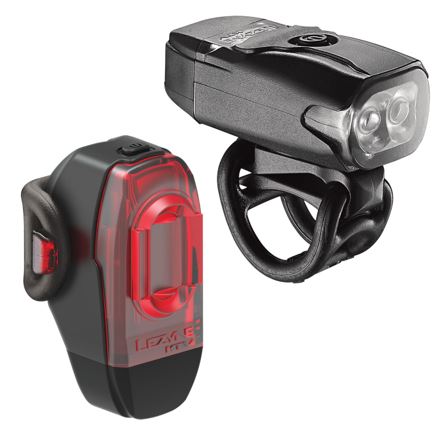 For the 2019/2020 season Lezyne has undergone a major revamp for its LED range; updated lights gain brighter outputs, longer run times, and enhanced beam patterns. There is also new tech feature on select models; SMART connectivity with Lezyne's new LED Ally App. Through the introduction of Smart Connect technology, selected front and rear lights can now be paired together and programmed with the dedicated Ally App to fully customise light output settings.
Riders can programme their lights to have three modes depending on bright roads, dark roads, and unlit paths, to coincide with different stages of their commute. Smart Connect can be found on the new Mega Drive and improved Super Drive front lights, KTV Pro Smart rear light, as well as the new Connect Smart and KTV Drive Smart lightsets.
Lezyne has also upped the visibility game with its rear lights, introducing new lens technology to give a wider beam pattern. Increasing rider visibility and safety, the beam can now be seen from an angle greater than 270-degrees. Wide Angle Optics technology is found on the Femto USB, KTV Drive, KTV Drive Pro, Strip Drive and Strip Drive Pro rear lights.
Additionally, Lezyne has innovated an e-Bike specific range that offers riders the chance to run a powerful front light direct from their bike battery with two new models: Macro Drive 1,000 and Micro Drive 500.
In the UK, via Upgrade, Lezyne will continue to be present at public facing shows and events. Next up will be CORE Bike, Scottish Bike show and the London Bike Show, and the brand signed as Technology Partner for a second year with Pro Tour Team AG2R La Mondiale.