Analysis: Retail Merchandising with Randal Huntington, ProjectDuo
While it is fair to say the covid-19 pandemic has accelerated the dramatic decrease in small independent businesses on our high streets, bike shops have remained on the list of essential retail services allowed to stay open throughout the pandemic, and as such the industry has seen a massive uptake in people jumping on the bike boom.
A 'Covid Impact' report published by The Bicycle Association, covering sales from January to October 2020, outlined that the UK cycling market is expected to be worth 2.2 billion by the end of 2020 as cycling during the pandemic's first lockdown exceeded 250% of normal pre-COVID levels.
Many businesses have had to adapt and take advantage of what has been an unprecedented time in our history. As one of the few shops open in local areas, bike shops have had to work harder than ever to keep customers coming through their doors – even if it is only a few at a time. However, it would not be considered unusual to ask that 'in a time where retail digitalisation is banging on the front door with popular online services such as amazon, how can bike shops ensure their stores remain appealing to visit?'. The answer- retail merchandising.
Cycling Industry News discussed the importance of retail design in bike stores with Randal Huntington, CEO of ProjectDuo, and quickly realised that visual merchandising is not as simple as moving stock around the store and changing the clothes on a mannequin.
Retail design guru's such as Randal educate their clients on lighting, product placement, marketing, traffic flow and even the position of the cash counter in the store and have seen this result in the store having a great improvement in turnover.
"Most of our projects have at least a 30% increase in turnover after we have redesigned a store. We have had up to 120% increase in turnover, and that was for a major retailer. It just goes to show what a little paint and light can do," he told CI.N.
"People come into stores for an experience, particularly now more than ever. If I want to buy something, I'm not buying it in a store, I am buying it online. If I am coming to a store, it's because I want an experience. I want to get out of my house and remember the good old days.
"We are always going to want to go to the shops. Retail will not die like people have been saying for twenty years. Ever since the internet was invented people have said that bricks and mortar retail will die. The reason I say it won't, is because when I come to Europe, I am always reminded that every city has a town square. This is because as humans we have always wanted to gather and experience other people. Malls and shopping streets are our modern-
day town square so we will always go out shopping."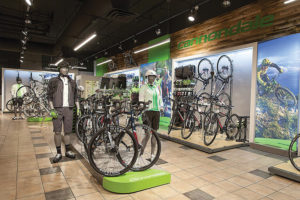 EXPECTATIONS
According to Randal, meeting a customer's everyday expectations is paramount when it comes to successful retail design in a bike shop. He highlights that "their expectation of what a retail experience is, is in line with everything else. I always say to my clients, if your customer is shopping at this level for their clothes, their watches, their cars, your bike shop needs to be at that level. You can't expect them to come down to a bike shop. That's why brands like Trek and Specialized do so well. They have realised their customer shops at BMW or Jaguar and they make sure that their store meets the same expectation."
Selling a brand new experience every time a return customer walks in is one of Randal's many tips and tricks for improving your retail merchandising strategy. "Add new gear, new seasonal kits, and new tech displays that are signed well, and updated often. And remember that customers are in-store for the experience of interacting with products."
GOOD, BETTER, BEST.
I'm sure we can all admit that at some point in our lives we have walked into a bike shop and been bombarded by a sea of products. Randal emphasises that displaying more stock doesn't mean you're going to sell more. This could have the opposite effect and leave customers feeling overwhelmed. In fact, less is more.
"If it takes longer than 16 seconds to put a bike in your customer's hands, the odds of them buying that bike drop dramatically. If you need to hang it from the ceiling, it's clutter," says Randal
In a less is more approach, Randal tells CI.N the marketing technique referred to as 'Good, Better, Best'. This approach revolves around the customer only having three brand choices for the type of product they are looking for- the good choice, the better choice, and the best choice.
"Working with good, better, best keeps it simple. You can go, okay here are our three brands, you want to look at a hybrid bike, here is our good option, here is our better option and here is the best option. Which one are you?
"From a retailer's point of view this is easier because now they are not carrying a lot of stock, they are just carrying those three brand's stock; the good, the better and the best."
This also makes it simpler from a marketing point of view too because then you are only marketing good, better
and best, which means you only have three bikes to market and not ten. You can focus your campaign simply on good, better, best."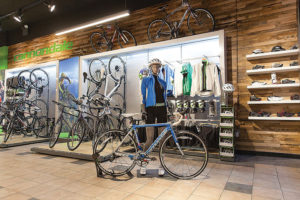 TIPS AND TRICKS
With over twenty years' experience in the industry, working with brands such as Trek, Cannondale, GT bicycles, footlocker and more, Randal shares some of his best tips and tricks that bike shop owners can use to get clued up on the effects of retail design.
Lighting is considered problematic in many retail stores. For many stores, improved lighting could single-handedly
improve sales by 10% or more. Randal urges bike shop owners to consider ambient lighting, spotlighting, and the
temperature/colour of your lights as a starting point.
Additionally, it is important to remember that before someone walks into your bike shop, they must walk past it. Randal emphasises that treating your shop front as your magazine cover, your home page and your Facebook profile can aid in improving sales and making your store appear more inviting. "We put our best foot forward on social media to attract the right kind of attention from the right audience. Do the same with your shopfront," he says.
Interestingly, Randal tells CI.N that the side of the road that your customer drives on influences the direction they will head when they walk in your store and therefore bike shop owners should plan traffic flow and merchandising around this. And make the back of your store as profitable as the front. For example, draw customers to the back of the store with strong, highly visible features like vibrant signage, colour block merchandising, large television displays, and more.
Applying a local touch can also aid in improving sales and relationships with customers in a store. Local trail maps, club photos, staff bike of the week or even a local hero recognition can be more effective than you think.
Finally, as the coronavirus pandemic has seen a huge rise in mechanic training and workshop demand, Randal suggests that although the workshop needs to be considered in good store design, addressing the workshop as a totally separate business to the retail side is more effective as the front of house and the workshop have different needs, and different methods of bringing in profits.
THE FUTURE OF RETAIL
In a time of uncertainty and ever changing shopping trends, the future of the retail industry seems like another step into the unknown. With may believing that one day the modern-day high street with cease to exist. It will simply evolve, we're told.
"I think one way of doing retail in the future could be that shops turn more into showrooms rather than shops. For example, in bike stores, you would have one of everything where you can see it, touch it, and try it, and then scan it with your phone through a QR code, and then it will be delivered to your house next day.
"We have moved so far in retail that people are no longer looking for or are worried about achieving that instant gratification, because that has been taken away from us with Corona. But I am still wanting to go to a store that is going to give me that social experience. It's an opportunity to try that at least," Says Randal.
With a bustling high street and shopping centre seeming like nothing short of a distant memory, it is vital that bike shops place more of an emphasis on retail design, using this unusual global situation as an advantage.
In the last year we have seen ten years' worth of change in the retail sector, according to Randal. He highlights that now is as good of a time as any to try anything different, because we are all expecting different. So, if you have some crazy idea that you want to try in retail, now is the time to try it. Just remember, less is more.