Ridgeback's test of the e-Cargo market expands with trio of models
Sportline's entry into the e-Cargo bike market with its Ridgeback Bikes label has extended to a trio of prototypes.
Shown at this week's IceBike Show, the bike and e-Bike label has taken a little inspiration from over the channel, creating bikes that serve the purpose of hauling cargo and kids.
Joining the Cargo-E, which was Ridgeback's first to break cover, is both the Butcher, which is very much as it says on the tin; a modern take on the butcher's bike. Then there's the MK5, an e-Cargo bike capable of hauling up to four children and designed for the family school run.
All are in prototype form, with Madison telling CI.N that the supplier is gauging reaction from shops who may want to develop this seemingly fast-growing segment. The downside from a shop's point of view, is that the stock takes up a good chunk of floor space, so it is likely to be demand that sees which of these bikes goes to production.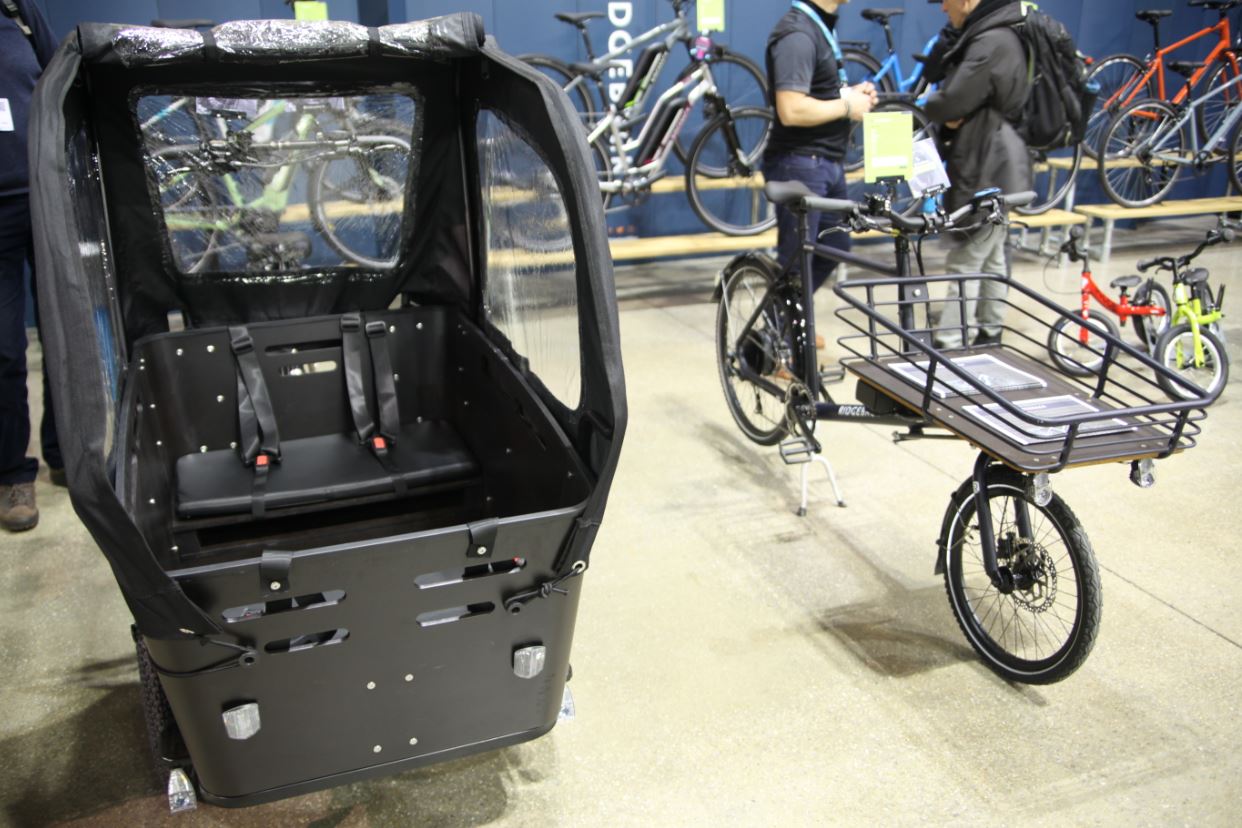 The bikes are well priced, however, with the Butcher coming in at £2,699.99 and built around a light 6061 heat treated chassis that's designed to be rigid enough to both haul cargo and handle well. The large front carry basket overhangs the front wheel, keeping the wheelbase short enough for the bike to be nimble through tighter turns and compact enough for indoor parking.
Building in styling more commonly seen on mainland Europe, the e-Cargo rig has a built in rear wheel lock, central kickstand and lighting factored into the design of the mudguards. An Altus 9-speed hub gear hub assists the motor in keeping propulsion efficient for the user.
Meanwhile, the MK5 is to retail at £3,599 and is built with a spacious child carrying bucket clad with both individual seatbelts and a zip up waterproof cover.
Again, attention to detail is strong with a rear rack integrated battery building in rear lighting and subtle steps by the front wheels to help kids clamber in to the basket.
Promovec motors drive both the Butcher and MK5, with 250Wh and 500Wh batteries specced, respectively. Tektro hydraulics that are built to stop heavier loads are specced on all three builds.