Schwalbe alters cross country tyre recipe to cater for more aggressive use
Schwalbe has announced a redevelopment of its cross country-suited tyres in a bid to meet typically more aggressive riding demands.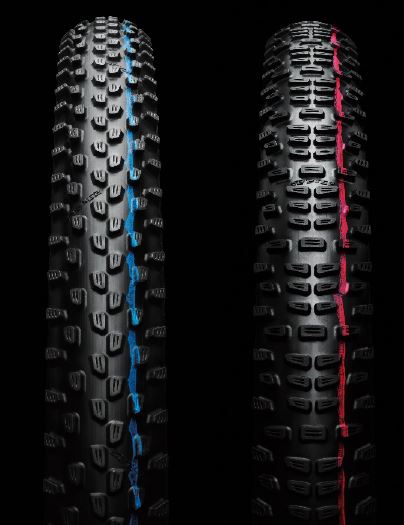 "The tyres for these modern routes need to roll extremely easily while remaining reliable and durable. The tread has to perform perfectly on a wide variety of surfaces and in all weather conditions. Cornering, acceleration, grip, rolling resistance and braking performance need to be perfectly balanced", stresses Markus Hachmeyer, Senior Product Manager for MTB Tires. "We could only achieve the perfect solution by developing special tires for the front and rear."
Those new developments come in the form of the grip-heavy Racing Ray on the front wheel and a new faster version of the Racing Ralph on the rear wheel.
The Racing Ralph carries large centre blocks that are designed to deliver low rolling resistance. These are paired with well-supported shoulder blocks that are spaced to offer both grip on roots and muck shedding properties.
Meanwhile, the Racing Ray is designed to first and foremost provide reliable cornering and traction thanks to "barely deformable" shoulder blocks. A near closed centre strip ensures straight line speed is maintained.
Both will be built to better handle small jumps, rapid changes of direction and the demands of rooty sections. Furthermore, the designs draw inspiration from Schwalbe's Fat Albert duo, which sports rounder blocks. The pair are adopt Schwalbe's Tubeless Easy Technology and Snakeskin.
"The tires are very forgiving of any mistakes: they recover quickly from a bump or a swerve", adds Hachmeyer.
Both tyres will be available to stockists by July and are priced at €57.90 each.