Sheffield City Region launches interactive map to share cycling experiences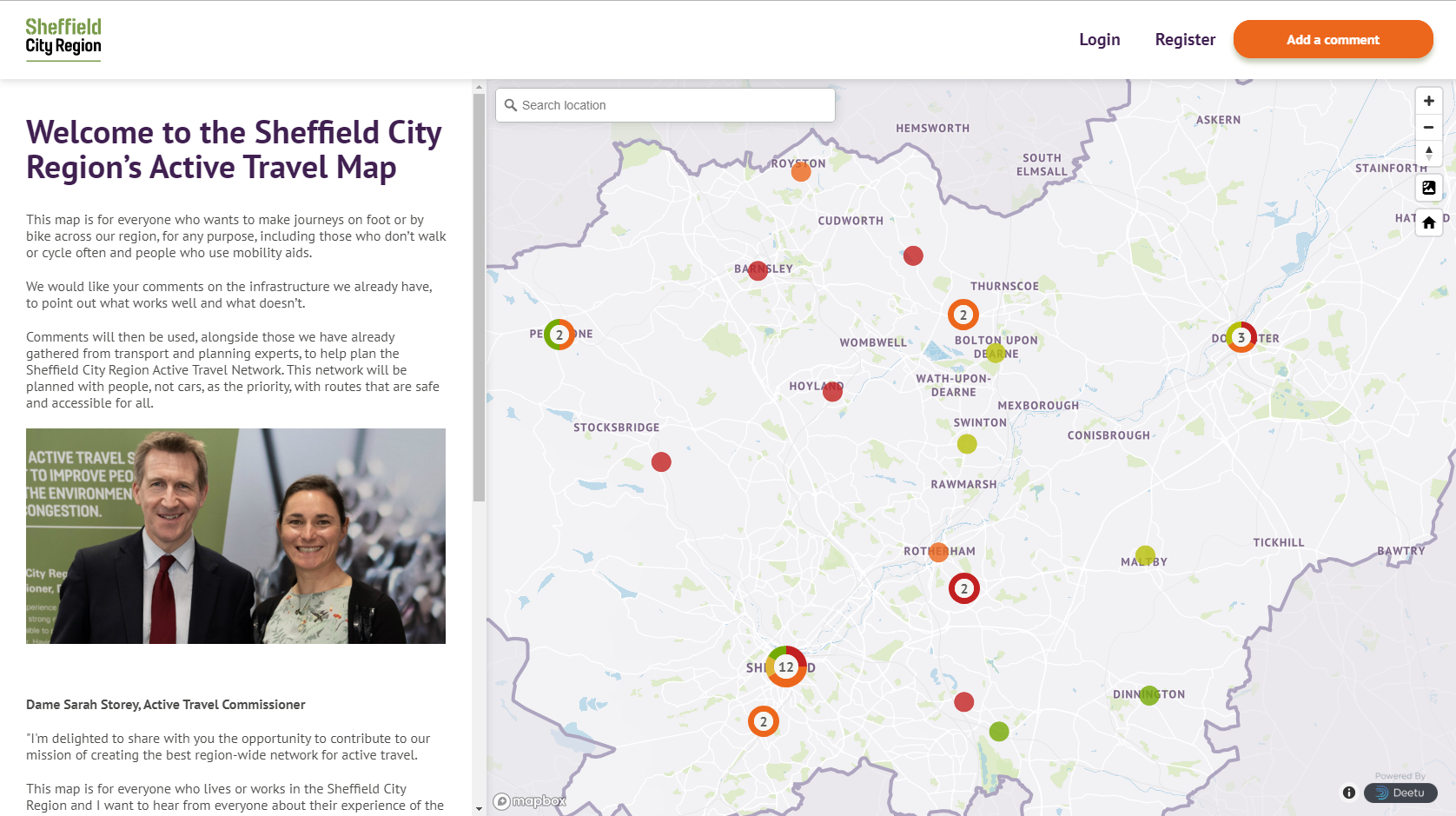 Sheffield City Region has launched a new interactive map asking people in the area to give their views and experiences of walking and cycling.
Active Travel Commissioner for the region, Dame Sarah Storey, is inviting people from across South Yorkshire to highlight what is and isn't working on the area's current network of roads, cycle paths and footpaths.
All contributions will be used as part of the work taking place with South Yorkshire's four local authorities to help plan what the region's Active Travel Network could look like by 2040. The comments will be used alongside those of transport planning experts to ensure the network is suitable, safe and accessible for local communities.
Dan Jarvis, Mayor of the Sheffield City Region, said: "The car has been king for far too long. The health of our planet and its people is rapidly deteriorating, our children are breathing dirty air and we are in the midst of an obesity crisis. We must offer people an alternative to driving which is safe and accessible for all.
"It is fantastic to be working with Dame Sarah Storey to enable more people to walk and cycle in South Yorkshire," he continued. "By asking people what they need and working with some of the country's most knowledgeable active travel experts, we will create a network which will provide people with a genuine alternative to driving."
In June, Dame Storey outlined four pledges which will guide her work in the Sheffield City Region over the next 12 months, at the first summit of active travel commissioners from across the country.
She added: "This map is for those who walk or cycle now, and those who want to in the future, I want to hear what you think about South Yorkshire's roads and footways as they are at the moment, to help my team and I improve them for you in the future."
She called on parents, teenagers and people using wheelchairs or mobility aids in particular to reflect on how their journeys are now, and how they could be improved and made safer.
"I am committed to being led by communities, I want to know what works for you and what doesn't," she continued. "Your comments will be used alongside those of planning experts to create an Active Travel Network which is safe, suitable and accessible for all who would like to use it."
The Active Travel Interactive Map can be found here.