Simplon Bikes plots course for European expansion
Stemming for the Austrian side of Lake Constance, Simplon Bikes has outlined plans to broaden its European dealerbase.
Speaking to CyclingIndustry.News, Stefan Vollbach, Simplon's General Manager, said that despite having to look carefully at the impact of Britain's EU exit on the complexities of price rises and shipping in the future, his brand would be testing the UK market later this year.
"We will be going to the NEC Cycle Show in Birmingham and are hoping to have good conversations with UK retailers and consumers," said Vollbach. "We are looking forward to getting a lot of feedback on the product range as well as on our individual manufacturing concept. If everything goes well, we might be shipping the first quantities to retailers by end of this year, or opening of the 2017 cycling season."
More than 55 years in business, the business already sells into Germany and Switzerland, among others, but Vollback believes the extensive portfolio of high-end mountain and road bikes could touch a nerve with the UK consumer.
"The bikes are all assembled in Austria and customers can use an online configurator to fine tune their purchase in 100,000 different ways before shipping to the partner store. We're mutli-channel in some markets, but are only selling via the retailer. This level of product demands tech know how, so it's critical that we partner the dealer."
Typically Simplon requires a 15 to 20 bike commitment, but with an average sale price of €3,000, Vollbach believes that a commitment to carrying the band will soon pay off.
Available to the dealer is a range of trekking builds from €1,500 upwards, road bikes and a varied line of mountain bikes. Half of the catalogue is based around carbon construction with modern technologies, putting the brand at the premium end of the market. Among other methods, Simplon has a high pressure carbon construction method that gives particularly high strength to weight ratios.
2017 Bike highlights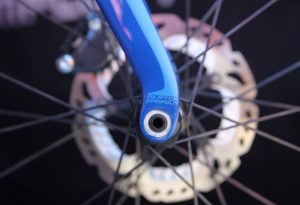 Pavo GranFondo Disc
Among the road offerings for MY17, Simplon's €4,599 Pavo GranFondo Disc has a number of immediately obvious standout features.
First of all, the Raptor fork with its reversed dropout is said to take the sting out of harsher road conditions, making a perfect Gran Fondo choice.
Twisted chain stays are described as unbelievably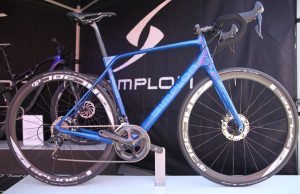 stiff toward the bottom bracket, but offering flexibility at the dropout where the lines flatten. Flat mounts keep the lines clean, while further comfort stems from a flattened seat tube and seat post.
Two versions, one high-spec build geared for di2 (pictured) and the other without, will be available.
Rapcon 140

The all rounder of the impressive MTB portfolio, Simplon's Rapcon is one of a few to feature an adjustable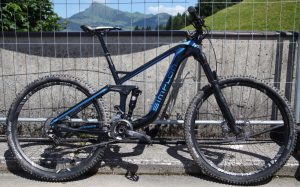 wheelbase by 10mm with the simple flip of an adapter. What this allows for is up to a 3-inch wide tyre, meaning it's a do it all off road build for the one €3,999 cost.
With the standard 2.4-inch tyre, the chainstay is 430mm long, giving the bike agile handling when performance is a priority. Built Di2 ready and with a clever internal routing system that, upon emerging, pivots with the frame as the rider works the suspension ensuring no cable issues.
Sporting the new Metric damper system by Rock Shox, the handling in the mountains is responsive, yet forgiving.