Skins seeks £2 million to accelerate innovation and branch outside compression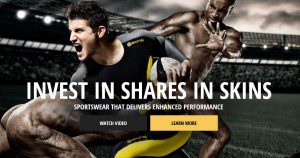 Australian compression specialists Skins will turn to crowdfunding in order to raise £2 million to accelerate its product development.
Covering numerous markets, including cycling, the label is now live on Seedrs and Equitise with its funding effort. Interestingly, the project description suggests the firm will branch out beyond just development in compression in the future.
A further advance in sports compression technology has been hinted at as part of the crowdfund campaign, something which the brand says will come to market by August this year and be followed by a further launch in February 2017.
Skins is present across the globe, but has singled out Australia, United Kingdom, Continental Europe and USA as key growth areas.
New Zealand based Equitise will see a parallel crowdfunder run alongside the Seeds campaign. Seedrs will reflect the tally raised by Australian and New Zealand's investors on Equitise.