Bike shop big on women's cycling? Prove it with Strongher stamp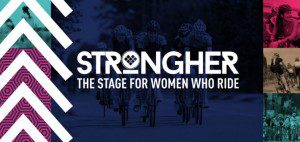 Has your store long promoted women's cycling on a level playing field to men's? You might be worthy of the StrongHer Stamp of approval.
Started in October 2015 by pro cyclist Marianne Vos and a team of ambassadors, the StrongHer campaign is an advocacy program covering everything from grassroots to competitive cycling. The aim is to get more women cycling, but the banner will now extend to offer a stamp of approval to female friendly bike shops – something for which you can nominate your or another store now.
Vos said of the programme: "With the Strongher Stamp, we can give women who are new to the sport, or women that are looking for a good shop, the right service and right experience."
The criteria to earn the badge almost echo the points raised in Bonnie Tu's CyclingIndustry.News interview, taking in merchandising, knowledgeable staff and much more.
Having dedicated female changing areas for clothing sales.
At least 30 percent of the store's stock should be for women
A dedicated merchandising area for females
To have well informed staff able to cater for female customers
An on site cafe (not essential, but stores marked up)
A Strongher grassroots member will be sent out to stores to inspect and approve each application.
Not all feedback for the campaign has thus far been positive. The Rat Race Cycles blog has penned an opinion piece on how the campaign's phrasing could be improved. The feedback looks set to be taken on board, according to the store's owner.
Perhaps soon there will be a StrongHer badge for cycling media, another area that's come in for criticism for lack of gender equality. Read Chris Garrison's excellent piece on that here.