SRAM breaks cover on next generation Eagle groupset
SRAM has today broken cover on its MY18 Eagle groupset, which as expected looks closely at achievable gear range with a 12-speed 10-50 cassette, as well as improved mud clearance and weight savings.
Importantly for those considering how best to spend their hard-earned, every GX Eagle component is 100-percent compatible with all levels of Eagle drivetrain systems.
The press announcement reads:
GX Eagle Crankset
The reliability of forged aluminum crank arms is undeniable, and the GX Eagle crankset completes its performance mission with the new X-SYNC2 direct mount chainring. With numerous Eagle ring size options, your range can be tuned for any ride you can find yourself on. The GX Eagle crankset is designed around not only SRAM bottom brackets, but Eagle technology as a whole.
Features
Durable 7000 series forged aluminum crank arms
Best-in-class chain retention and wear characteristics with X-SYNC2 tooth profiles engineered to match perfectly with SRAM Eagle chains
Light weight and durable direct mount ring construction
A master-class crankset at a working-class price point, the super-tough GX Eagle crankset makes it easy for riders who are hard on equipment and/or setting up multiple bikes to have 100-percent Eagle™ compatibility
Retail price is suggested as $120 – $170 | €125 – €175 | £107 – £148
GX Eagle Rear Derailleur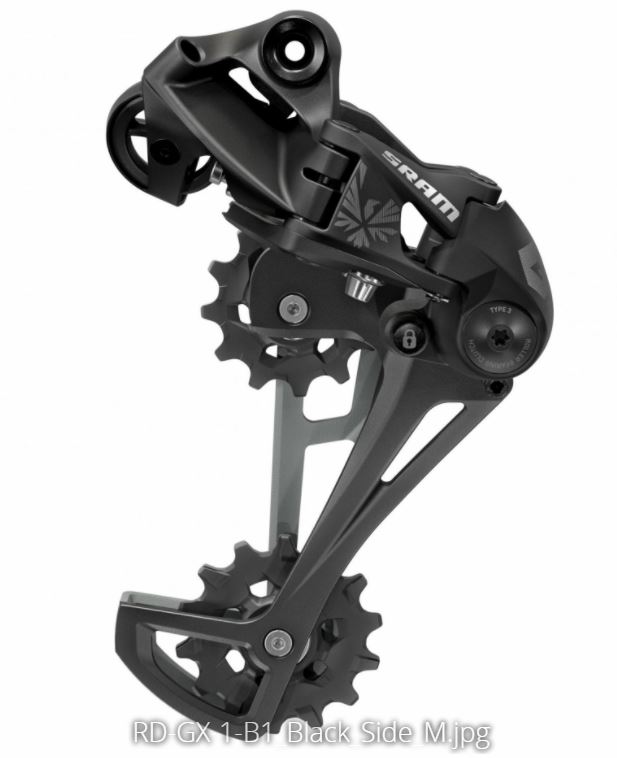 Simply put, the new GX Eagle derailleur extends the range of your riding because of its ability to handle the 10-50t Eagle cassette—but there's more to this new derailleur than capacity. The GX Eagle derailleur includes the Type-3 Roller Bearing Clutch, so that chain management feels the same on every cassette cog, small or large. And a new Eagle pulley design, combined with the SRAM Eagle chain, helps to make this drivetrain super quiet and incredibly efficient.
Features
Best-in-class chain management with our proven X-Horizon design and Type-3 Roller Bearing Clutch technology
Simplified installation and added robustness with our repositioned Cage Lock
Best-in-class 1x efficiency and quiet operation with our Eagle pulley technology
The GX Eagle derailleur carries with it the rough-and-tumble toughness of our X-Horizon design; no derailleur wants to be abused, but the X-Horizon design is built to withstand a lot
Retail price is suggested as $110 | €110 | £93
GX Eagle Trigger Shifter
The GX Eagle trigger shifter is the control center of the new Eagle drivetrain that unlocks its range to allow you to realize full potential of Eagle. Superior ergonomics and adjustability let you shift quickly, comfortably and intuitively. The GX Eagle shifter carries with it all of the enhancements and improvements that the XX1 and X01 Eagle trigger shifters received, improving trigger feel, precision and durability for every rider on any terrain.
Features
Eagle provides the smoothest and most reliable 1x shifting in mountain biking
Optimized shifting precision via X-Actuation cable pull works flawlessly with Eagle rear derailleurs
Super durable forged aluminum trigger is designed to take a beating
With MatchMaker X you can adjust your shift, brake and Reverb lever setup for lever ergonomics that are perfect for your hand position and the way you ride
Retail price is suggested as $40 | €35 | £30
GX Eagle Grip Shift
Three decades ago, SRAM was founded on a product called Grip Shift, and an idea that shifting a bike should be easier, better and more intuitive. The new Eagle™ Grip Shift includes new, robust internals that make it even more durable and its shifting performance more precise. But just like the original, it is total control in the palm of your hand, but this time with Eagle technology to accompany it.
Features
Improved precision and durability with our new Grip Shift mechanism
The most durable shifter option for SRAM Eagle drivetrains
Grip Shift is the shifter choice for many ultra-endurance athletes and extreme cold weather riders, since shifting Grip Shift requires less manual dexterity than a trigger shifter does
Retail price is suggested as $40 | €35 | £30
XG-1275 Eagle Cassette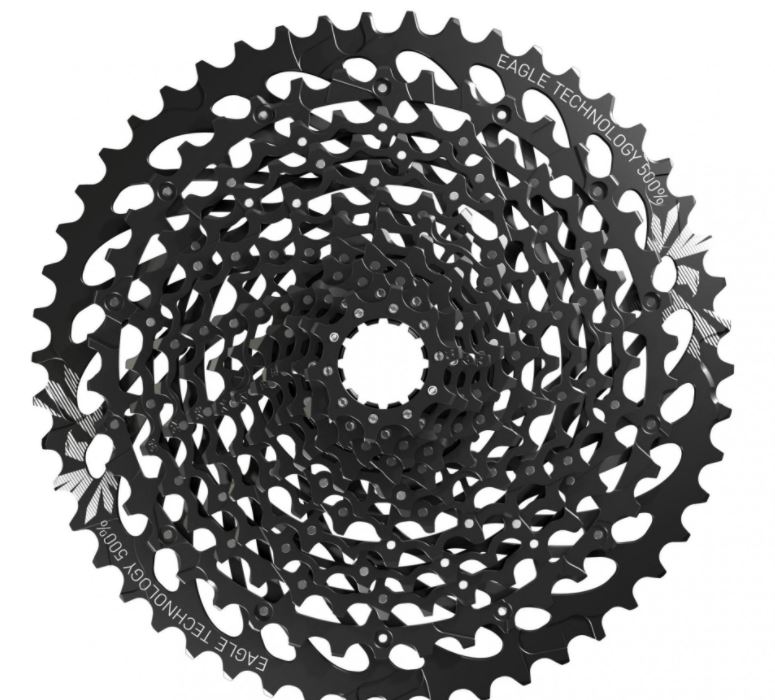 Best-in-class 1x range that allows you to ride anywhere, this XG-1275, 10- to 50-tooth Eagle cassette Full Pin technology uses lightweight, stamped steel cogs held together with high-strength stainless steel pins. The result: a cassette that's light and strong. The open design—similar to our X-Dome cassette—aids in mud clearance, giving you cleaner shifting performance and longer component life. New X-Glide2 teeth features mate perfectly with Eagle™ chains to improve both inboard and outboard shifting, as well as chain retention.
Features
Extremely durable and lightweight cassette that incorporates Full Pin technology using eleven lightweight, stamped steel cogs and one 50-tooth aluminum cog held together with high-strength stainless steel pins
Perfect range for any ride with our 10-50t [500 percent] gearing
Smooth, consistent and optimized gear steps across entire range of cassette
The XG-1275 Eagle cassette not only offers a massive 500-percent gear range for lower low gears and higher high gears, but also the ability for advanced level riders to ride larger chainrings for a smoother overall pedaling feel.
Retail price is suggested as $195 | €200 | £170
GX Eagle Chain
Though you may think of it as a humble assistant to the rest of the groupset, the GX Eagle chain is the epicenter of the drivetrain. Featuring link plate geometry optimized for massive 500-percent range, Eagle derailleurs, chainrings, cassettes and shifters have been designed to work perfectly with Eagle™ chains. Anything less is nothing but a performance, reliability and durability compromise.
Features
Increased longevity and better chain guiding with our all-new Eagle PowerLock chain connector with Flow Link technology
Unique features and design also provide significantly improved wear resistance on Eagle cassettes and rings
The GX Eagle chain is constructed using the same link geometry and general manufacturing processes as XX1 and X01 Eagle chains, making it the ideal backup chain for XX1 and X01 riders
Retail price is suggested as $30 | €29 | £25
XD Driver Body
The XD cassette driver body is an essential component of SRAM wide-range drivetrains, and allows the use of a 10-tooth small cog. A design used by almost every wheel manufacturer, the XD driver system is extremely lightweight and provides a superior interface with the cassette.
Features
Driver body design that lets riders tap the power and range of the SRAM wide range cassette and a 10-tooth small cog
Provides a more stable hub connection
XD™ driver body is 6-8g lighter