Storck unveils new limited run 670-gram framed Aernario .2 build
Marcus Storck has lifted the lid on a new 5.3kg flagship build, dubbed the Aernario .2 and limited to just 53 pieces (the age of the founder).
Coming in shy of 1,000 grams for the frame, fork and headset, the .2 has an entirely new carbon layup and one that is designed to significantly dampen the vibration transferred to the rider, with some clever finishing kit further taking out the road noise.
Shown alongside Storck's Aston Martin collaboration bike at the Rouleur Classic, the Storck founder explained to CI.N that it was too early to say where the limited run bikes will end up, but that strong pre-orders had already stemmed from as far away as South Africa.
Pointing to the bike's aerodynamic 300 gram one-piece cockpit, Storck said: "The layup is solid in one direction to aid power transfer and offers four times the give in a downward direction, providing the rider with unparalleled dampening. Over the duration of a day this will aid muscle fatigue reduction with no loss of performance."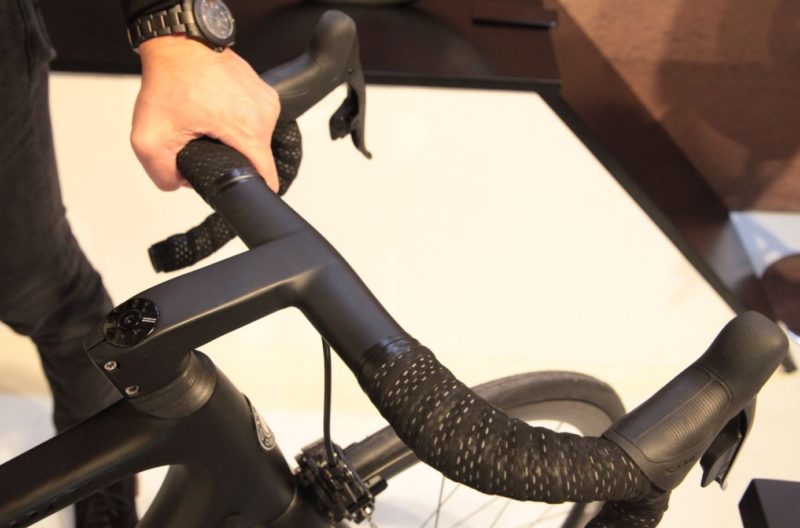 Similarly, the bike's MLP135 Monolink seatpost, a unit built specifically for this frame, takes on a finely tuned D shape to assist in comfort delivery.
At 80 hours work per 670 gram frame, the bike carries a little of the Aernario Platinum DNA, but with notable changes at the dropouts and with tweaks to the tube profiles. The seatstays borrow inspiration from the Fascenario F3. Meanwhile, the fork comes in at around 280 grams.
Bikes are expected to ship around January, with some of the finishing kit also to be made available as aftermarket items. The handlebar and stem combo is expected to retail for around €500 and is designed for internal cable routing.
Expect the .2 to cost around €15,000 in Europe and to be offered in the same sizing range as the current Aernario. Marcus Storck is to personally sign and number the top tube of each bike shipped.
Storck Bikes are available in the UK via distributor Cambrian Tyres.