Hero Cycles breathes fresh life into Viking Bikes label
With input from the Manchester design centre, Hero Cycles has revived the Viking Cycles brand.
The 110 year-old brand has long been a staple of the Avocet Cycles portfolio, which since 2015 is owned and operated by Indian manufacturing giant Hero, a big investor in UK brands.
At its 60s peak, Viking tallied a 20,000 bike annual output from its Wolverhampton manufacturing HQ. During this time the brand enjoyed considerable success with it Master Series SS and Severn Valley lightweight racer bikes with notable victories in the Tour of Britain in the 1950s.
The company ceased trading in 1967, went through ownership changes and disappeared entirely from the 1980s until Avocet bought the trademark in 2002.
After a period of designing and testing, Avocet CEO Sreeram Venkateswaran said that Viking is back with a range of bikes 'fit to wear the badge'.
"When Hero Cycles bought Avocet we wanted to make an impact on the UK market," he said. "Viking is a brand which fires the imagination and captures our ambitions. Viking has heritage, it has passion and in its glory days it was one of the finest bike manufacturers in the world with one of the best racing teams in Britain. We have invested more than £2 million in moving our Global Design Centre from India to Manchester so we can embrace brands like Viking and recalibrate them, restoring the quality they were famed for. Our new range of Viking bikes is the first designed in the UK for 40 years. We believe the new Viking range of bikes can really connect with people, particularly families looking for a well-designed bike in the £250 to £1,500 price range."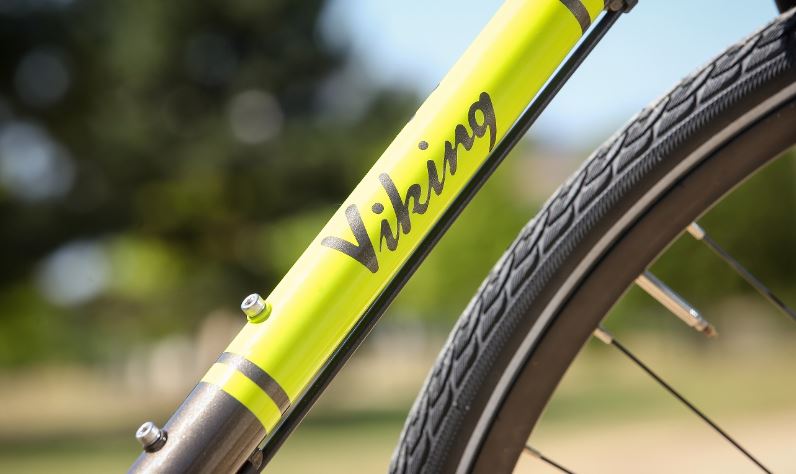 Mr Venkateswaran said the new Viking bike will see the return of the classic Viking logo with minimal retro graphics for a contemporary urban look. The bike frames further include a badge naming Viking's tour of Britain wins in 1951, 1955, 1958 and 1959. The new Viking range will include city, touring and road bikes.
Venkateswaran added: "The new Viking bikes have a full Shimano group set, they are lighter, and have a tighter rear triangle enabling better power transfer. The Viking range is more responsive and better for cornering and have a great lively performance which is suited to families of all ages."
Viking bikes will be available to the public to try at no charge at this year's StreetVelodrome tour, a free to attend bike event hitting London on August 14th to 16th.
Like Hero Cycles' new Insync bike line, Viking will retail via both independent bike shops and online.