Sustrans staff to benefit from Green Commute Initiative cycle-to-work scheme
In an effort to make it easier for its employees to cycle to work, Sustrans has recently signed up to Green Commute Initiative (GCI). A move which could encourage other organisations to get behind one of the UK's leading cycle-to-work scheme providers.
Although cycling to work has been encouraged since the scheme was launched by the Government in 1999, some people have been put off by the £1,000 spending limit and the end-of-scheme exit fees which can reduce the tax savings made.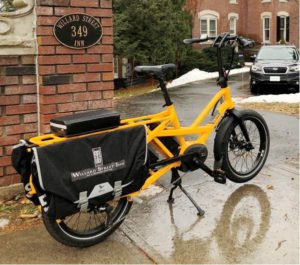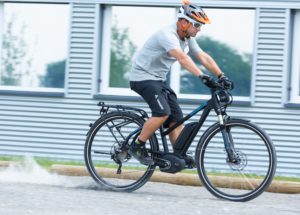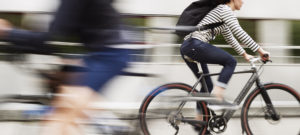 However, Green Commute Initiative say they have overcome these obstacles, removing the spending cap and thus opening up the range of bikes (and especially e-bikes) available to commuters.
For Sustrans, GCI provides a 'corporate portal' aimed at ensuring  a smooth application process with the portal auto-filling much of the application form for employees.  Through the portal, the scheme manager sets parameters, such as maximum order value and repayment period, and approve and progress check applications.
Alistair Goulding, Internal Communications Manager at Sustrans welcomes the new partnership: "At Sustrans our mission is to make it easier to walk and cycle for everyone – and that of course includes our staff. By partnering with GCI, we can include a more flexible payment period and higher cost cap option for colleagues. This makes it easier for them to find exactly the bike they need, not least cargo bikes and a wider choice of e-bikes. That GCI is a social enterprise and there is no large end-of-scheme payment is a welcome bonus."
GCI's founder and managing director, Rob Howes, said, "I am thrilled to have Sustrans on board with GCI. They are leading the effort in promoting sustainable transport and to have them support GCI is a real feather in our cap. Giving Sustrans employees access to a wider range of bikes, including E-bikes and cargo bikes, can only be a good thing for both them and the environment. We firmly believe that we have the best offering in the C2W industry and 2019 is looking very bright for us".
GCI is currently the only UK cycle-to-work scheme to offer bikes over the traditional £1,000 limit, which means that scheme participants can chose an E-bike (or higher value conventional pedal, if they wish).
GCI believes that E-bikes are the future of commuter travelling with the battery-powered assistance giving help, when needed, so that hills and distance are no longer exhausting or sweat-inducing obstacles, helping to make them the ideal form of transport for commuters. More people on bikes means less congestion, less pollution, less crowding on public transport and more car park spaces for motorists. Whilst employees become healthier, happier and more effective. Everyone wins with an E-bike.
Sustrans is the UK's leading sustainable transport charity, working since 1977 on projects to encourage people to walk, cycle and use public transport to reduce traffic and its adverse effects. It's flagship project is the National Cycle Network.
Contacts:
Sustrans is the charity making it easier for people to walk and cycle. They connect people and places, create liveable neighbourhoods, transform the school run and deliver a happier, healthier commute. Sustrans is the custodian of the National Cycle Network. The charity relies on donations to maintain the Network.
www.sustrans.org.uk Registered charity no. 326550 (England and Wales) SCO39263 (Scotland)
Green Commute Initiative is a Social Enterprise with a vision to get commuters out of cars and onto any kind of bike, with the dual purpose of improving both the individual's health and wellbeing, as well as reducing the environmental impact of pollution and congestion from cars. The Green Commute Initiative is FCA authorised.
www.greencommuteinitiative.uk Contact: Joanna Flint T: 020 3740 1836 E: joanna.flint@greencommuteinitiative.uk