Taipei seminar talks changes, challenges & chances in Taiwan's bike industry
TAITRA hosted a pre-show seminar at the Taiwan Trade Centre yesterday, to give buyers and the media a preview of this year's show and an insight into the bicycle industry in Taiwan.
The event was designed to give UK and Ireland companies interested in visiting the show a better understanding of Taiwan's bike industry in a bid to help maximise their time and interactions with Taiwanese suppliers.
Taiwan's bike industry: Laurens Van Rooijen
To kick off proceedings, Director of the Taipei Representative Office Economic Division, Chi-Young Chen, welcomed those present before handing the floor over to guest speaker Laurens Van Rooijen, Head Writer of the Taipei Cycle Show Daily.
During his presentation, Van Rooijen share his knowledge on the changes, challenges and opportunities currently facing Taiwan's bicycle industry.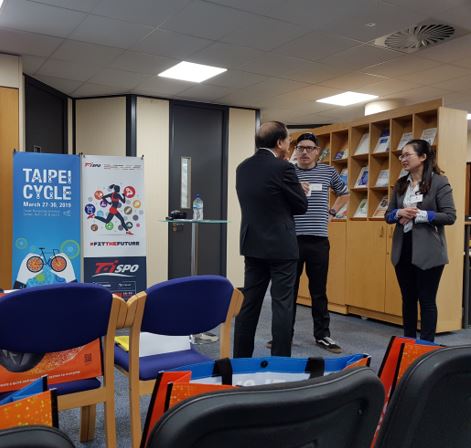 The presentation revealed Europe to be Taiwan's biggest export market in 2017, making up 57.03% of all bicycle related exports from the country, while North America came in second at just under 23%. Asia, at 11.61%, and Oceania, at 4.74%, were the next two largest markets for Taiwan, followed by a tiny percentage of exports to the Middle East, Africa and Latin America.
Van Rooijen's highlighted e-Bikes as a particularly fast-growing and significant segment in the market. Although exports to the US from Taiwan were down slightly in 2017, an increase in demand for high cost e-Bikes meant the average value of exports actually increased. Interestingly, one in three e-Bikes manufactured in Taiwan is exported to Germany.
Van Rooijen identified a number of challenges the Taiwan bike industry is facing, namely competition from other Asian countries. Due to still being developing countries, the likes of Vietnam and Cambodia, which are becoming manufacturing hubs for some companies seeking cheaper manufacturing costs, workers' wages are much lower than those in Taiwan, which has a similar working wage to that of the UK.
Taiwanese manufacturers therefore cannot match these costs, Van Rooijen's explains: "Taiwan is not a sweatshop country, the era of the sweatshop is long gone in Taiwan. It is not a cheap production country. If you're looking for quality, reliability and unique products made to your personal specifications, then Taiwan is the right place."
Van Rooijen also looked ahead to the possible benefits Taiwan could capitalise on as a result of the ongoing tariff war between the US and China. As huge manufacturing rival to Taiwan's bike industry, the tariff impositions may create a number of chances for Taiwanese bike and component manufacturers looking to increase exportation to the US.
According to Van Rooijen, another challenge the Taiwan bike industry faces is a demand for skilled workers, and how to keep them and their expertise in the factories. In a bid to combat high labour costs, many factories are resorting to employing migrant workers, which now make up between 20-30% of the Taiwanese bike industry workforce. Taiwan is also looking to invest in the automation of its factories, in order to improve efficiency and cut down on the high labour costs.
Taipei Cycle Show preview
Van Rooijen then handed over to Irene Lin, Manager of the Taiwan Trade Centre in London, to give attendees an idea of what to expect from this year's show.
Lin ran through the figures from the 2018 show in October/November last year, which saw 1,150 exhibitors on display at the Nangang Exhibition Centre and World Trade Centre, accompanied by nearly 5,000 visitors from 81 different countries.
This year's show, taking place 27-30 March 2019, is expecting around 1,150 exhibitors from more than 34 countries to be present, while TAITRA is predicting a huge increase in visitors; more than 8,000 international buyers and 35,000 domestic visitors.
Part of the show will take place in the brand new Hall 2 of the Nangang Exhibition Center, which boasts 35,000m2 of exhibition area. Hall 2 will host suppliers of parts & components, as well as the opening ceremony, Design and Innovation Awards gallery, and the Buyer Luncheon. Hall 1 will host suppliers of complete bikes LEVs & electric systems, Country Pavilions, International brands and Taipei Cycle+ Smart Cycling.
Lin picked out the highlights of this year's show to be: e-Bikes, LEVs and electric systems; Country Pavilions, including Europe, Italy, Japan and Korea; and Taipei Cycle+ which will cover the topics of smart cycling, smart technology, start-ups and seminars.
The Outdoor Demo will also be returning to the show, accompanied by a new simulated urban space for smart cycling accessories.
TaiSPO 2019 will also run alongside the Cycle Show, between 28-30 March, covering the equipment, smart tech and fitness services industries.
Van Rooijen rounded off the presentations by saying: "If you're used to Eurobike and all the traffic jams there, then Taipei will be completely different. You're in the metropolis of Asia. There's so much to do, and its really easy to get to and from the venues."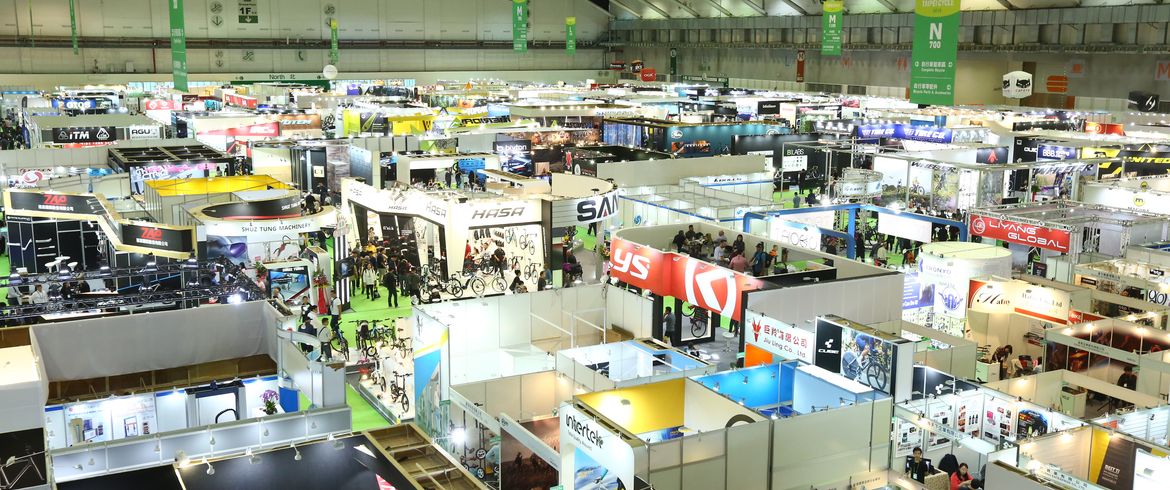 Getting to the show
Need to book your flights for the show? China Airlines From Taiwan provides regular direct flights to Taipei from London Gatwick Airport, in the airline's all-new A350 airbus. To find out more, click here.