The Dirt Factory: What next for the UK's first indoor MTB park?
The road to launch for the UK's first indoor dirt park – The Dirt Factory – has been long and winding, but with a proof of concept pop up now pulling in a broad demographic we can now ask: are we seeing the making of an envisioned indoor cycling franchise? Danny Makin answers our questions…
Many of us in the trade will have daydreamed a scenario where we could build trails for a living, but in the UK that tends to come with a heightened risk of seeing your work washed away. From that idea, many years ago, sprung the Dirt Factory and with a former IMBA-UK chairman among those behind the project, the means to make the vision a reality started to build; but it's no secret, it's taken a while to get to where we are today.
Now custodian of a 'pop-up', perhaps more, Construction Manager Danny Makin is able to shed light on the not-so-simple task of convincing landlords to let him fill their building with mud.
"The main obstacle has been finding the right building and getting all the relevant permissions to turn that building into an indoor mountain centre. Feeding into this have been challenges such as being a start-up company with little track record and the uncertainty surrounding the UK economy over the last few years, which consequently results in very risk averse landlords," says Makin.
The idea is simple and actually mirrors the already well-established concept of an indoor winter sports venue. With an average of 133 days of rain or snow in the UK, it's a no brainer for the mountain biking and BMX scenes to have an indoor trail centre. While landlords have tended to agree, it hasn't necessarily swayed them to take a chance given high demand for key property.
"We started to turn things around by organizing and running cycling events around the UK and delivering various school and community projects aimed at getting more people cycling," says Makin. "Soon after, an opportunity came about to create a scaled down version of Dirt Factory indoor mountain bike centre, which is called the Dirt Factory Pop-Up."
An open to everyone approach has been critical in the strategy so far and, far from marketing to the same faces, the Dirt Factory has been actively trying to get new bums on saddles learning skills on its tracks.
"Central to the Dirt Factory ethos is that by having fun on your bike, you will improve your skills, health, wellbeing and confidence, and are more likely to cycle more often. It's always difficult to quantify, but we believe that this formula has a definite positive impact on people and therefore many societal issues we see and hear about in our everyday lives," says Makin, adding that reaching out to disadvantaged youth, kids and female riders very much forms part of the drive to grow the ridership.
Inside the pop up at present you'll find 75% of the space covered in rideable dirt, 10% taken up by a large jump and airbag combo on which to learn tricks and the rest dedicated to communal and retail space, such as the on-site workshop.
It's an idea the bike industry has been quick to embrace. Not so long-ago Hotlines held a bike launch for its bike portfolio, while a live screening of Red Bull Hardline has drawn a crowd. During October Dirt Factory also showed Rob Warner's Wild Rides as an exclusive screening, followed by a Q&A with Rob himself and Freestyle Legend Matt Jones.
As much as the space is designed for riders to get together, it's also an events space.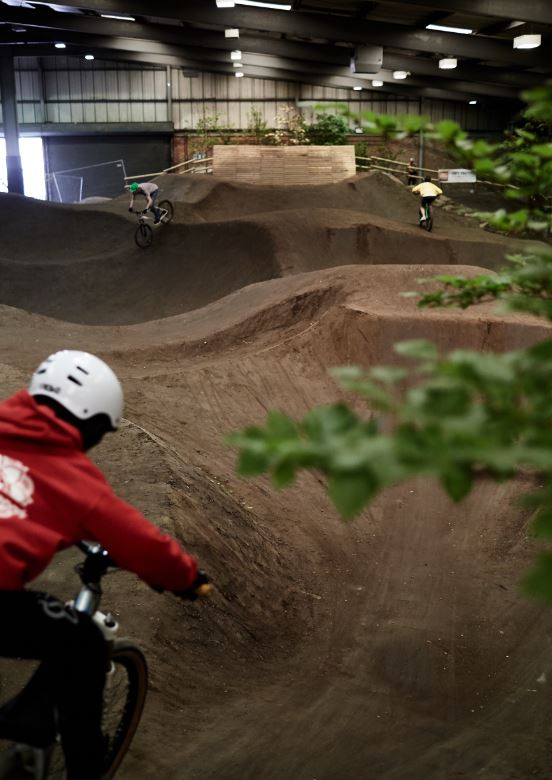 "Again, pulling in a wider crowd, we've hosted team building sessions for corporate folk, while film makers have used us as a backdrop and photographers an art exhibition," says Makin. "Our bike fleet is made up of Trek Roscoes, Marin San Quentins, NS Metropolis and Movement bikes and even some Swiftly Scooter dirt models, so we can cater to parties of all sizes."
What's important, is that the business is now building a database and one that has registered north of 8,000 passes since April. It is too now showing signs of becoming prosperous financially, despite its 'Pop Up' status. It may remain that way for the foreseeable future, we're told, to help store the fat for a larger launch down the line. For now, Makin is working toward a lease extension in the current space.
The vision remains unchanged from the original shareholder pitch, says Makin: "The mission is to open more than one Dirt Factory facility. For example, we would like to see an indoor MTB centre close to London and even a Dirt Factory in Europe. Let's not get started on the EU right now though! The plan is to stick to our business values and grow Dirt Factory sustainably. We could even potentially franchise our business model."
That original vision was further inclusive, with a plan for shipping containers to provide elevation, as well as retail space, though the current space won't allow for this.
"The dream and mission is still to open a large scale indoor mountain bike centre, and hopefully we won't have the same magnitude of challenges we have faced in the past when it is time to scale up," says Makin, who recollects plans to invite the industry in once such space is available. "We've always wanted to provide a space for enterprises to co-locate with us and contribute to the cycling community."
Those in the trade are all the same invited to become sponsors, as the likes of Trek and Swifty Scooter have done.
"It's pretty simple. At the moment, there are three levels of partnerships which are by no means exhaustive. These are designed to benefit your brand and offer organisations a range of opportunities around the bike park, online and at events. We tend to also keep an open mind with things like this, there are lots of other creative ways I think cycling brands can work together to benefit one another."
For anyone who wants to check the space out in person, Dirt Factory's pop up is located on Bond Street next to the Mayfield Depot in the heart of Manchester.
Want to book out the Dirt Factory for your event? Email enquiries@dirtfactory.org