The Gary Fisher interview: "If you don't like the news go out and make some yourself!"
From doing the lighting shows for the Grateful Dead to bike testing for Bicycling, then tinkering in the workshop to part-founding a money-spinning and smile-inducing genre. Gary Fisher's decorated career has seen him pioneer and adapt to a number of changes in the bicycle industry. To date, heading on for 2 million bicycles bearing his name have been sold globally. But what does he make of the modern day bicycle business and the challenges it faces?
What made you decide to start tinkering with bicycle and later go on to start a bike company?
"We used to head into the Marin County hills on ballooner style bikes for moonlit rides on the fire roads, that's roughly where it began. We'd have a big glass of beer in one hand and try to spill each other's on the way down. We'd ride over each other's bikes in a game of foot down, so you had to be able to fix a bike. It was an underground scene and there was a lot of pushing up or hitchhiking up hills.
"It quickly evolved and with a lot of help I completed an 80 mile ride aged 12. I remember the headwind and in the end I got towed in on a piece of wire fence. It was a real ticket to freedom to ride with these older racing guys and I soon grew into the racing scene. The racing scene didn't always love me though, I was banned for a while due to my long hair!
"I met the Grateful Dead at a bike and music festival in Pescadero and there began a new chapter. It was at this time I started a light show with home built equipment. "The Lightest Show on Earth" was seen at all the major rock venues in San Francisco at the time. The music was horrific, but I loved it and I ended up living with the band while funding myself building customised projectors. In the end the scene got way out of hand. A guy came in from NYC with 'organic coke' that's 'not addictive' and everybody believed him. We had the Hells Angels doing our show security to hide all the crazy stuff going on back stage, it was a real loose scene and I got out as things turned sour and the media began to take note.
"Not long after all of this I met Charlie Kelly who rode an orange Colnago. It was around then I started at a small bike shop – Wheels Unlimited – where I bundled together this off road clunker. I'd gone on enough bullsh*t rides where it was 85% pushing the bike. So I built this multi-geared bike. I guess I didn't think it was rocket science. I got straight As in metal shop, so I bundled together this build using cables from a local Honda shop and self-actuating drums, which gave us one finger braking for the first time. I trawled the Bay area looking for the best parts I could find to buy up, the local collectors hated me! Working with Bicycling Magazine helped with supply too.
"Starting out on my own tied in with the US oil embargo of 1973. I decided that I wanted to start a bike company. The bike industry was not ready for at all! It started out very personal, but we very quickly realised this could be a big thing. In one year we went from a $4.7 million industry to a $11 million industry. As a pioneer, Schwinn did very well, but we were blindsided, as the next year sales fell back down to $7 million.
"We delivered on the hype with Mountain Bikes though. We had seven wheelbuilders, three painters and a bunch of staff that got really good at brazing. We began to turn out 50 frames a week and imported all the parts before handling the assembly, billing and sales between us. Sadly by '84 the firm had split, but I'll be forever grateful to the team."
When did it dawn on you that you could really make some money in the cycling business?
"There were a number of step-by-step evolutions, but I think when I helped create a Japanese supply chain in 1983, that was a turning point. To have Dia-Compe, Shimano and others supplying us parts on the best terms and first delivery was huge. Our first big loan was actually from the Japanese Government."
What are you most proud of in your career in the cycling business?
"I'm most proud of the perception change of what price a bike could and should sell at. We came to market with a $1,320 bike and sold loads. I'd say to people "You don't want a cheap parachute, do you…"
And you believe that presentation is key for a businesses success?
"My father taught me how to present myself and his great grandfather was noted for his appearance. I've always dressed to the nines. You know it helped getting publicity. My mother was excellent with the media and taught me how to drive interest. During the peak I had so much coverage both inside and out of cycling. We made ever major title, the New York Times, Vanity Fair, Scientific American, the cover of Bicycling four times and many more. Do the media man's job for them and think big. We made the cover of a magazine that went to 11.1 million High School seniors, that was huge exposure."
What's your take on how modern mountain biking is portrayed in the media?
"I love bike racing, but what they show on Eurosport, that's low quality, in my opinion. I've heard them asking the fans to tweet them stats. It's all about delivery if you're going to engage people."
Talk us through the modern bike buying consumer mentality and how the trade should adapt? 
"People demand convenience, so I think onmi-channel is a big opportunity. I know a clothes shop in New York where they let you go in and try the clothes on, but you cannot take the items from the shop – they only deliver. They decided that it was not time or cost effective to have people folding clothes neatly all day after the customers had tried them on.
"Business changes and I think we're well beyond the point where you can hold product hostage for a price, there's too many side doors. It's one thing to complain about the online giants, but the industry creates this situation we're dealing with in the way that we buy into bulk loads of product. You can't cancel on Shimano, that surplus that was assumed sold has to go somewhere. Everybody that cancels an order contributes. Know your costs, be diligent.
"So I'd have to conclude, do something, don't die. Or die! Bike people are great, but they can be slow to adapt in business. If you're not into retail, be good at marketing. I think most important of all, it's crucial to know your costs. The car dealer, in every transaction they've accounted for the man hours, salaries and all those extra costs long before they've made the sale, so their net profit is well calculated. Does the bike industry run like this?"
So, where's the lion share of the bike shop's money to be made in the future?
"You know, 70% of humans would be totally happy to never touch a wrench. Even my wife will always seek help in pumping up her tyres, so I think there's a lot to be said for really making something of your workshop.
"Plus size tyred bikes too, they're great for making the average rider much better. It's like when singlespeeds really became popular and people would look at you thinking you wouldn't compete on the roads, but you do."
That's a relatively recent development.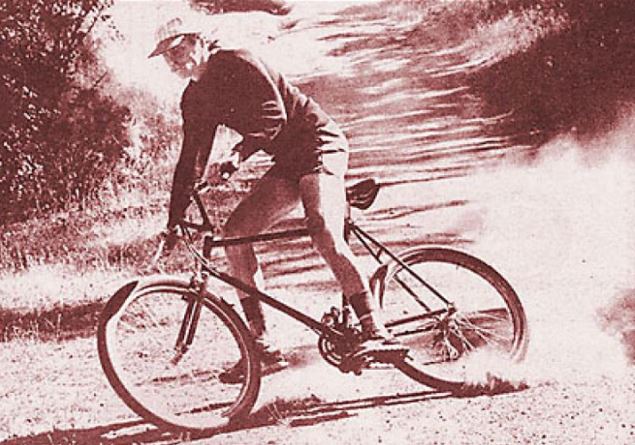 So you think there's still room to innovate onto new terrain?

"Plus size tyres are unexpectedly good and I think have potential to help people have a lot of fun, as well as revolutionise our winter climate cycling. They're even great fun in Arizona. I'm glad mountain biking has opened up in this way and do you know what? It's still young, look at how Red Bull completely re-did the MTB show.
"I don't understand why these events aren't pay-per-viewed on TV. I mean the potential we have now with drone footage – look up Drone Racers, I want to invite those guys to an downhill event. It takes a true artists to bring all the metrics together, but we're now in an age where we can offer such interactive media live from the peleton or trail. It could be really engaging for new audiences."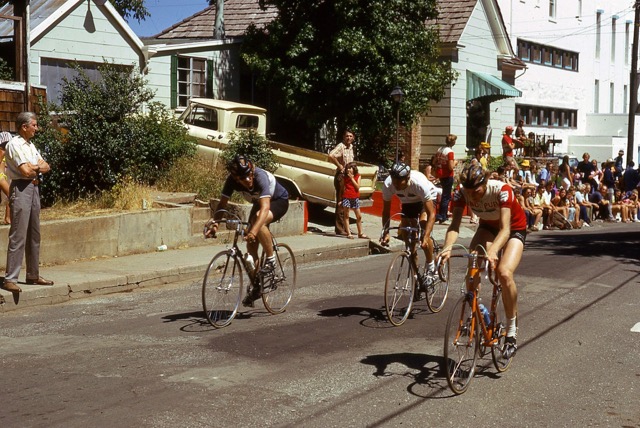 Have you come across any example of bike dealers innovating around the problem that have struck you as good ideas? 
"There's a guy I heard of in one of the cities out here who runs a night shop, based largely around the workshop and why not?
"Another shop I've visited is part bike shop, part beach volleyball place and that's a cool way to build a community around the shop.
"I think more than anything, it's what not to do. The thing we can't do in this day and age is invite customers into a greasy man hole! And let's have more women's cycling shops run by women and maybe more places offering great food in store for passing cyclists and visitors."
Are we doing enough to draw more women into cycling yet?
"If at all possible I think it's important to consider having well trained female staff. Those who do this, do so well on women's cycling. As nice as bike shop people are, so many of these guys don't have girlfriends and there's a reason why! You must offer the right information and have sales staff willing to listen."
Do bike shops charge enough for their expertise?
"There's a whole load of value in certified technicians, the people on the ground work hard. Our guys should charge double for the work they do and the experience they've earned. Mechanics should be paid for being good at what they do."
So, the billion dollar question… What's the next "big thing" in cycling? 
"Oh, it's the e-bike. Here's the point, you love to sell the world's most efficient human-powered vehicle. Are you also willing to sell the most efficient motorised vehicle? And how about the average $3,500 sale price, do you like that?
"500 or so dealers in the States are now electric bike only stores and they're all rockin'! Those who started a while ago and were the true believers are really running some great businesses now.
"I'd quite enjoy a magic cleaning blanket too, somebody should invent that."
Trail access is a touchy subject for e-bikes, what are your feelings on this?

"There's some pushback on the pedal powered MTB side, for sure. My concern is that the public will mis-understand the e-bike and that could lead to trail closure if any sort of hype builds. We are trying our best to get the mainstream press into it and behind the e-bike. Simply, I ask "do you want to pedal along at 7,000 feet? Of course you do."
"I'm sad to see some bike mags have boycotted e-bikes and I think that's because it's safer to be on the fence for the time being. But you can't stop the e-bike, it's the perfect storm. Sales are down for pedal bikes, here's a great remedy.
"On the contrary, land managers are using them in their fleets. All it requires is for people to have a go and they understand the potential. These are the greenest way to get around over multi-terrain. At the moment the mindset is often that they can't afford to have these vehicles, but they will buy them eventually."
What about the car industry's interest in the segment, is that a threat?
"They'll have a hard time with it and I think even given their size they'll take ten years longer to get to grips with nailing the product and compete. We, the bicycle business, make the most efficient vehicle. Look at Fox, the motor side of that business is always looking at the cycling division and trying to make sense of the bicycle engineer's skillset."
You're in good company in predicting the e-bike will be the next big thing, but what about bikes for transport?
"Isn't society crazy? Why do we insist on the death by fire experience of pumping particulate matter into our city's air where your mother, your pregnant wife, is walking the pavements?
"Do the maths. What we have at present isn't capable of moving enough people. The car lobby has got very sharp at portraying mass transit methods as lower class, but the network's falling apart just as the age of the driverless car dawns. Most cities are non-profit parking structures, loss leaders to get people into town, but the network is crying out for yet more space.
"It makes no sense to carry on like this. Let's take back a third of a city's space and give it back to nature and smart infrastructure. What's not to like, it's proven nature makes us sane and we'll cut pollution. Movement releases endorphins that liven us up. I think all of this, paired perhaps with overhead and integrated bike ways leading to the gates of schools is the way forwards."
So there will forever remain a place for the soul of cycling, minus the electrics?
"The pure and simple pedal cycle will always remain. There will be more electronica, but we're already at a state of play where there's too many levers on the bar. The task is to have engineers 'think Apple', make it clean and simple, then make the dreams come true. The cyclist should always worry more about what their legs are capable of than what they can control at the handlebar.
"We shouldn't fight progression. A clean and traditional bicycle can still possess a chip within that can detail a customer's service history and data. This is one area where the auto business is ahead, their customer data retention is excellent."
Electronica aside, you must be excited by what the engineers are coming up with when it comes to material use and design?
"I don't even wanna know what they're up to! It's continuous, they're never not working on new things or with new materials. Chasing others isn't a good pace to be though. We learned with Trek over the years the importance of good R&D and to take two or three years to develop a concept. Doing so means you get ahead of the curve in the long run and of course, outside of Shimano, we've the largest number of
engineers. We also own much of our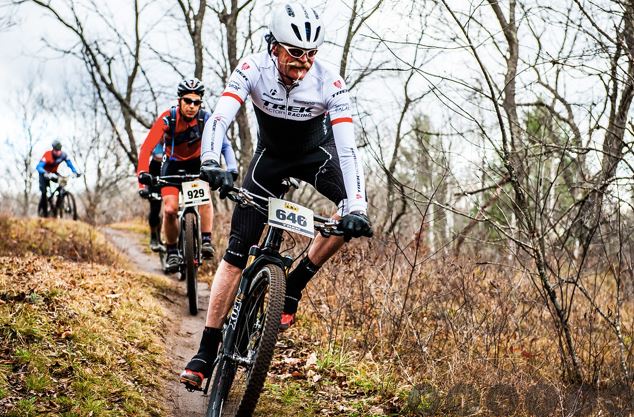 own technology, so no need to purchase it. John Burke's given Trek a great direction and it's great to be part of this family."
Any final thoughts?
"In my career I found and helped to create one of the greatest things on earth and I take immense joy in sharing the experience of cycling with people. Mountain biking is the greatest innovation on the trail and to this day remains a key to my sanity."