Editor's comment: The automotive industry has acknowledged 'peak car' and the e-bike biz should be worried
Back in October General Motors held a conference in which it outlined the company's strategy on "the future of personal mobility" to its investors.
Slipping under the radar was a non automotive detail; the motoring giant is more than just toying with electric bikes. Unveiling a concept build at its Milford facility, GM said the build was a "demonstration of the company's evolving view of mobility in an ever-changing, increasingly urban world.
Designed and manufactured at the firm's Oshawa development facility, CEO Mary Barra said the GM is looking to "capitalize on the future of personal mobility by owning the customer relationship beyond the vehicle."
Perhaps acknowledging peak car, Barra said: "The convergence of rapidly improving technology and changing consumer preferences is creating an inflection point for the transportation industry not seen in decades.
"Some might find this massive change to be daunting, but we look at it and see the opportunity to be a disruptor. We believe our decades of leadership in vehicle connectivity is fundamental to our quest to redefine the future of personal mobility."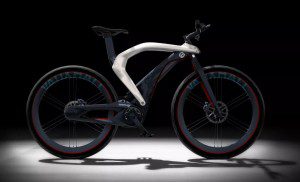 GM's interest perhaps runs deeper via its ownership of the UK's Vauxhall label, which has this e-bike concept lined up for production.
Though the images here are computer renderings, Vauxhall has begun to release greater detail about its collaborative effort with Opel.
The build will have a 250-watt electric motor, powered by a lithium-ion battery capable of delivering 40Nm of torque. What's more, the system will be compatible with Opel's Flex-Fix bike carrier system, meaning the bike can be charged in transit, so why not take it along?
That battery will be able to take the bike up to 90 miles at the maximum estimate, though only 40 if you live in a particularly hilly area.
Much like the recently Kickstartered Mokumoko, Vauxhall will utilise fast and cheap manufacturing methods taking inspiration from the production line of cars. A hollow-pressed steel frame will make this the first e-bike to use such methods, says the brand, which will presumably be able to knock out some quite serious numbers at a lower cost than a bike specialist perhaps might.
Furthermore, both Ford and BMW are toying with e-bike concepts, again designed to both fit and charge inside of the car. Ford's build has a coupling system on the frame that allows it to easily stow in the boot.
"The role of vehicle electrification in urban areas is part of a broader smart mobility model that includes shared vehicles, charging options, and driverless electric vehicle fleets of cars, buses, trams, and light rail," says Susan Beardslee, Senior Analyst at ABI Research on the topic. "No singular option prevails; in fact, innovative manufacturers are creating ways for them to converge."
ABI has just published a report on the topic of multi-modal electric transportation and within there's plenty of detail on the role of light electric vehicles, including e-bikes and how these may converge.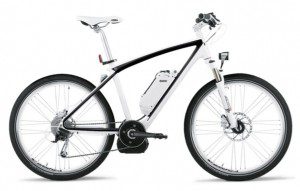 Car giants aside, some engineers are further questioning the status quo. Vancouver's VeloMetro is in the process of coming to market with what it says are 'velocars', previously popular as far back as the 1930s before the UCI declared them ineligible to race and the popularity died off.
These vehicles are classified as bicycles, so no need for a driver's licence. Crucially if they're to combat the hesitant cyclist checklist, it's weather proof, can carry cargo and has anti-theft provision built in. What's more, the Vancouver firm is encouraging a younger demographic to have a go with smartphone-based hire of the vehicles. E-bike share market take note; it's more or less proven those who trial a pedal-assist builds go on to consider a purchase. Could such a method be key to tapping into a younger audience? With rollout of electric hire fleets happening across the globe, including a shortly anticipated scheme in London, e-bike manufacturers certainly have an opportunity to capture that curiosity.
"The U.S. is taking longer to embrace the trend, though, with many residents expressing hesitation to let go of their private, singular vehicles as we move toward a shared, smart mobility transportation model," concludes Beardslee.
The auto-manufacturer's approach to recent design seems to encourage multi-modal behaviour, which is popular in cities with park and ride infrastructure, but importantly almost maintains the need for a car. The aforementioned bikes, often seen as limited display pieces in showrooms, have almost become an add-on sale to the private car. It won't solve congestion, but it will please investors if the car giants can, for the time being at least, stave off the inevitable exclusion of the private vehicle in ever-crowded cities.
So, the car business might just have conceded that the private vehicle is destined to be forced out of the modern city. But more importantly, should the electric bike business, including associated specialist retailers, be looking over its shoulder at some enormously powerful and well-funded competition?
To read Mark's last comment, discussing bicycle industry consolidation, sexism in the market, grassroots advocacy and much more, click here. (Warning 3,000+ words!)