Transport for London: "Unauthorised LTDA message on cycle lanes must be removed"
Pictures have re-emerged in the past 24 hours of LTDA licensed cabs showing a message, purported to be endorsed by Transport for London and calling on passengers to report cycling infrastructure for "causing congestion" in the capital.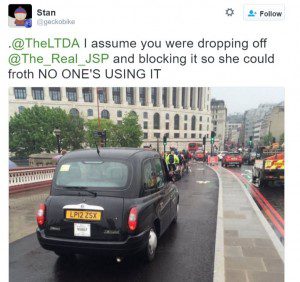 Notoriously opposed to London's cycling infrastructure, social media users have in the past 24 hours posted messages from the backseats of LTDA cabs calling on users to report traffic delays "caused by empty cycle lanes".
As shown in the picture to the right, the cycle lanes are being used, though sometimes not for their intended purpose. Known for taking a hard line on regulation of vehicles on London's roads, particularly rival Uber, black cabs have been spotted a number of times driving within newly segregated cycle superhighways.
Photographed in the back of a black cab, the poster states that traffic problems are a direct result of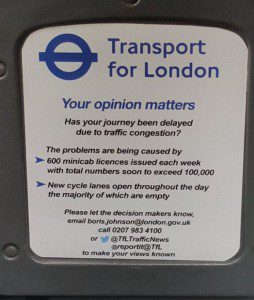 "New cycle lanes open throughout the day the majority of which are empty."
The message is seemingly at odds with Transport for London's stance on cycling and calls for cab riders to email the now former mayor Boris Johnson with complaints. This could be because the first sighting of such posters came toward the end of February, though it appears some still remain.
Matthew Winfield, a press officer overseeing surface transport told CyclingIndustry.News: "These messages are unauthorised and not permitted in taxis. We encourage their swift removal wherever they remain."
CyclingIndustry.News has reached out to both the LTDA for comment.