TRP drivetrain ambitions may go beyond downhill
Launched earlier this month, TRP came to market with its first drivetrain solution in the new seven speed DH7 shifter and derailleur.
For the largely OEM label it is an obvious entry to a market that has been steadily accumulating new players and it may well be just the beginning, alluded managing director Lance Larrabee at Eurobike.
Introducing the new system he said: "There is an opening for us that may not be as obvious for others. Tektro has already supplied 5.5 million hydraulic discs to the market, so as a 99% OEM business adding a TRP drivetrain is useful for brands seeking a complete package. There are a lot of areas that we can expand deeper into, for example we have TT and CX riders that offer regular feedback on our goods. The seven-speed downhill product will no doubt lead into other developments."
The investment is undoubtedly a serious one and has seven patents against it already. In the rear derailleur there are some 124 pieces, all of which require prototyping and development, says Larrabee. The firm does have a roster of 30 engineers in Taiwan and many more in the U.S.A developing these projects.
One of the most interesting features on the derailleur is the Hall Lock, a feature pitched by John Hall the mechanic to DH pro Aaron Gwin. This lever activated system locks the movement of the B knuckle to the frame resulting in high stability of the drivetrain, and its shifting, when descending fast on rough ground. This can be adjusted to suit whichever frame the derailleur is mounted to. Once re-opened removal of the rear wheel is simple.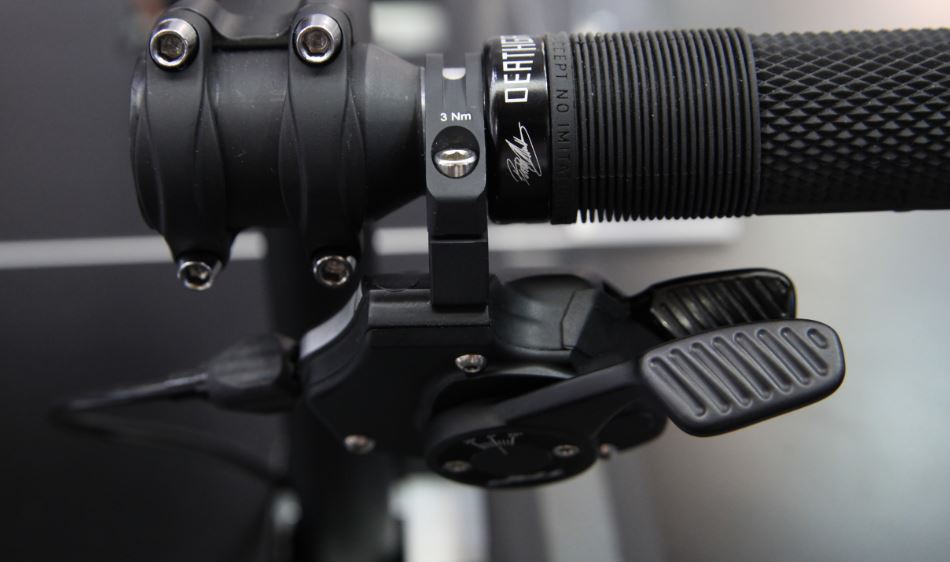 "On the pro circuit the drivetrain with the lowest noise is always one that catches the ear," says Larrabee. "As a rider you want less distraction to reach a flow state. With this system its simple too to make four shifts in one if you really need to shoot up or down the gears."
An adjustable clutch also features that is designed to allow for the chain's growth, compensating for any tension in the process. This clutch is adjustable to balance chain retention and the stiffness of the clutch.
The cage and upper link is of a carbon construction, while sealed cartridge bearings sit in the pulleys.
A price is as yet to be confirmed, but UK distributor Upgrade Bikes expects to see some stock shipping in October for those interested in an aftermarket kit.