Three of this week's best cycling Kickstarters – Solos smartglasses, iLockIt and Sentier
CyclingIndustry.News is often sent links to crowdfunding projects that cyclists or even distributors around the globe might like to invest in. Here's three of our favourites from the inbox this week:
Solos Smartglasses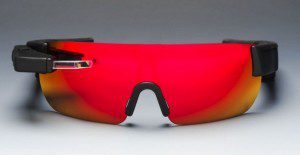 Designed specifically for elite cyclists, Kopin's Solos glasses were debuted to bike press at Interbike in prototype form and are now available on Kickstarter. In fact, they firm passed its $50,000 target in 24 hours of launch.
Delivering an array of information via a tiny projector, the glasses can work either as a precision training tool, or as a route planner for the commuter.
Features delivered can include cadence, heart rate, speed, power zones, calories, distance, elevation, mobile phone and social notifications, among many other functions.
Andy Sparks, director of Track Cycling Programs USA said of its collaboration with the brand: "We worked in conjunction with the Solos team from the ground up to develop a wearable technology that could be a game changer in the industry and have a great impact across the board."  
To check out the smart glasses and read up more on the specs, click here.
I Lock It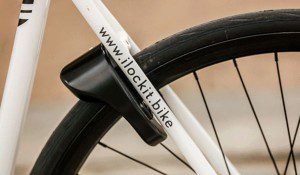 Have a customer prone to losing the key to the keys to their lock? I Lock It is a new solution from Berlin-based Haveltec, run by Markus Weintraut and Christian Anuth. The security device is unique in that it senses the owner's presence via bluetooth and unlocks accordingly. Walking away from the bike? It locks automatically and arms an on board alarm.
When locking a steal bolt moves through the spokes and prevents the bike from moving. If a stranger tries to lift the bike, the lock detects the movement and sets off an alarm. An individual encryption prevents theft through hacker attacks.
With a goal of €100,000, I Lock It is more than half way with 14 days to go. At present you can obtain the device for €79. Post crowd fund, the in store price will be €119. Need fuss free security for a fleet of hire bikes? This could be the answer.
Catch the clever lock on Kickstarter here.
Sentier
Following the introduction to the outdoor scene during the Bike Festival in Riva del Garda and soon after the preview at the BAM – Bicycle Adventure meeting in Noale (Venezia), Italian hardware brand Sentier has officially launched its Kickstarter campaign for its Ultimate Bike Trolley.
The Sentier Bike Trolley has a stainless steel main frame with 40kg load capacity, it fits any bike with a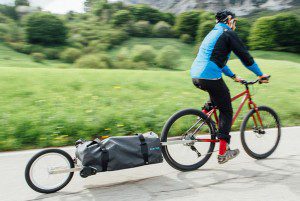 wheel size between 26" and 29" and fixes on with a handy quick release attachment.
The bag has a capacity of 70 litres and is built with eco friendly ripstop nylon finished with a poliuretan treatment to ensure it's total waterproof. The single 16" wheel  is said to offer comfortable handling and suits both on and off road adventure.
CEO and Founder, Andrea Signoretto said of the project: "Many people into active lifestyle are looking for gear that enhances comfort in all aspects of the outdoor living. For that I have developed luggage which is a trolley bag that turns into a trailer.
"It is now possible to travel by riding any beloved two-wheeler, whether it is a race, single speed or mountain bike. In fact the Bike Trolley is not bound to specific touring bikes that need to be prepared on purpose for travelling.
The Sentier crowdfunding effort is found here.