Ultimate Sports Engineering hints at possible suspension goods return, introduces dropper post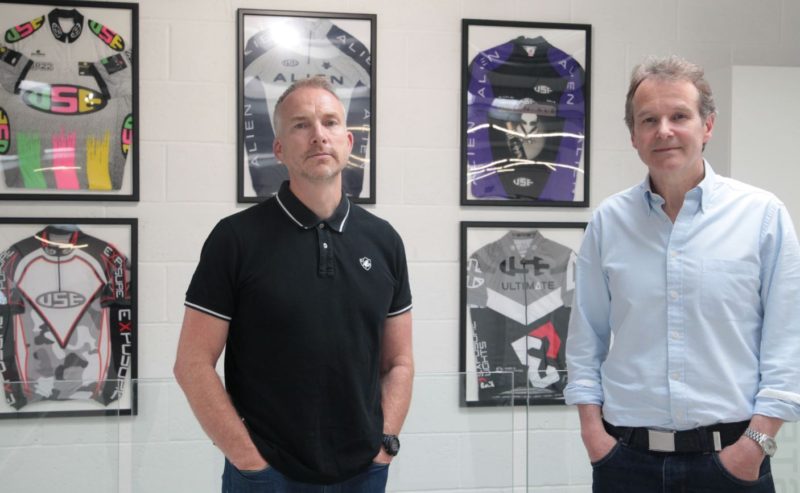 With some iconic products in its portfolio and a reputation for longevity, many of us in the trade will have either a USE, EST. 1990 or Exposure product still adorning our bikes or helmets. CI.N speaks to Exposure's Mark Swift about product coming full circle, new technology and suspension…
Markets that rely on digital technology have very often seen innovators adversely affected over the
past ten years. Think about the mobile phone's lasting effect on the cycle computer arena – the technology formerly reserved for your handlebar became so accessible and so quickly that brands producing such tech had to be producing a standout product to gain market traction.
That's something Exposure has battled with as competitors proliferated over time, saturating and often diluting the market's average sales price with ever-cheaper LEDs. You'd think it'd frustrate the firm, which has been building the Exposure brand since 2004. Not a bit.
"You can't be negative about cheap far-eastern imports," says Exposure's Mark Swift. "For one it introduces people to the concept of night riding, which we all know can be addictive once you discover what it's like to speed through the woods on a dry evening. That expands the market for all and enthusiasts are becoming more comfortable spending money on the hobbies that they love. Nine times in ten a customer who buys Exposure recommends the product to friends in that group and so it spreads."
Swift is a firm believer that founder Roger Sparrow's insistence on quality and innovation has been the defining factor in Exposure's success in a crowded marketplace.
"It's how the battery talks to the LED that's crucial to functionality and on trail performance," advocates Swift. "We've got a number of patents for each style which genuinely make a difference. The level of programming that goes into Exposure's product is immense, from tuning accelerometers to thermal controls. Machining the bodies to effectively dissipate heat is essential too. Quality packages have a lot more to them than meets the eye. Everything that leaves our South Downs manufacturing headquarters is tested to breaking point, which for a product that's heavily over-engineered and built to last is not an easy task. We far exceed global standards across the board and indeed many of the magazines come here to test lighting products for accuracy vs claims in our Sphere – a very expensive and technical bit of kit. Therefore lighting product leaving our factory guarantees its output instead of giving a theoretical estimate."
Going from one to three round the clock operated 3D printers since the start of 2017 has seen the firm further accelerate its product development, something that is likely to open new doors in the future. One such product, while new, benefits hugely from the firm's original sister arm Ultimate Sports Engineering.
"We're on the cusp of investing in yet more machinery to move our product development forward," says Swift as he rolls forward a bike clad with Ultimate's new dropper post prototype. "Time is expensive, so having the right tools to reduce our development cycles is crucial, especially for small parts. With our Ultimate rebranding 18 months ago we've a portfolio of goods already gaining OEM and aftermarket fans, but also an opportunity to revisit old famous lines and put a modern spin on them."
It's therefore no surprise to learn that the question most commonly asked of the team is "When are you bringing out front suspension again?"
"We won't give a yes or a no to this question," says Swift. "Things have moved on a lot since USE had a front suspension product on the market and it's not a quick process. Of course, if we were to enter this arena we'd need to develop tomorrow's product."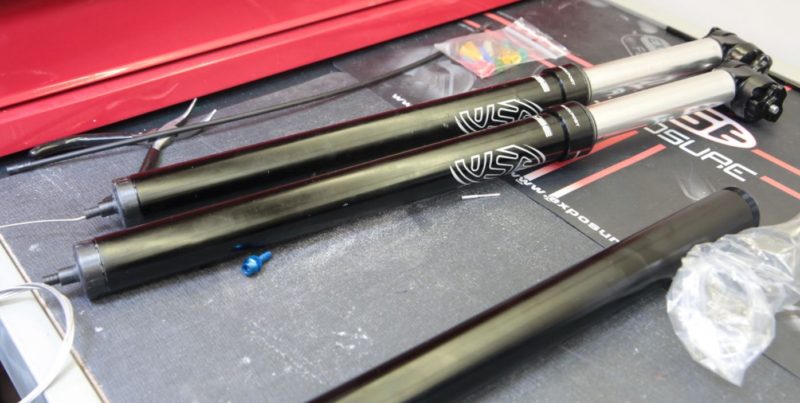 That's the aim in bringing to market the new 170mm dropper post, which looks set for a Eurobike debut and Q4 availability. The mechanical system is tasked with leaving behind a trail of other products that haven't all stood the test of time expected from Ultimate's stable. For now the firm is focusing on internal routing, though adds that at some point it's likely that a cheaper under saddle lever iteration may appear.
Benefiting from prior experience in producing some quite iconic suspension seatposts, the project is an obvious place to start for a business eyeing meeting next generation needs head on as they emerge. It's longevity that's crucial and sometimes counterproductive to business, explains Swift.
"We're still getting sent ancient USE product for service, which is amazing for our reputation, but also means it's harder to sell the new gear! Our standard warranties are two years, but we do pride ourselves on customer service. 'Magic Matt and Rocket Ron' in our service department are known for their speedy turnaround, which is generally only three days or less for all jobs. One of the benefits of longevity of Exposure is seeing our product passed down the generations, or among friends. Considering the progression since 2004 many of our customers have regularly upgraded to achieve more lumens from the same models as they've evolved. As an example, our Maxx D in 2017 offers a stunning 3,200 lumens. In MY18 that'll go up to 3,500."
Another perk of product longevity is how cycling trends eventually always tend to come full circle. The distance time trial riders and gravel grinders of today have developed a taste for the firm's first product, suspension seatposts.
Fast forward to 2018 and we're told a new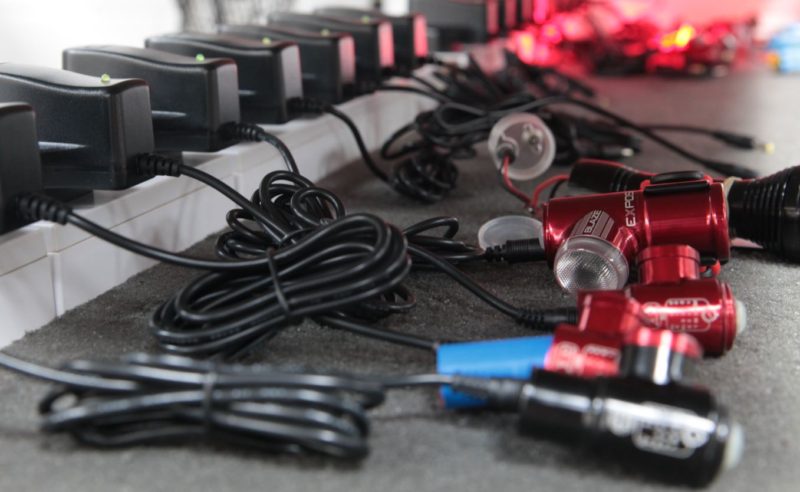 LED is in the pipeline, which along with programming improvements will see the lighting portfolio hit new highs on burn time and performance. Such programming has resulted in a number of smart functionalities, for example patented Reflex Plus technology, a system that intelligently adjusts output on the fly to give the rider the brightness only when it's required. This means an automatic adjustment to super bright on descents and less output while ascending. Then there's TAP technology for helmet lights, simply tap it to run through high, medium, low modes – no hunting for buttons.
For the near future we're told that two of the larger mountain biking lights and one helmet will receive a Bluetooth remote, Sync, something that will steadily creep into other lines. Then there's Graphene, the wonder material gradually capturing the industry's imagination and opening new doors for strength and connectivity. We're told the firm has created one light with injection moulding impregnated with Graphene in order to dramatically reduce weight to enable bikes, drones and cameras to have an action camera support light on but without noticing it's there. In fact, the Exposure Capture has enough lumens to be used as a light in its own right.
Performance aside, why might a dealer be interested in Exposure stock?
"In short, we're here in the UK, always happy to help and are doing all we can to add value to the brand. There's very little messing about online with prices, at least until the end of the season, we're generally ahead of the market when it comes to performance and bringing new ideas to market too. We've been cable free in our design since day one, so the brand has always been well regarded against the competition. There's new point of sale coming shortly, including a slat wall compatible mount due shortly and dealers can lay their hands on a stylish lockable cabinet free with a £1,500 order. They can also just order what their customer needs as and when."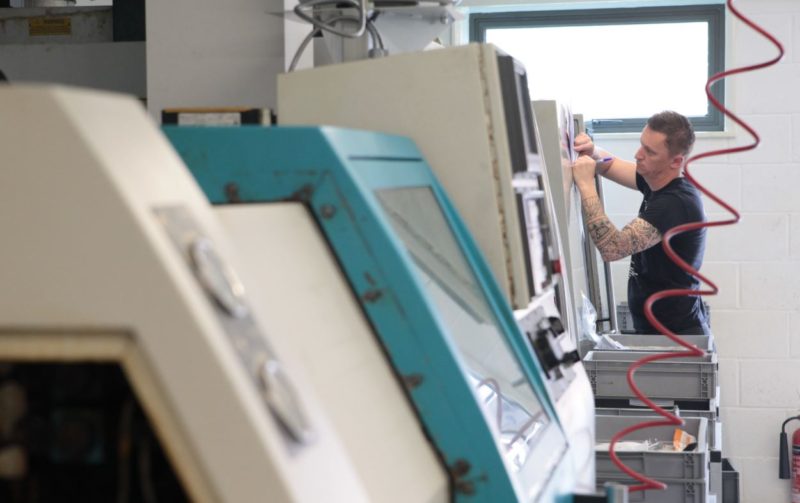 When it comes to Ultimate goods independent bike shops are once again in the driving seat as the product unties itself from a former exclusivity agreement. Though the carbon fibre parts don't enjoy the luxury of local production, development and design are carried out in the UK before being finished and assembled here. The firm says that its sourcing is among the far-east's best for carbon production. As a result a drive to secure OEM finishing kit business remains on the agenda for the future.
Exports too are still growing and with the recruitment of U.S. distributor Cyclone the firm has killed two birds with one stone – removing the product from Amazon and gaining a partner with both east and west coast facilities to widely circulate the product.
"Funnily enough USE's aero product is probably better known in the USA and Australia than it is here," jokes Swift. "60% of the suspension posts produced in the 90s went to America. Now exposure is doing well in places like Arizona for less obvious reasons; it's too hot to ride during the day for many. At present we're gaining some excellent ground in the Nordic region via a new Danish partner – night riding is obviously a big deal up there. We've also made progress in Europe with a service distribution arrangement covering Holland, Germany and France – that should re-invigorate the brand in Europe."