USE Exposure to mark 30 years with fresh round of product development
Endurance has long been the name of the game for USE Exposure. With Exposure's old and new models remaining a mainstay of 24-hour enduros and some sleek carbon driving USE's modernisation, CI.N speaks to MD Roger Sparrow and Marketing Manager Mark Swift about the road ahead…
Tucked away in prime riding territory on the South Downs, USE Exposure's head office and manufacturing facility has been chipping away and overcoming periodic obstacles for 30 years now. While there has arguably been no blip in trade quite like that brought about by the Covid-19 pandemic, wars have been fought and won in a market that became flooded with cheap and low quality lighting goods – USE's extra innovation and quality control keeping it as a fixture on the handlebars and helmets of those investing properly in their equipment.
Reflecting on that longevity, USE Exposure Marketing Manager Mark Swift lets us in on a product development secret that will mark the three decade celebrations.
"We have not held back from product development, ever, in fact with the 30 year anniversary we are trying to squeeze in some celebration, limited editions. Specifically, we'll be selling a suspension seat post because it was the first product USE made."
The new edition is not just a nostalgic throwback, nor slight revamp of the USE's dropper post, rather it is aimed squarely at the ever-growing gravel bike market and it's steady march toward building comfort into performance.
Experience from the firm's seatpost is likewise helping drive another long-rumoured project forwards.
"We are finding some time to move a new Anti-Dive fork project forward. Based upon the SUB of 2002 the new forks will be around 160mm of travel with current standards of damping control. Still the essence will be anti-dive characteristics, which we have improved, giving consistent AD characteristics throughout the range of travel. We are starting to have the designed structure FEA's to optimise weight, stiffness, and durability," says Swift.
Having laid a firm foundation with a deep catalogue of lights at different prices, the firm is further trend-watching, utilising the agility of its in-house production to react to shifts in consumer demand.
"Commuter lights are very important to Exposure, it is a big market," says Swift. "Again, the quality and technology are appreciated, maximising safety with their inherent brightness alongside features such as React and DayBright. Of course, the most efficient electronics with the best batteries, good brackets and ease of charging make these lights best in class. Everything learned from the MTB range comes across to the commuter lights. The public recognise that they enhance the riding experience and increase enjoyment."
For the retailer looking to dabble with a base commuter light product and a few off-road performance units for the night riding enthusiast, the City Starter kit comes recommended. This package is made up of a set of trace Trace R front and rear lights, which build in the firm's Daybright pulse pattern. For the city cyclist, this tech ensures that the light cuts through the urban distraction to ensure the rider is noticed. For the off road rider, iconic lights such as the Six Pack and Maxx D will be hard to beat for a handlebar-mounted setup, while the Diablo's high-lumen TAP Technology is the first to reach for when looking at helmet mounted options. TAP Technology, for the uninitiated enables the rider to simply tap the light to switch brightness level on the move. The internal chipset and sensors account for higher lumen output needed on a fast downhill segment, while saving battery where the speed is reduced on climbs.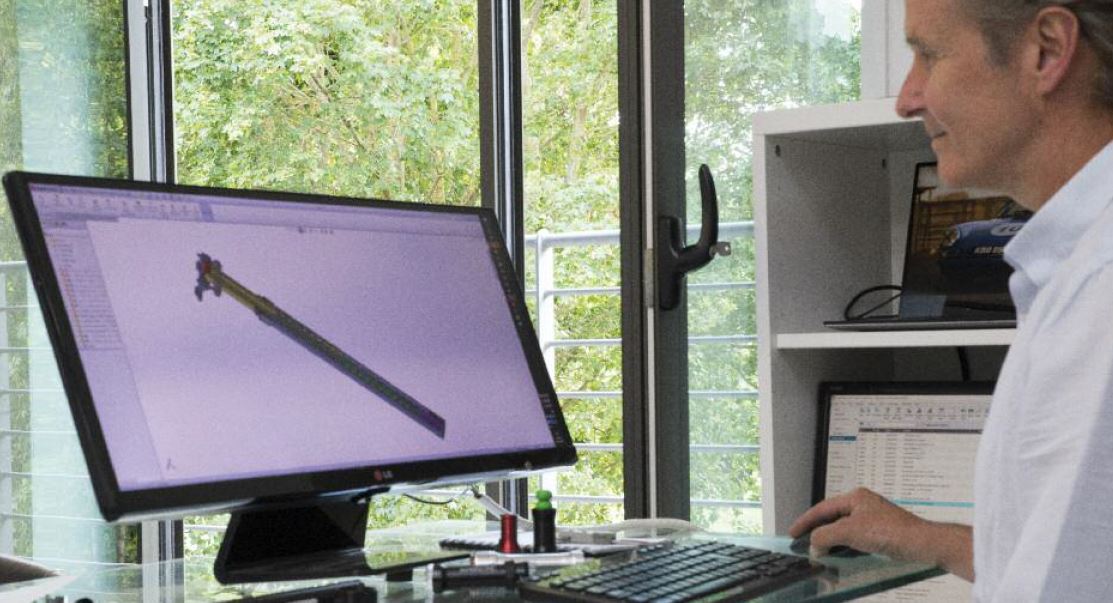 The product development scope has notably expanded in recent years, with a rebirth of the Ultimate Sports Engineering (USE) brand centred on a portfolio of finishing kit spanning entry-level through eye-catching carbon.
"We have always looked for opportunities that can benefit from our ability to think a little outside the box," says MD Roger Sparrow. "We must be unique and very innovative to be competitive. To make this successful we have to continually put a lot of time and effort into R and D; it is the life blood of the company. It is a passion that continue unabated and if this can be directed at alternative products and markets it makes the company stronger."
This investment in knowledge creation and latterly success has seen the business make strong advances in the marine market, which has created complimentary opportunities to bolster the cycling product. OEM trade attached has kicked the business on a gear where companies in other markets call on the team to design and manufacture products for them. "We have become serious players in new markets, but do not have an associated brand of our own," explains Sparrow.
It is the cycling market where a short-term opportunity exists for both brands, believes Sparrow, though he's optimistic that the industry's recent advocacy action may pay dividends down the line if it can sustain.
Speaking on the swathe of new cyclists now in the market he says: "I think we all understand that the upturn is due to people having additional free time and the desire to ensure health and fitness. In addition, keeping off public transport and out of cars is bringing new riders into the cycling world. This is building on new riders embracing E Bikes many of whom would not have started or given up riding.
"We need to ensure that this is not a short-term spike; that enthusiasm and participation does not fall off. The fantastic weather so far in 2020 has given many a terrific introduction to how wonderful cycling is. When the weather declines and the evenings draw in, we must try hard to keep these new riders on their bikes, great bike servicing, great clothing and of course great lights."
With seasonality playing a big part in planning Exposure's development cycle, the current disarray of the trade's stock situation (as documented elsewhere in this magazine) has given cause for concern as the key sales season lands with us. With the nights drawn out and months remaining until people are mulling over night riding again that is less of a concern for Exposure's localised production.
"We stayed open and continued to manufacture and trade with a skeleton staff. Approximately 50% went on Furlough for three-week stints and those that could worked from home. We are now back to a 90% staff, staggering shifts and working at the weekend to maintain distancing. We check all employees' temperatures as they start their day and have a diligent cleaning regime four times a day masks and gloves are available," says Swift.
"Most importantly the 2021 lighting range upgrades and refinements are being completed and taken into production. We are therefore excited about the new e-Bike range of lights coming to market. They have a very respectable output optimising the available power from the bike's systems with the best electronics and control systems. We are now flat out to ensure we keep up with what we expect will be strong demand."
USE Exposure
Phone: 01798 839300
Email: info@use.group