What makes up my cycling clothing? Polartec talks fabric science
Breathability, waterproofing and temperature regulation; when it comes to cycling clothing you can choose three. No, really, the holy grail of clothing manufacture exists, says textiles giant Polartec. Here the maker of your favourite brand's cycling garments talk us through what's on offer to the modern rider…
Whether you're familiar with the name or not, there's a good chance you've worn Polartec garments before now, be it a cycling garment or indeed any technical item designed for the outdoors.
Polartec is the Versa Capital-owned fabrics giant now charged with creating the inner workings for garments from the likes of Rapha, Patagonia, The North Face, Castelli, Santini, Sportful, Mavic and countless others. With over 400 different fabrics stemming from the business, the history goes much deeper. Having started in 1908, the business originally made wool uniforms for the United States army from its then Massachusetts headquarters.
Most notable of those 400+ fabric innovations is the creation of fleece, first developed in the 1980s by the research and development team at the former mills. That premises unfortunately burned to the ground in 1995, an incident that stalled the company's fortunes.
Now operating out of Cleveland, Tennessee and Hudson, New Hampshire, Polartec is led by outdoor and cycle industry veteran CEO Gary Smith and is a global business. Smith has proven instrumental in striking up partnerships in pro cycling, most recently cementing a title sponsorship relationship with the Polartec- Kometa Pro Cycling Team, U23 and Junior Contador Foundation Teams, as managed by Alberto's brother Francisco.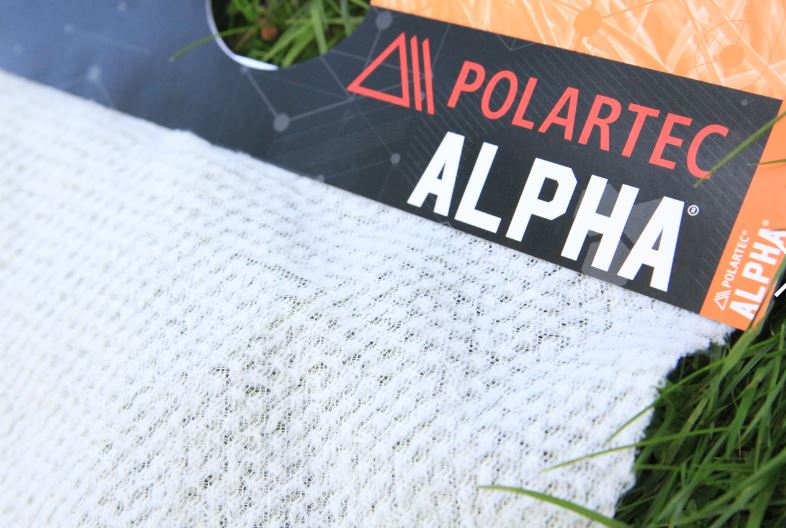 Testament to the work of Polartec, 100% of the Foundation Team's kit stemmed from the clothing manufacturer, which was able to tailor kit for extreme heat, colder and wetter races.
Clothing manufacture, particularly in the case of performance fabrics, can be a dirty process, so Polartec are to be commended for its leading role in becoming more eco-conscious.
In 2017 the business achieved 41% of its yarn and 60% of total fabric production by utilising recycled content as the raw material source; it also claims to be the only manufacturer offering a fully recycled three-layer design. Since 2010 the business is estimated to have used over one billion recycled bottles as part of its production. A Bluesign partner since 2008 and having obtained Oeko-Tex certification in 2005 the manufacturer is verifiably clean on dangerous chemical use.
What's more, where possible, the supply chain's work takes place locally. Thanks to two factories in North America, one in Central America and further plants in Asia and Italy, transportation and duty costs are vastly reduced for OEM partners. As a result of careful planning, the business estimates that it has cut its carbon footprint by 18% and energy use by 24% since 2008.
So how do cycling clothing labels go about working with the garments giant?
"Polartec works on licensing agreements, so to be able to become a customer we will have to licence the brand. From here minimum orders do apply, but vary from style to style," says Per Marriott, the sales agent for the UK and Scandinavia. "We very much enjoy creating and collaborating with customers. This begins often with one-to-one meetings at the development stage and technical support through the design stage. Through our R&D department and field testing we also anticipate our customer's needs when it comes to technologies required by each garment."
To enquire about utilising Polartec's many innovative fabrics in your cycling clothing range you can contact Per Marriot via email at marriottp@polartec.com.
Those heading to the Rouleur Classic will be able to talk to the brand direct about how its fabrics can drive forward your brand's performance.
POLARTEC'S TECH: THE NEED TO KNOWS
ALPHA & ALPHA DIRECT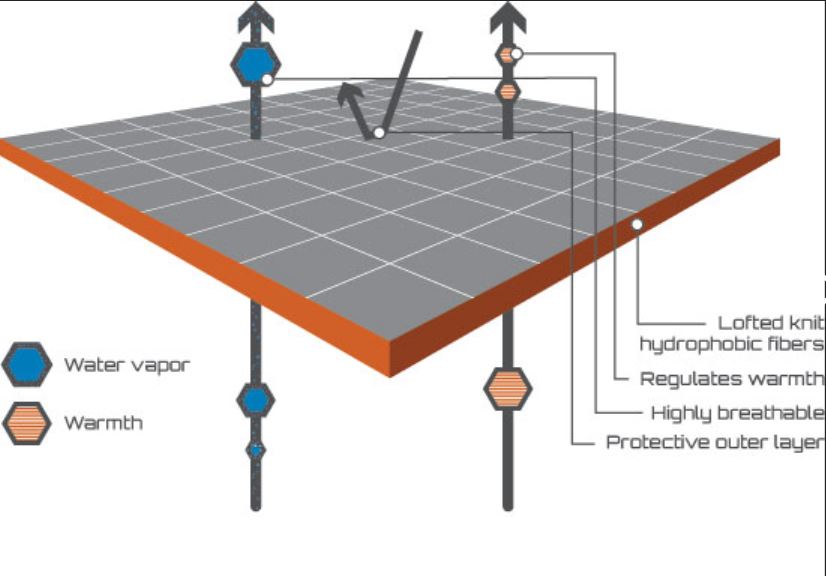 Sealing out the worst of winter in a manner that doesn't leave the rider feeling overwhelmed by the heat retention is no mean feat. One of Polartec's many patents for insulation, the Alpha and Alpha Direct fabrics have been developed to deliver warmth without the weight typically associated with garments where insulation takes priority. Originally built for the combat uniforms of U.S. Special Forces, Alpha's now a prominent technology used in several cycling pieces in the Rapha collection, among others. An added bonus of reducing the weight is the packability that these fabrics permit. High-loft fibres in a low-density knit compress well giving the fabrics strong appeal for a wide-range of garment uses and activities; indeed Polartec outline that its highly air permeable fabrics work incredibly well as an outer layer that will offer the same level of comfort on mountain ascents as it will on rapid descents.
Another property that suits low to high intensity cycling is the fabric's quick drying, which the supplier says is 68% faster than another market leading synthetic insulation. This allows water vapour to escape quickly, but with retention of warmth, as regulated by the hydrophobic fiber layer.
Those working with Alpha fabrics can fine tune the amount of breathability and stretch desired for the intended use, allowing an immense versatility in design.
DELTA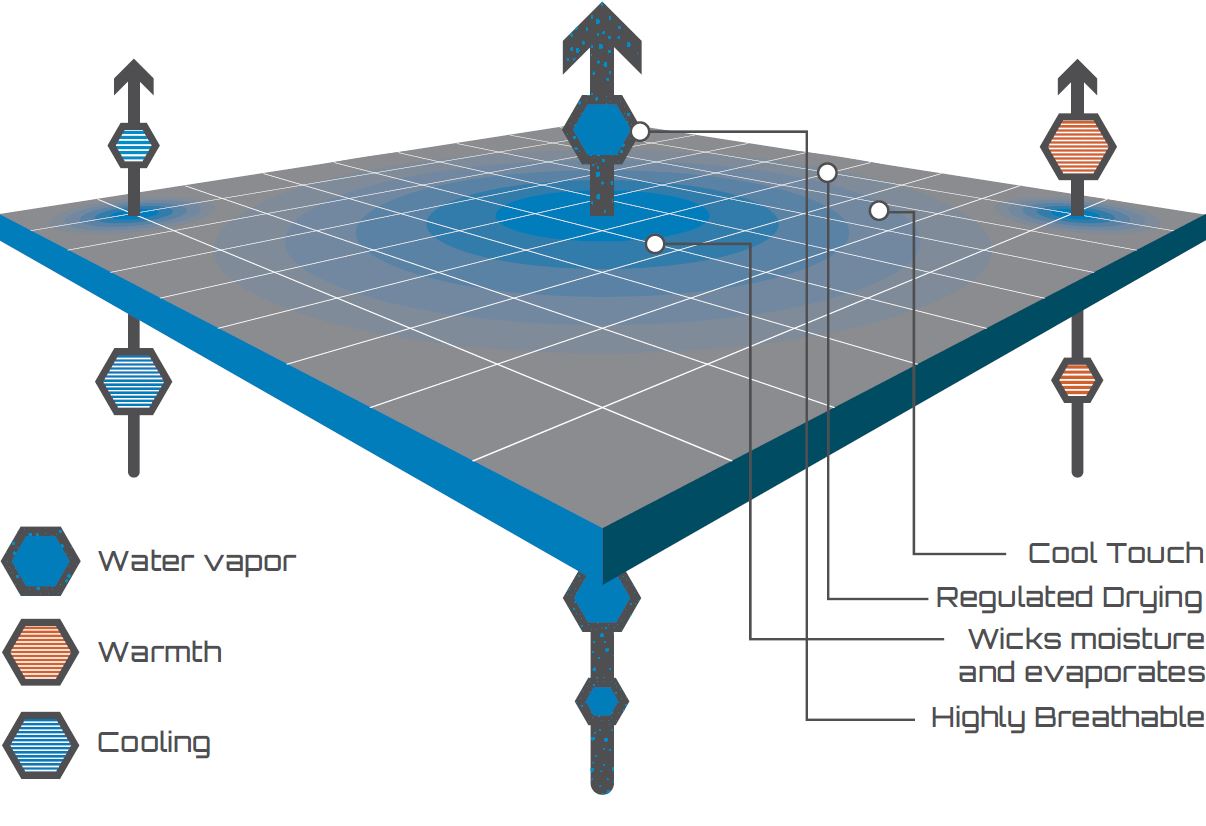 Dubbed "Goldilocks" by Polartec, the Delta fabric is neither too hot, nor too cold. A highly breathable solution that regulates athlete temperature, research and development on this fabric centred on how to efficiently channel a rider's sweat. The solution, it was deemed, was to lift the sweat just off the surface of the skin, but not so far away that cooling properties are lost. For that reason, Delta won't ever cling to the skin as some garments do when attempting to wick away the body's natural cooling.
Utilising hydrophilic yarns laid out in grid formation Delta prolongs the skin's cooling response, distributing sweat around key zones much like a car's radiator cools a wider area. The result is a garment that naturally feels cooler, so you'll be more likely to turn to it on warmer days. What's more, despite the wide circulation of sweat, Polartec has added odour control and a UPF rating in the mid-weight, making this the ideal fabric for long days out in the saddle.
NEOSHELL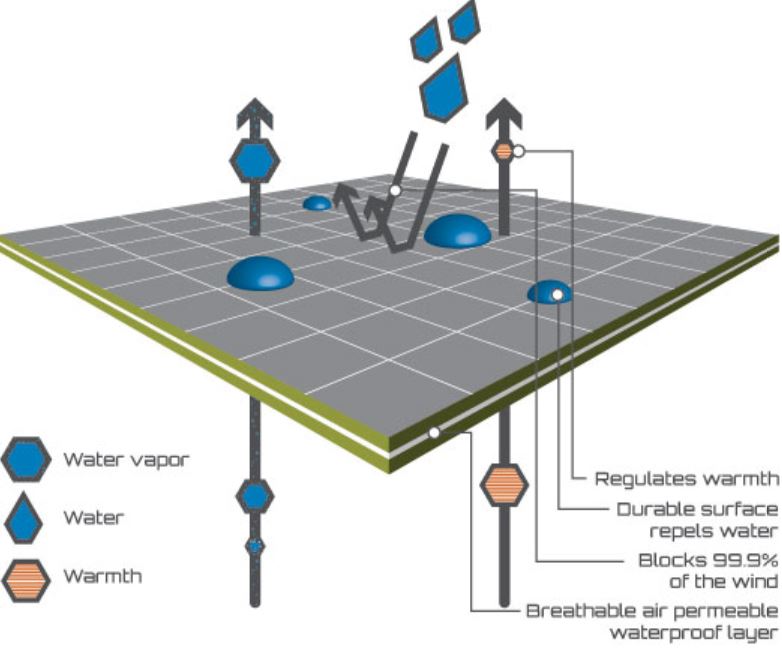 "What's the point of a waterproof if you're always soaked with sweat," asks the tagline attached to Neoshell. It's a question anyone who's pulled on a 'boil in the bag' garment will have asked themselves. Short of embedding copious amounts of vents and zips, this airflow and sweat channelling dilemma has plagued clothing designers for decades.
Neoshell, then, is the solution, engineering a breathable waterproof that allows unrestricted release of excess body heat and moisture from the body. The temperature regulation on offer is further aided by a layer that blocks out 99.9% of the wind's effects. What's more, all of this is achieved with the added benefit of a durable stretch, recovery and even resistance to abrasion. Those factors add up to an incredibly attractive spec sheet for any brand seeking to develop an all-day garment for saddled assaults on the mountains.
Hot off the press!
Announced just in time to make this magazine, Polartec has lifted the lid on a new 100% recycled Power Fill Insulation. Furthering the firm's eco-credentials the offering is comprised entirely of post-consumer recycled materials. Reaching the milestone quicker than anticipated, just last year Polartec had achieved an 80% recycled content material.
The proprietary hollow fibred Power Fill fabric is said to be warm, lightweight, hydrophobic, fast drying and best of all, compressible, making it ideal for cycle brands wishing to manufacture versatile garments.
The process of creation is further said to be kind to the environment, removing the need for disposable scrims, stabilising agents or carriers. By removing wasteful scrims, Polartec say that this fabric offers an immense warmth-to weight ratio and is easy to work with in design. Power Fill is currently available in 80 and 100g/m2 weights, both with Oeko-Tex Standard 100 certification.