What's it like to run a bike shop at a trail centre? Revo tells all
We've long pondered whether alternatives to a traditional high street presence are all the more viable for the bike market given our customer's tendency to travel. Who better to give us the inside track than Revo's Mark Almond…
How's life in the Llangynog since you settled in? Better riding, worse weather?
It's always sunny in the Nog! Anyone who says otherwise is dreaming.
Tell us a bit about Revo and how it got started?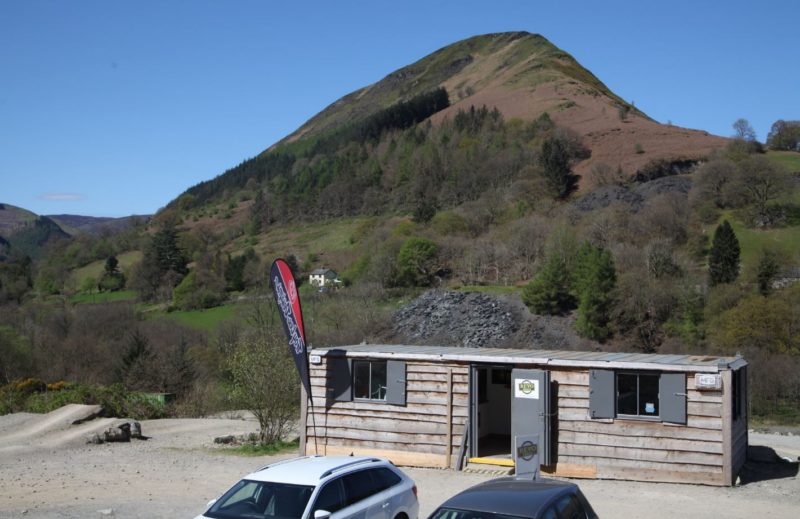 Revolution Bike Park has been open now for four years whereas my business, Revo Bikes opened in July of last year. The Park is owned and run by brothers James and Tim Foster and has grown steadily across its first few years. Both are keen riders themselves – James is certainly very quick on a bike too – and they decided to combine their love of the sport with their own business ideas and Revolution Bike Park was born.
Revo Bikes is the trailside shop and is on land rented from the Bike Park by my company. We are separate companies running in tandem with each other to provide riders a first class experience. As a rider I have often been to bike parks and trail centres where I felt the onsite shop was missing a trick or two and I was determined to learn from these experiences and provide riders with the products and services they need and/or can't get online. After that we identified that the local riding community was in need of a shop open all weekend to be on hand for their riding emergencies when out and about the hills on road or trail.
Having said that, I work extremely closely with the team in terms of rider services, the visitor experience and helping them with marketing and sponsorship initiatives for the park.
What's it like having that captive audience as far as business goes?
I genuinely don't see it as a captive audience, riders have choice and this is a good thing. We are conveniently on hand for emergency repairs and replacing broken parts but there is nothing stopping a rider taking his or her bike home to repair themselves or take to their local bike shop. There is nothing stopping them buying parts online either. We are competing with these suppliers just as much as any other bike shop and we tailor what we offer riders accordingly. We have to offer value, great service and honest advice. We will never take anything for granted, nor should we. So far we are seeing repeat purchases and a good element of customer loyalty with riders now ordering parts on our website before they come to the Park and having us fit them when they get here.
Would you have ever taken up bike retail in a high street location, or was the location the deal maker?
I did look closely at various high street locations, both existing businesses and new opportunities before starting Revo Bikes, so I guess the answer is if the right opportunity had presented itself I would have done. However, finding that right opportunity in a fast changing market is tough. I'm not sure you need a high street outlet anymore to be honest. If you're stacking high and selling cheap maybe it is needed, but not for most bike retailers. Out of town and destination stores are the way forward in my opinion.
I am also a little old fashioned in my approach to business. For me it is not all about money. You have to work with people who share your values and who you want to work with. Upon meeting the Fosters I found exactly that. I knew immediately that their destination was ideal for my vision of what a bike shop should be. That made the deal for me even more so than the location in all honesty.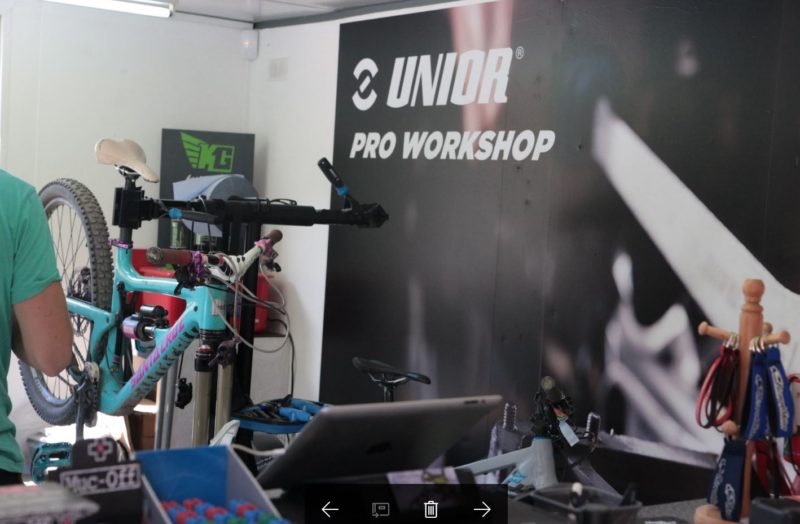 You don't sell bikes, (yet, at least) so we presume Revo's income is almost 100% workshop and spares related? 
Yet. This will change very soon. At the moment I would say that our income is 70% workshop and spares, 30% clothing and accessories. We sell a wide range of clothing, protection, helmets and bike care products, as well as hire out pads for people who have forgotten theirs. On top of this we are also a Leatt Neck Brace demo centre and a Burgtec pedal demo centre with further demo programmes being introduced within the next few weeks. We are all about providing a service for our customers, we listen to them and we act on their feedback.
It is our intention to move into selling some bikes. However, I for one would never have bought a bike from someone I didn't know. What sets a good LBS apart from a bad one – or online – is that the customer trusts your advice and feels they are going to be looked after by you when spending what is, let's be honest, a lot of money on a bike. As a start up last July and with our initial audience being a largely travelling one from all corners of the UK and Europe, we needed to gain that trust before asking them to part with their hard earned on a high ticket item. Coupled with our ideal location for demo rides – both on and off road – we are slowly becoming an attractive option for bike sales.
Our guess is that you don't need to do much marketing given the location. Are there any other perks or overhead reductions in having an engaged demographic travel to your doorstep from around the globe?
I must disagree with this one as we have to do a lot of marketing, just as any forward thinking business does. The location helps, for sure, but marketing is so much more than advertising. We have to get the service and product offering right to compete and we have to let riders travelling to the park know that we are there and that we provide these very services. We also have a dispersed local community of riders to speak to and raise awareness in. With no one centre of population nearby, this is a difficult job but we're getting there.
That said, of course given our location we know that 90% of our visitors are downhill and trail mountain bikers who are fully engaged with their sport. This helps undoubtedly and they are our key audience but we also have to look beyond that to survive and thrive as a shop.
What challenges does being off the beaten track bring as far as business is concerned?
The logistical aspect of it, mostly. Couriers can get very confused when delivering from suppliers and infrastructure concerns such as slow broadband and so on, it has a few complications, for sure. Our local audience is very dispersed and hard to communicate with at first and we have no passing trade during the week. This is where the marketing kicks in and I am very active with local ride groups and initiatives such as the Montytrax scheme and much more to overcome these concerns.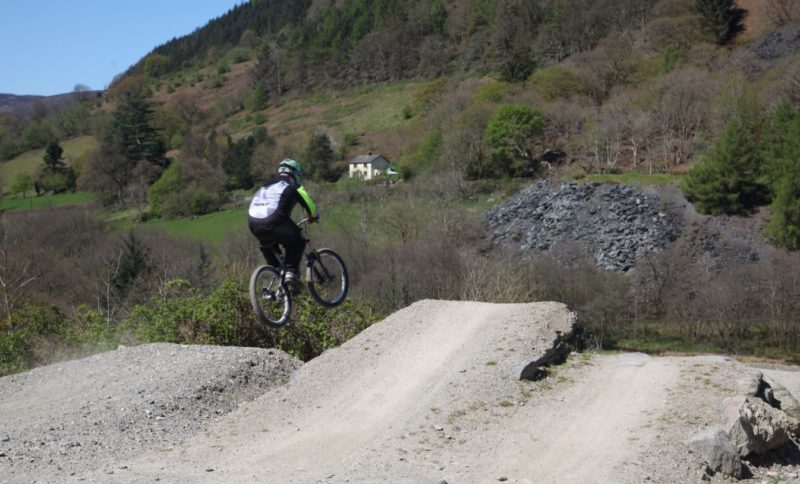 As the market changes, what opportunities are there in the bike business at present for retailers like yourself?
Value added, simple.
We cannot compete on price in many cases nor, perhaps, is it advisable to do so. However, what we can do as a local independent is to add value to a purchase decision. We can offer demo programmes for accessories as well as bikes. We also offer advice on suspension set up and we are now a Shockwiz demo centre to help set up riders' suspension. A professionally run workshop is also a must.
Personally I also see value in local community involvement such as organising group rides, supporting local school cycling activity, working with groups to improve local cycling infrastructure and much more. Yes, these may be seen as marketing initiatives and to a degree they are, but they also allow the LBS to become involved in non-core business opportunities.
As an aside to the store, you've also other roles in the industry – tell us about Red Cloud:
Red Cloud is ten years old this year! Despite rumours to the contrary when Revo Bikes was opened, Red Cloud – a bike industry marketing and PR specialist – is going from strength to strength. We have recently opened a new office and have expanded our team to meet demand.
We are currently in the process of launching Simplon Bikes in the UK market, a brand you may see at Revo Bikes soon. We're also involved in promoting a large array of cycling brands, retailers and events across the UK and, increasingly, in Europe. I am still heading that all up on a day to day basis with a team of experts to call in as needed to help companies promote themselves online, off line, locally to globally. We have a great record in launching brands in the UK from fresh start ups to foreign companies entering the market. We also act as consultants to large companies seeking investment in the cycling industry.
How can industry labels take advantage of your services and what are your specialities/costs?
Anyone within or looking to enter the cycling world can contact me directly via our website redcloudmc.com, or by phone. We do not work on retainers as we feel these are 'money for nothing' and you should only expect to pay for work done and results achieved. Costs are dependent on activity and objectives and we are very flexible in order to be affordable for budgets of all sizes. From copywriting, social media management and media liaison to full on marketing strategy development, new brand launches, event management and much more, we can and will deliver for you.
To what extent has your experience here helped in driving Revo?
Hugely. Marketing is often misunderstood as being advertising and events. It is so much more than that. It is about identifying your customer's needs or wants and fulfilling them effectively and efficiently. Add in a slice of humour, warm welcome and a smile – yes, I do smile occasionally – while always being honest and open and you have a recipe for success. I am a no BS type of person. People recognise this and, I am told, respect it by and large, whether they are a rider with a broken bike seeking repair or a brand looking to launch in the UK. If I can't do something I tell people, if I can do it I do so to the very best of my ability.
You mentioned that you're working on a mapping project for the local trails – tell us about these plans:
Yes, the Berwyns are one of Wales' best kept secrets for cyclists. From the Lake Vyrnwy Bala loop on the road to the unbelievable natural off road trails around the area, this region is almost unlike any other I know of in the UK. However, it needs promoting and support is needed to make riders happy to explore. Between myself, a few riding friends and colleagues, we are actively searching out local routes and trails to map out and form part of a Ride the Berwyns initiative that will see Red Cloud promote the local area as a destination of choice for any two wheeled adventurer. We have so much to see and do here and with no support forthcoming or likely from central government we need to take action. I am very passionate about Wales and cycling so it's certainly a labour of love.
Related: How straightforward is life as an own-brand focused retailer?