World Sports Forum meet urges outdoor retailers to rethink customer's "point of engagement"
Concluding last week, the World Federation of the Sporting Goods Industry organised World Sports Forum talked at length about the future of retail in the sporting segment, drawing some interesting conclusions on the role of the bricks and mortar retailer.
The future of sports retailing and the shift toward online sales was discussed by John Terra, retail research director at Q&A, a Dutch firm specialized in retail insights and solutions. He strongly advocated that sporting goods brands and retailers should turn their stores into points of engagement, to deal more efficiently with the rise of online retailing.
Recent years have seen retailers suffer from reduced footfall and Terra's research suggests that there could be an over-capacity of retail space reaching up to 20% in some developed markets, due to the growing market share of online retailing. An estimated 40% of consumers prefer to buy their sports and outdoor equipment online.
"People don't have to go to stores anymore," said Terra. "That means stores have to rethink their concept to make sure that people want to go there."
His analysis was backed up by a White Paper on customer engagement in retail stores published by Ebeltoft, an alliance of retail consulting firms with members in more than 20 markets. Q&A is a Dutch member of the network, which delivers practical solutions based on global expertise as well as local insights.
Terra explained that the decisions of consumers for shopping destinations are chiefly guided by efficiency, expertise and experience. He acknowledged that online retailers are hard to beat in terms of efficiency, but added that their physical counterparts may still adjust their own concept to offer some of the same advantages.
New Dutch retailers are adopting more efficient business models, for example by opting to cover only a few of the largest cities. Others are focusing on an efficient customer journey, such as in-store tablets that enable consumers to access a wider range of products online.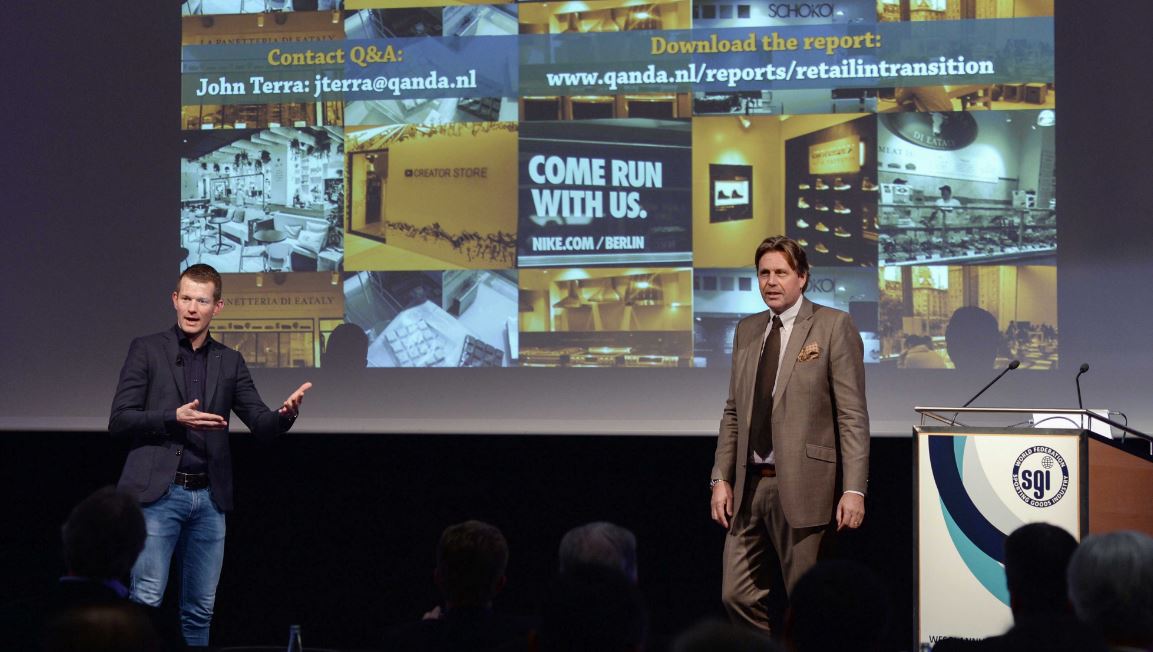 However, Terra argued that experience is often the most compelling way for retailers to draw consumers away from their keyboards and into the stores. Leading sporting goods brands have opened spectacular facilities from New York to London and Shanghai.
"They are turning retail facilities into a third layer of marketing," explained Terra.
Expertise is another card that sporting goods retailers are well-qualified to play. REI conveys that in a creative way, by organizing events and building stories around the expertise of its employees. Terra also referred to Globetrotter stores in Germany, where customers may try out kayaks indoors or test clothing in an "Arctic room." Another example was Lululemon, which organizes yoga sessions in its facilities.
CyclingIndustry.News will go into depth on the topic of in store experience within our Q2 Trade Journal, which UK businesses can sign up for free of charge here.
In such points of engagement, retail staff are no longer just selling products but they may also act as trainers, guides or artists.
"Staff recruitment and training should focus on the right skills, to make sure that employees are really eager to assist or even entertain customers," said Terra.
The speaker recommended that retailers could try out various ideas on a small scale. Tactics may also be adjusted to locations: Stores in busy shopping streets should work most intensely on experience, because such locations tend to generate impulsive buying; while stores in smaller cities tend to be targeted for planned customer journeys, which makes expertise more valuable.
Efforts to create retail experiences are all the more relevant since digital natives have become a dominant force in global consumption, outnumbering the digital immigrants. These consumers have to be engaged, preferably with an experience that may be shared.
"Sports retailing has huge potential to make the difference on points of engagement compared to other retail sectors, due to the products that they sell, the knowledge that they require and the passion of their customers," said Terra. He has worked for many real estate companies and retailers, and produced several sector studies for the sporting goods industry.
Terra's comments echo many of the thoughts delivered in Jay Townley's latest CyclingIndustry.News piece, within which he discusses motivating staff, making purchasing simple for the consumer and plenty more. Read that here.