"World's biggest bike count" reveals which bike and parts brands are favoured by athletes
Undertaken at the Campagnolo GFNY Championship in New York, what has been described as the "world's largest bike count" has placed Specialized as the most used frame brand among road-going athletes.
Four experts undertook the count, three of which focused on the frame brand and the fourth on components. Completing the task of counting 3,877 bikes within two hours, the experts had considered also counting wheels, but realised very quickly that they'd be under-resourced in adding that value.
So, what did they learn ahead of the marathon series kick off?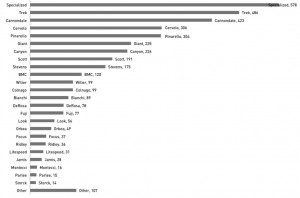 Frame brand choice
As far as frame choice goes, the top two are predictable enough names, with 578 Specialized frames edging out Trek's 486. Cannondale, Cervelo and Pinarello made up the rest of the top five.
The top 24 brands are listed by number below, with the remainder listed as 'other'.
German direct to consumer label Canyon, despite having only just announced US availability from next year, entered the rankings in 7th place, just one spot behind Giant Bicycles. While interesting, the GFNY drew in riders from 93 countries this year, with just 40.5% of entrants based domestically.
Component choice
Though unsurprising, the component chart makes for interesting reading. Shimano commanded a 62% share, trumping SRAM's 24%. Campagnolo gear made up the remaining 14%, a perhaps suprisingly high figure for the Italian label.
Emerging market hints?
A notably stat from the GFNY round up is that Brazilian riders made up 14.5% of the peleton at 702 participants, something which the organisers say makes it the third largest Gran Fondo for what is considered a rapidly emerging market on the world stage.
Another notably high stat points to increased interest from female cyclists who made up 19%, which, while far from equal, is a healthy figure by European event standards, say the organisers.
412 riders came in from Mexico, 289 from Canada, 255 from Colombia and 125 from the UK.