9 million Euro of counterfeit turnover blocked in bike business shakedown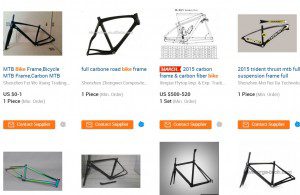 A joint operation between the World Federation of Sporting Goods Industries and Convey Srl has seen counterfeit cycling goods totaling more than 9 million Euro removed from circulation.
With 50 online sales portals watched closely by the Italian anti-counterfeit outfit, goods purporting to be from 85 WFSGI members have been removed from sale.
Some 160,000 online listings have now been deleted, spanning popular channels such as Alibaba, Craigslist, social platforms and many more.
In recent years mobile applications have also got in on the act, allowing consumers to order vastly reduced cost cycling goods direct from source in just a few clicks.
WFSGI members are largely protected through the partnership and Convey's Michele Provera suggests that "the war is almost won" as counterfeiters have flocked onto easier targets.
The WFSGI are now not only actively protecting trademarks, but will focus on copyrights, design rights, utility and design patents too.
On average those offenders targeting WFSGI members had been doing so for around 14 months, though in one instance a brand had suffered for 2 years and four months with blocked revenues totaling 3,773,000 Euros.