Analysis: How online reviews can both affect and assist your business
New data gathered by a website build comparison site has outlined a number of consumer trends when it comes to reviews that have the potential to make or break a retailer's online business and even affect a businesses ability to recruit.
According to the latest research, some 68% of millenials trust online reviews, while 34% are more prone to acknowledging television advertising. Online reviews, where positive, are now believed to result in an 18% uplift in sales, while customers who search for reviews are 133% more likely to be converted than those who do not.
While manufacturer descriptions are important in the customer education process, the data suggests that consumers trust reviews by other shoppers up to 12 times more. Knock on effects of building reviews on your site can also help your Google rankings, so it's worth ensuring your site carries the ability to leave feedback. It was found that 50 or more reviews on a product can result in a 4.6% conversion rate uptick.
Interestingly, the device further influences spend, with smartphone readers 127% more likely to buy than those reading on a desktop.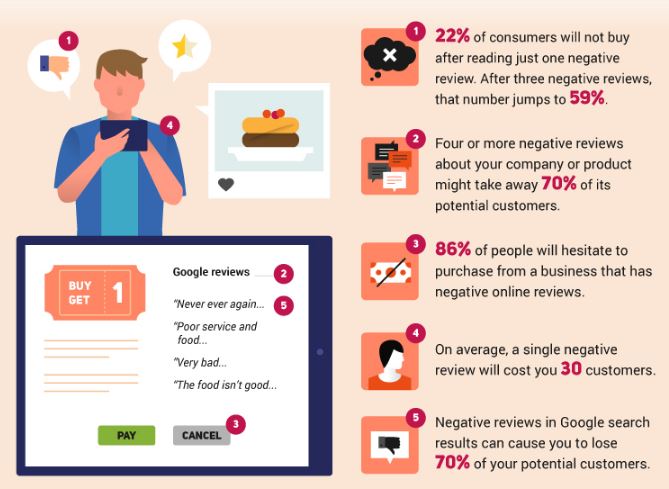 When it comes to star ratings, researchers found that for every star a business gets on Google a 5 to 9% increase in sales correlated, while those boasting excellent feedback are 31% more likely to receive the business. Those with at least 3+ star reviews account for 41 of 47 clickthroughs.
As expected, negative reviews can seriously damage a online retailer's hopes of capturing a sale. 22% of consumers' patience wears out after seeing just one bad review. After reading three that drop off hits 59%. Should your business have bad reviews listed in Google search results the data suggests up to 70% of customers will pass without interaction.
Fake reviews, good or bad, have increasingly come to be a problem online and can be a difficult fire to fight for the retailer. It is said that 30% of online reviews may be fake, so it's worth keeping tabs on. Some 27% of people trust reviews only if they believe they are authentic.
Jobs (There's plenty in cycling here.)
Reviews also heavily affect a company's ability to recruit, so it's worth keeping tabs on how your business is perceived online. The majority of job seekers read around six reviews before forming an opinion on a prospective employer.
Some 76% of professionals research a company online before considering taking a job, with 60% stating they would not join a company with a one star rating. 33% would not apply to a business with under three stars, while 83% will base their decision on where to apply based on online reviews.
Of Glassdoor users, 62% agree that their opinion of a business improves when they see that the company has taken the time to respond to reviews online.
Social Media
The average person has five social media accounts, so it's crucial that your channels paint a good picture of the business. On average we spend an hour and 40 minutes a day cruising social media – a whopping 28% of all time online.
Therefore it's no surprise that 55% of consumers turn to Facebook to learn about brands. Interestingly, 57.1% of the 53.9% that use social media in-store are said to be reading reviews.
Replying to negative reviews on social media can pay dividends too, says the study. A third will delete their negative comments or replace the comments with a positive brand response.
For more analysis of consumer spending behaviour, check out the "Future of Marketing" report here.