Analysis: UK Government publishes Cycling and Walking Investment Strategy
The UK Government has after some delay published its Cycling and Walking Investment Strategy within which it makes a £1.2 billion commitment to "make walking and cycling the natural choice for short journeys".
In the strategy's foreword, cyclist dooring Transport Secretary Chris Grayling speaks of turning cycling from a niche activity into a "normal activity for all".
"If we can increase levels of walking and cycling, the benefits are substantial. For people, it means cheaper travel and better health. For businesses, it means increased productivity and increased footfall in shops. And for society as a whole it means lower congestion, better air quality, and vibrant, attractive places and communities," he says.
The ambition with the CWIS is to "double cycling activity by 2025" and consecutively reduce injuries and fatalities on Britain's roads.
The £1.2 billion is allocated for nationwide spend is as follows: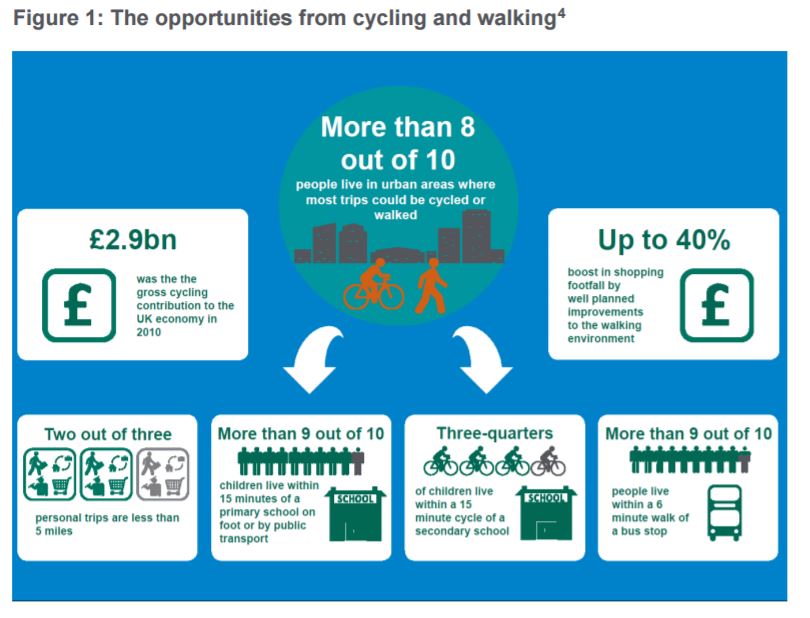 £50 million to provide cycling proficiency training for further 1.3 million children
£101 million to improve cycling infrastructure and expand cycle routes between the city centres, local communities, and key employment and retail sites
£85 million to make improvements to 200 sections of roads for cyclists
£80 million for safety and awareness training for cyclists, extra secure cycle storage, bike repair, maintenance courses and road safety measures
£389.5 million for councils to invest in walking and cycling schemes
£476.4 million from local growth funding to support walking and cycling
In addition, the government is investing an extra:
£5 million on improving cycle facilities at railway stations
£1 million on Living Streets' outreach programmes to encourage children to walk to school
£1 million on Cycling UK's 'Big Bike Revival' scheme which provides free bike maintenance and cycling classes
The five main sources of funding for cycling and walking are outlined in turn: DfT cycling and walking specific programmes, DfT local transport programmes, other central Government programmes supporting cycling and walking, local body programmes and finally initiatives led by business and the third sector.
On the Big Bike Revival's support Paul Tuohy, Chief Executive of Cycling UK said: "Cycling is a fantastic transport choice, helping you to stay active and healthy as part of your daily routine, and saving you money on travel costs. Cycling UK's Big Bike Revival will help tens of thousands of people back into cycling by getting your bikes checked over, fixed up and back into use. We are grateful to the Department for Transport for supporting this initiative for this, our third year of national activities to help get more of the UK cycling more often."
Joe Irvin, Chief Executive Living Streets, alongside publishing the below video, added: "Publication of government's first ever statutory 'Cycling and walking investment strategy' is a historic moment. Making it easier for people to walk their everyday journeys will improve our health, economy and social welfare. We now need to turn good intentions into practical progress and help government step up to the new ambitions."
For context, £1.2 billion spent nationwide pales into insignificance against other Government transport projects. At the lower estimate the HS2 rail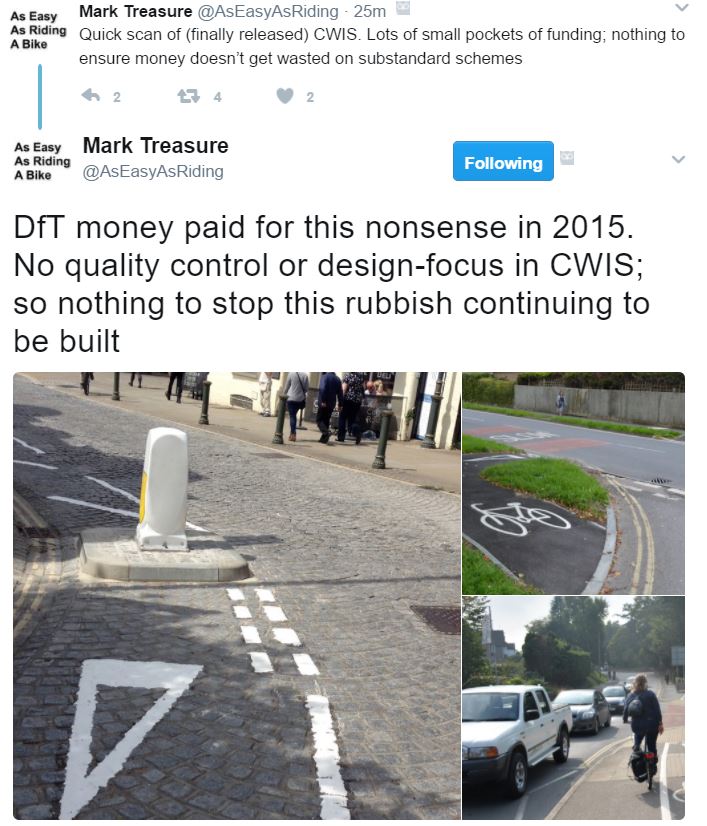 project will cost £56 billion or £78.53 million per kilometre of track. Therefore cycling's entire budget is worth the same as roughly 12 kilometres of the often touted as 'overpriced' railway investment.
Guidance has also now been published on the preparation of Local Cycling and Walking Infrastructure Plans. The guidance will help support local delivery partners to identify and deliver individual and tailored interventions fit for their own local areas and get the most out of existing tools, such as the Propensity to Cycle Tool.
However, it appears at first glance that national design standards are far from cemented, potentially allowing for money to be spent on sub-standard schemes.
As pointed out by GB Cycling Embassy Chair Mark Treasure, additional funding doesn't equate to money necessarily well spent, as has been evidenced across the UK before now:
Under the Infrastructure Act 2015 , the government is required to set a 'Cycling and walking investment strategy' for England. This is the first of a series of shorter term, 5 year strategies to support the long-term ambition to make walking and cycling the natural choice for shorter journeys by 2040.
More to follow as we review the Strategy….