Anti-dumping on Chinese e-Bikes slows imports to Europe to a crawl
The latest Eurostat data detailing first half imports of electric bikes into the EU has shown the anti-dumping and anti-subsidy measures imposed in January to be spectacularly effective.
According to the statistics, imports dropped by a huge 91% in the first six months of 2019 when compared against the year prior. 800,000 units from China landed in 2018 as a whole, but in H1 2019 the tally only reached 54,643 units shipped.
The stalling of trade stems from this earlier declaration by the EU in response to a complaint by the European Bicycle Manufacturer's Association lodged in 2017. The decision was lobbied against by the Light Electric Vehicle Association which campaigned against what it says was false evidence to back claims of injury to the EU market. The duties levied varied supplier to supplier, but ranged 10.3% to 73.4% for those who chose not to co-operate in the investigation.
The anti-dumping ruling has led to a wave of investment by far-eastern businesses in establishing European operations, most recently Bafang which opened a significant facility in Poland just last week.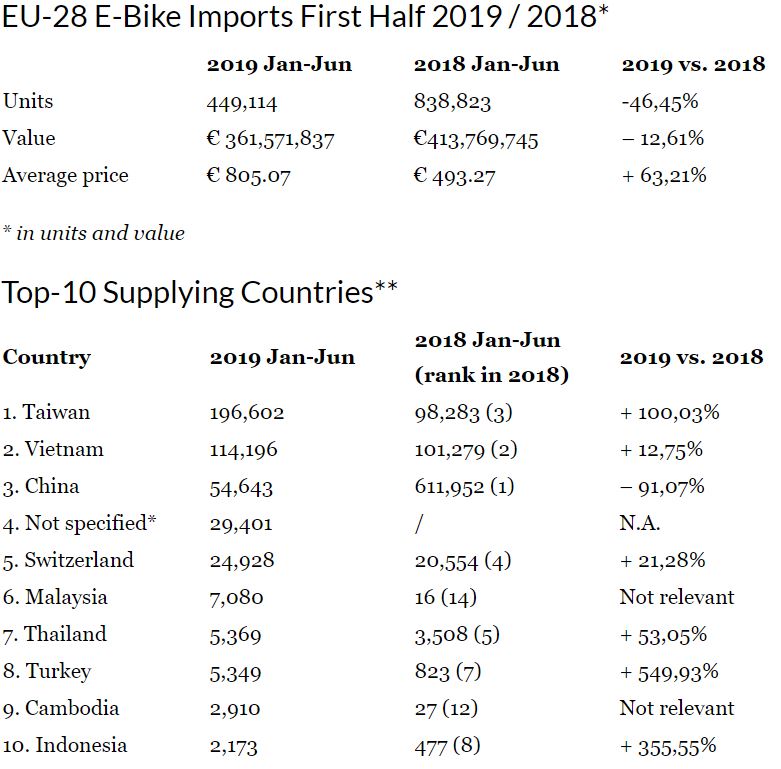 As a result, production numbers from Europe are increasing, though there are supply shortages in the market as manufacturers ramp up their ambitions.
Europe aside, the data presents increases for neighbouring Taiwan, which near doubled its exports to Europe in the first half of 2019. 196,602 e-Bikes crossed to Europe in H1.
Vietnam too is a beneficiary, adding 12.7% or 114,196 units. This figure is only likely to grow as a result of the Vietnam EU free trade agreement, reports Bike Europe, which further alludes to local content rules boosting the relationship's worth to both sides.
With production sources stemming from closer to home, the average price of each landed unit has drastically gone up, rising 63.21%, according to the data comparing H1 2018 to H1 2019. This year average prices settle at €805.07 for imports in to the EU-28.
China drops to third in unit terms. Switzerland, not an EU member, finds itself in fifth place, while Malaysia, Thailand, Turkey, Cambodia and Indonesia round out the top ten. Turkey saw the greatest like-for-like growth, albeit from a low base, jumping 549.93% like-for-like to 5,349 units.