Atlanta makes active travel a priority, stumps up $1 billion to back ambition
The Atlanta Regional Commission has made good on a 2013 ambition to become a cycling city with the earmarking of $1 billion for walking and cycling leading to 2040.
Stating that going forwards walking and biking will get priority in regional investment, the ARC plan will also provide a tool to assist local authorities in creating safe and comfortable environments for cyclists and walkers. Atlanta is made up of 10 counties and over 70 towns.
"Metro Atlanta residents, from Millennials to Baby Boomers, want more opportunities to travel without hopping in a car," said Mike Alexander, director of ARC's Center for Livable Communities. "This plan provides a roadmap to help our region meet this demand and create healthier, more livable communities."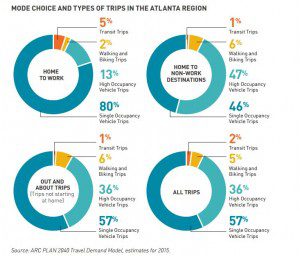 As part of the investment, a bicycle-pedestrian plan will ensure funds are allocated "strategically", in a move to connect parks, schools, shops and transit. Such a connected approach has been proven to drive return on investment.
Off road trails are to benefit too. ARC and several of its planning partners will begin closing the gaps in the regional trail network. Connecting major trails, such as the Silver Comet Trail, Big Creek Greenway, Arabia Mountain Path and the Atlanta Beltline, creating one of the most comprehensive regional networks in the USA.
According to research, around 42% of metro Atlantans live within a five-minute bike ride of a trail, while 33 percent live within a five-minute ride of a transit stop. But today, fewer than 5 percent of all trips taken in the region are on bike or on foot. The new proposals aim to vastly improve upon these numbers, as well as shake of the car-centric image currently applied to the region.
You can read more detail on the Walk.Bike.Thrive ambition here.
This article, the first of it's kind we've featured from the USA, now sits within our series on cities around the globe adapting for active travel.