Beryl Surpasses £100,000 Laserlight Core Kickstarter Target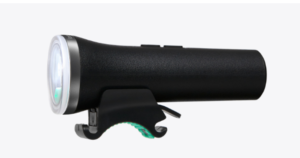 The Laserlight Core; the latest addition to Beryl's urban light range, has now raised over £107,064 on Kickstarter, exceeding the £38,333 ($50,000) target.
Core is the new flagship product from British urban cycling brand, Beryl. Designed to be the world's safest bike light, Laserlight Core tackles the issue of cyclist visibility in vehicle blind spots, projecting an image of a cyclist 6m in front of your bike.
Key features include:
Patented laser technology, the projection is proven to make you up to 32% more visible* (*independent study by Transport Research Lab)
The laser feature is complemented by a white light with up to 400 lumens brightness
Weight 91g without the bracket, 100g with bracket
Micro-USB charging and up to 41 hours battery life
Fully waterproof design Day Flash mode
RRP £69.99.
By 2016 the Laserlight technology was incorporated into all of London's Santander Cycles bike share scheme as well as on a selection of New York's Citi Bikes.
Emily Brooke, Founder and CEO at Beryl said: "We are so grateful to the community on Kickstarter and all our backers for supporting the next generation of the Laserlight and helping us on our mission to get more people in cities on bikes. Kickstarter is a great way to get immediate and direct feedback from the people who will be using our lights every day, and by launching the Laserlight Core on the platform, we have been able to give exclusive access to the community who originally brought the idea to life ."
Retailers can order the products direct from beryl with a trade margin. Pre-orders are open now, with stock due before the end of the year. Contact: Harry McDonald on support@beryl.cc